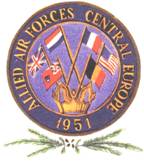 ISSUE No 8                                         AAFCE  NEWSLETTER                                   JUNE 1999
REUNION
Our second Reunion is now less than 4 months away ~ how the year has flown.  A high attendance is expected.  Below is a list of those who at the time of going to press have reserved their accommodation at the Courtyard.
Dave Adams                                  Bill Garland                                      Roy & Mary Packman
David & Dorothy Allan                  Brian & Claudine Gibbons                  Lawrie Page
John & Marjorie Aylward             John & Margaret Hanlon                  Peter Prentice
Dave & Zena Bennett                    Angus & Margaret Hare                    Dick & Shirley Rogers  
Terry & Hazel Bryant                   Ray Harris & Betty                           David & Jean Rogerson
Mike & Ann Capon                        John & Barbara Higgs                      Bill & Anne Rudman
Ted & Ann Caton                          John & Julia Hookway                      Alan Smith
Derek & June Dolton                    Roger & Sylvia Jago                         George & Maisie Thorne
John & Joan Fitzgerald                Les & Vera Massey                            Morris Watt                            
Orders for dinner from a set menu will be taken on the day at Reception at 4 p.m. to enable the kitchen to prepare the food and have it ready to serve at 7 p.m.  If any of you have any special dietary requirements please advise the hotel in advance.
Dress will be casual or lounge suit.
A few changes will be made to the programme this year.
Attendees will be identified with labels (which I shall provide) on their lapels
There will be no formal speeches but anyone who wishes to get on his hind legs may speak for a maximum of 5 minutes after dinner.
We shall assemble for a group photograph after the dinner
NATO sent 2 short video tapes which will be shown in the afternoon for those who wish to view them.
NEW DISCOVERIES
Thank all of you who inserted notices of the reunion in various publications and newsletters.  These have brought an unprecedented response and the following new recruits have signed on.  Plenty of names to conjure with in this list!
Derek Dolton served as a staff driver in the mid 50s. He drove all over Europe on secret missions.  He now lives in Lewes, Sussex  
John Allison was a member of the International Commcentre in the late 50s.  He is very active in the RAFA and lives in York where he runs his own Travel Agency specializing in Cyprus holidays.
Terry Clamp, RAF Police helped to keep us all in order from 1954 – 1956 and is now living in York
John Hanlon, another member of the International Commcentre, played football and settled in his native Scotland at Falkirk. 
Dave Adams worked in the International M T Section from Dec 61 to May 64
Bill Garland is the third member of the International Commcentre – he settled in
Brian West  (details awaited)
Ernest Sensecall from Chesterfield worked with John Allison in the International Commcentre
Angus Hare worked as a line controller alongside John Hanlon in the International Commcentre.  He now lives in Edinburgh with his wife Margaret
Freddy Jones made contact through Ted Caton's Book and wrote to say that his life improved after he left the RAF.  He has no desire to stand around with a drink in his hand making small talk with Warrant Officers and Flight Lieutenants…..
Terry Bryant who served in the RAF Police at Fontainebleau in the late 50s ran into Brian Gibbons at a military event recently.  He now lives near Warminster.
Doug Gale has been on our wanted list for a long time.  The notice put in the RAFA News by Dave Bennett was brought to his attention.  Living near Wolverhampton Doug is supportive of our efforts but is not able to be at this year's reunion.
Geoff Hobbs is another of Dave Bennett's recent discoveries living in Frome, Somerset
Harry Roberts was tracked down by Dave Bennett.  After managing a pub for a number of years, Harry took up an appointment as Head steward of a golf Club near Bristol
Geoffrey Callaghan was one of the first to arrive at Fontainbleau and helped to set up the Central Registry. 
John Halliwell, by contrast was one of the last to serve at the base
PHOTO ALBUM
Thanks to all those who lent me their precious photos of their days at Fontainebleau.  The collection has now reached a staggering 160 odd pages.  Some of you have not sent me a recent photo to include in the "Golden Oldies" section so could I remind you to please dig one out and let me have it.  The album will be available to pass round at the reunion.
READERS'  CORNER
Roy Packman and his wife Mary made a spring visit to the UK.  They met up in Hereford with John Higgs,Dick Rogers, and George Thorne and their wives and had a great reunion dinner together.  The following day Roy and Mary motored to his sister's in Titchfield and we met him for lunch at a nearby inn and spent a super 3 hours together.
As reported earlier Bert Ellis is now settled with his wife, Roslyn and family in Capetown.  When he left the RAF in 1972 having experienced life overseas he decided to see more of the world while he was young enough.   He took a ship to South Africa in 1973 with a view to spending a year there ~ this turned out to be 6 years.  The next 5 years were spent touring all over North and Central America in a Winnabeg Motorhome .  After a brief return to the UK to visit family it was time to set off for Australia where he spent 5 years again in a motorhome.  Bert had already decided that South Africa would be his permanent home and he settled in Capetown in 1985 and has a nice apartment overlooking the bay and facing Table Mountain.  Bert is very appreciative of the wonderful life he has enjoyed.  Unfortunately Bert is feeling the ravages of time and is not in tip top health these days and travelling over for the reunion is out of the question but he assures me that he will be with us in spirit.  He sends his best wishes to anyone who may remember him at AAFCE. 
Stan Fenney continues to make slow but satisfactory progress from his recent operation.
Ray "Bomber" Harris is booked for hip replacement at the end of July but he is hopeful of being fit enough to make the reunion in October 
George Millington required hospitalization this year and is responding well to treatment. 
Dick Rogers will undergo minor surgery in July ~ I think that he looking forward to all those nurses fussing over him.
I am sure that all will join me in wishing these old comrades a speedy recovery to full health to all those on the "sick list"   
AAFCE TIES
There is sufficient interest to go forward with an order to the manufacturers.  One dilemma we faced was the number of flags in the emblem.  Initially there were 6 flags but when Germany was admitted to NATO it became 7.  There were strong views either way and it has been decided to adopt the later version of seven flags set on a tie with a  blue background.  As a substantial sum will be paid the manufactures on placing the order, those wishing to purchase a tie must send their £9 per tie up front by cheque made payable to D M Rogerson.  An order form is attached and if you all reply promptly we shall endeavour to have the ties delivered in time to wear at the Reunion.  Thanks to Alan Smith and Dick Rogers who did all the spadework with various suppliers to achieve the best deal.
OBITUARY
It is with great sadness that I have to report that Bernard Spencer passed away on 22 June.  Bernard suffered a second stroke last Christmas from which he never recovered.  Many of you will remember Bernard as the stalwart Sergeant of the Orderly Room in the early 50s.  He also organised social events at Fontainebleau.
MEMBERSHIP LIST
Attached is a list of all those traced so far together with their service record at AAFCE where I have it.  Will those whose record is not included please write it on the cover sheet and I will incorporate it. 
I look forward to seeing many of you on 9 October.
AND FINALLY
So many of you have asked for news of Charlie Collyer, the cheerful RAF Police Flight Sergeant.
Doug Gale has informed me that after his long spell at AAFCE he was seen working in the British Embassy in Paris.  It would be great to get him along to one of our reunions.
If any of you have E mail facilities please send a brief message with your E mail address to  david@rogerson65.freeserve.co.uk.  You will be able to receive your newsletter via E mail and occasional news updates will be made easier.  When you are on the Internet take a look at the British Legion's website http://www.britishlegion.org.uk and click on to "Lost Trails" where I have an entry to find any lost souls from AAFCE days.  You may even wish to submit your own entry.o
___________________________________________________________________
Published by D M ROGERSON,   BROOKWOOD,   HUNGERFORD,   BURSLEDON,   SOUTHAMPTON,  SO31  8DF