<![if !vml]>

<![endif]>
FONTAINEBLEAU VETERANS
ASSOCIATION NEWSLETTER
ISSUE NO. 70 JULY 2019
EDITORIAL
Only 12 members acknowledged having read the last Newsletter on line. That is a shame after the Webmaster has put in so much effort. The take up for the Reunion is disappointing - only a dozen have signed up for it. Due to my declining health I have handed the baton for the Reunion into Colin Hogg's capable hands.
To date there are 94 recorded members who have passed away since the Association was formed and a further 25 members with whom we have lost contact. My request for articles for this edition fell on deaf ears with the exception of a contribution from Michael Capon.
During the 25 years since the Association was formed we have enjoyed visits to Fontainebleau, thanks to Mike Capon for organising the visits the Annual Memorial Service at Yevres to remember the brave pilots who crash-landed their disabled plane having steered it to a field to save the consequences of landing in the village. 22 Annual Reunions, the creation and maintenance of a website and the purchase and sale of merchandise. My health has declined to such an extent that reluctantly I must reduce my workload. I am willing to continue editing the Newsletter, signing up new members and disposing of the merchandise in stock.
WELCOME ABOARD
<![if !vml]>

<![endif]>We extend a warm welcome to Sgt. (E4) Larry McElhiney (USAF) who found our website through a Google search. He served with AFCENT from December 1966-December 1969 stationed in Maastricht, NL as part of the C-Sector Microwave Maintenance (MW) team. He arrived at Camp Guynemer as part of the duplicated MW network being created to enable the Command Structure to move out of France. After spending some 10 days there dealing with PANDA etc. he went to a remote Microwave Site at Baraque de Fraiture, BE for another 10 days. His orders changed to the combined AFCENT MW/Ace High site in Maastricht, after another spell at Fontainebleau before he was transferred to HQ at Brunssum, NL. Larry now resides in Carmel, Indiana, USA. He married a Registered Nurse in 2006. He now works as a Quality Engineering consultant to numerous Medical Device clients. After college, he worked in electronics in California for 30 years, moving to Indiana in 2000. He is an owner of the Yahoo! Group KRYPTOS, related to the encrypted sculpture at the CIA. Larry is a single-board computer aficionado (Raspberry PI) with significant Linux experience. He has an Extra Class Amateur Radio license (AC9OX).
OBITUARIES
Andrea Gibbons passed away on 12 December last after a short illness. Our thoughts reach out to Brian who has lost two wonderful wives. However he is coming to terms with it although it is all really distressing. Andrea's affairs and Estate are in Probate. It will take ages to sort. We were fortunate to meet Andrea at a couple of Reunions.
SAC Tony Almond who served in the Equipment Section from January 1963 until July 1965, passed away on 23 May after a long spell in hospital. Although he had so many problems, one thing after another it has hit Jen and the family very hard. His loving wife Jen, was able to read the last Newsletter to Tony as but he was not well enough to take it in. They both had so many wonderful times in France and attended the Annual Reunions until Tony's health deteriorated. He leaves his loving wife Jen.
Tony was a keen deep sea diver, in his younger days, and loved gardening. He was a member of the Buffs after his days in France. He was also a Sergeant Major instructor for the Army Cadets for many years. He was awarded the Lord Lieutenant's Award for his services to this. Tony loved to watch the wildlife where he lived where there are deer, foxes, badgers, not forgetting wild birds. He loved all his Grandchildren and taught them to understand about wild animals. Tony kept chickens and had a large bird Aviary with lots of various birds including a Barn Owl, but as his health deteriorated they were re-homed, as were the horses. as it is too much for Jen to cope with as her health is not so good.
Marion Gunn passed away on Friday 1 of February after a short illness. She took an active part in the Association's activities, and was ever present at our Reunions with her husband Jim from shortly after the Association was formed in the 1990s. Marian and Jim enjoyed return visits to Fontainebleau. Jim and Marian first met when they were both only 6 years old. Jim was evacuated to Yorkshire in 1942 and Marion was the apple of the eye of the family he went to. Apart from Jim she left 2 sons and 2 grand-daughters in their twenties.
FROM THE POSTBOX
<![if !vml]>

<![endif]>Hi David - I was so sorry to learn that your health has deteriorated so much.
However over the years you have done a fantastic job. Julia and l wish you well for the future. For me, 2 years ago, l was diagnosed with Prostate Cancer so that is ongoing with treatment, also bad arthritis in my knees however lm still playing bowls and run my own team called Royals which gives me some exercise, also walking our Cava Poo puppy. Julia had a second hip replaced 3 weeks ago and is doing well
I do hope somebody will be able to help with the job in hand l wish you all the very best. I must say Il think often about my happy years at Fontainebleau. After l married a French Lady and had 3 children l lived in Paris until the end of 1968 then back to Plymouth. I married Julia in April 1972 and we have a daughter Rachael.
That's about it from me. l thank you for what you do. Julia and l have lovely memorise of our times at the reunions. We wish you all the very best for the future.
John and Julia Hookway, Plymouth
Dear David - I have just read your message relayed from Mike Capon re your declining health and appreciate where you are coming from.
I have advanced Axonal Peripheral Nephropathy which would not respond to any treatment. I am unable to stand or walk unaided although fortunately am still able to drive as sitting still allows some leg functions.
I have thoroughly enjoyed the many Reunions I have attended and the new friendships forged. My regret is that I do not think I can maintain the same level of activity but still, via telephone and Email, keep in touch with a few members.
The Reunions and friends made have added to my enjoyment of life for which I will be eternally grateful, my very best wishes to you and Christine.
Terry Bryant,
Terry - I am both shocked and sad to read of your e-mail. You were the life and soul of our Reunions for many years. You brought fresh ideas to the table to enhance the Association's activities. You are fortunate to have Hazel who we are sure looks after you, despite her problems. Christine joins me in sending you both our love - David
It is all very sad about the future of the Association but Tim and I do understand that everyone is getting older and not in such good health these days. Obviously you and Christine also have to deal with your circumstances which must be very challenging for both of you.
Maybe the best thing to do would be to wind up the Association. I know it is very sad but I do recall my father used to attend a few reunions, Burma Star Association and others. Eventually, when he was in his early 80s, it was decided to wind up those particular reunions as most members were either no longer with us or unable to travel. Sadly old age takes over in the end! I am sure some of us will continue to meet up, health permitting.
Tim and I would like to take this opportunity of thanking you and Christine for all you have done for the Association. Through you Tim has been able to meet up with people from his youth and also revisit his old haunts in Fontainebleau which he was so thrilled with. We have also met and made some good friends. Please keep us in the loop about what will eventually happen. With warmest wishes to you both.
Linda Hunt,
I recently learned I have a son, a blessing for me and my family. Collectively, we are welcoming him, his wife, two sons, and a daughter into our hearts. They are the Nugent family of Alexandria, Virginia.
Michael was born in November, 1965, the month I met my wife, Loula. His birth mother gave him up for adoption. As far as I know, I had only met her on one occasion, while a senior in college, and there was no further communication between us. She lived in my home town neighbourhood, and a brother was an acquaintance of my sister, perhaps how we ended up having a date together, apparently when I was home for a weekend. Her father was an Air Force Colonel, as was mine, so that may have something to do with how we met In his adult life, Michael spent years searching for his birth parents. First, he located his birth mother. Next he tracked down the supposed birth father, but DNA results were negative.
Finally, this year, he got a familial DNA match to my ancestry, which led him to me, for which I am thankful. We submitted our DNA and are 99.9+ percent assured of being father and son. I wanted to be the one to tell my friends and relatives I regret not having him in my life earlier, but I am thankful for the great parenting and family he experienced as an adoptee.
Now I know of my son, as does he of his birth father. The process of getting to know each other has already begun through cell phones, social media, and my brother and him meeting for lunch. His wife, Courtney, sent me a wonderful email. To paraphrase her, she describes Michael as a man of family and duty, who is loved by his family and respected by his fellow police officers, and a person who sacrifices himself daily to support them all.
He has given me permission to send this out. However, whereas there is jubilation, there are also many emotions involving several people. For the remainder of this week, please be discreet. There remain some family members to be notified.
It is my hope that our families have an enjoyable future together. I pray that you do your part to make that happen.
Duane Conques, Texas
THE ASSOCIATION'S FUTURE
Since 1995 when the Association took its roots 85 members and wives have passed away and many more with whom we have lost touch. The declining number is evidenced by the attendance at our Annual Reunions. Only 12 members have signed up for this year's function. Moreover the last Newsletter was available to all members whose contact details I have. Only a dozen confirmed that they had accessed it on our website.
My request for articles to include in the next issue fell on deaf ears. This seems to me that there is little interest in our activities. With input from Mike Capon, Brian Gibbons Ted Caton, Colin Hogg, Tim Hunt and the Webmaster I have enjoyed my role over the last 24 years - apologies for anyone I have forgotten.
Our activities have included 23 Annual Reunions, Visits to Camp Guynemer, Fontainebleau, attending the Annual Memorial Service at Yevres, the issue of Newsletters, maintenance of our Website and the purchase and sale of merchandise.
My health has deteriorated to the extent that I cannot manage all the Association's affairs. Apart from hospital appointments I have not ventured out of the house since last October. For the moment I have a live-in carer to help Christine and me. Reluctantly I need to hand over some of the activities if the Association is to continue in its current form.
Where do we go from here? I think that a solution has been found. Options are for me to hand over some functions to one or more willing hands. I am happy to continue editing the Newsletter, signing up new members and disposing of merchandise in stock Colin Hogg has kindly agreed to take care of the Annual Reunions if they continue.
INCOME & EXPENDITURE 1 OCT 2019 - 30 JUN 2019 £ £
Opening Balance 1 Sept. 2018 375.72 375.72
Income
Reunion Raffle 80.00
Sale of Merchandise 15.00
Total 95.00
Expenditure
Reunion Gratuity 30.00
Webmaster Gratuity 60.00
Web Fee 60.00
Postage 8.72
Total 158.72
Balance at 30 Jun 2019 312.00
This shows that there is enough money to keep the show on the road. You are reminded that members have made only one subscription and we have kept afloat thanks to two generous gifts and the funds raised at the Reunion raffles.
LANCASTER Courtesy Michael Capon
75th Anniversary of loss of Lancaster presented to Mayor of Yevres on 06-10-2019 at the parade by FVA.
<![if !vml]>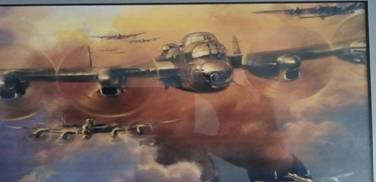 <![endif]>
The picture was made at no charge to us by
Acradia Picture Framing in Tonbridge.

Copyright unknown to this Photo!
AND FINALLY....
In the light of all that is written in this Newsletter maybe some of you would prefer not to receive future Newsletters. If so please advise me and your name will be deleted from the distribution list.
DAVID ROGERSON
BROOKWOOD
HUNGERFORD
BURSLEDON
SOUTHAMPTON
SO31 8DF
TEL 023 8040 2846
E-mail: davidrogerson@talktalk.net