<![if !vml]>

<![endif]>
† †FONTAINEBLEAU† VETERANS
†††††††

†††

ASSOCIATION

†

NEWSLETTER
ISSUE NO. 69†††††††††††††††††††††††††††††††††† ††††† †††††††††††††††††††††† †††††††FEBRUARY 2019
EDITORIAL
2018 was not a good year in the Rogerson household. Over three occasions I spent a total of two months in hospital. Following a freak car accident on 5 October Christine trapped her leg in the door of her car. The Fire Brigade came to release her. She had a leg amputated below the knee and is now on the long road of physiotherapy before having a prosthetic leg fitted. She is making good progress to achieving that goal.
†OBITUARIES
Cpl. Bill Halford passed away on 5 November after a long period of ill health which he faced bravely. Prior to the onset of his illness he undertook voluntary work maintaining his local Football Ground. As well as leaving Sue he is survived by his son.
Beryl Clarke, wife of Clifford, passed away from a heart attack on 15 January. Her funeral was held on 4 February in Cambridge crematorium. Cliff moved into a care home recently and had planned for Beryl to join him later but sadly this did not happen. Cliff was Sir Basil Embryís chauffer and often drove me to the local post office to buy stamps.
Brian Gibbons wife Andrea passed away just before Christmas. On the occasions that I had the pleasure of meeting Andrea at our Reunions she impressed me with her charm and the interest she showed in the Associationís activities. Our hearts go out to Brian.
FROM THE POSTBOX
Hi David, I was saddened to read of Peter Chattenís death in your newsletter. As you know, Peter was my best friend (along with Tony Wallis) from my Fontainebleau days. I had no idea he was so ill. He did say in his Christmas letter that he was able to walk only short distances, but, as he would have been 90 on March 26, I didnít think too much about it. When did you get to hear about it? I cannot get out of my mind, our many adventures. As a sort of therapy, I've been typing up what I can remember. I've filled four pages so far, and I keep returning to it when I recall something else. One thing is sure...I'll never forget "Chat". Hope you and Christine are winning the health battle.
Alan Lake, Plymouth
Hello David - Thank you for the details of the next Reunion.† I am afraid Elaine and I will not be able to join you this year. I am now unable to drive due to the fact that when applying to renew my driving licence my eye field test did not meet with the criteria of the DVLA. Fortunately Elaine does drive although has recently broken a bone in her ankle and has been unable to drive for the past seven weeks! We do have some good friends locally who have been very helpful. Thank goodness for our bus passes! We hope that you and Christine are both well and enjoying life. Take care of yourselves wishing you all the best for this yearís Reunion. Fond regards.
††††††††††††††††††††††††††††† Tony and Elaine Bowdler, Droitwich†††††††††
David - I hope the Reunion went off well and we are sorry we could not make it. I am still under restriction that if I drive for an hour I have to rest for an hour then another hour driving - then an hour rest!! it's still because I had the unaccounted blackout?
Sorry again we are off to Edinburgh in November but we do that by train. Hopefully we will another year. David do you have the blazer badge in stock? If so I would like one. Take care. - †Best wishes to Christine.
†††††††††††††††††††††††††††††††††††††††††††††††††††††††††††††††††††††††††††† †Don Conning, Eye, Suffolk
Just to say how sorry I am to hear of your and your wifeís predicament. I hope all will be well in the end? Also I have read your Newsletter 68 - an interesting read. Thank you for all the work you put into it. Best wishes,
Pamela Oosterveen, the Netherlands
David, thank you for Newsletter 68, received OK. Very sorry to hear about your accident! We hope you both make a speedy and good recovery. Reading of General Norstad, I was on the R.A.F. guard of honour in 1963 when he left his command, then again when General Lemnitzer took over. Quite a moment being in the company of these top Commanders! The Earl of Bandon, General Speidel, one of Hitlerís Staff Generals and Colonel Regan and the Base Commander was also there.
Regards
†††††††††††††††††††††††††††††††††††††††††††††††††††††††††
John Helliwell, Thornton Cleveleys, Lancs
†
Hi David - Thanks for newsletter 68 which I received recently.† I enjoyed reading the letter from Edmund Clements about him borrowing Mickey Martin's Ford Consul.† Unfortunately , the letter is incomplete, just as it was getting interesting!† I don't know if this is a computer glitch at my end or what.† I'm left wondering what happened to Edmund's first excursion behind the wheel of a car! All the best.
Richard Amor, Cottingham, East Yorks,
PETER CHATTEN Ė A LIFE REMEMBERED by Alan Lake
Most of my memories of Fontainebleau surrounded Peter Chatten and our fellow room-mate Tony Wallis. We were inseparable.
†In 1953 I persuaded Peter to join me on an ambitious mini tour of Europe. We travelled by train from Paris (Gare de líEst) to Munich. Much of the city had been reduced to ruins by Allied bombing. Saltzburg in Austria was the next stop before moving on to Lesce Bled in Yugoslavia where Marshall Tito had his summer palace.
Trieste came next. At that time, Trieste was run by the Allied Military Government, composed of American and British troops. There was a menacing air about the place Ė Yugoslavia and Italy both wanted to take over the place. Still, we did have the chance to use the NAAFI before catching a train to Venice.
Our tour continued from Venice to Nice, and then Marseilles where, I remember, we had trouble finding somewhere to stay. One hotel turned us away as it was frequented by Communists who wouldnít want us there.
Then came; a tiring and expensive train journey to Barcelona which involved an overnight stop at a station hotel in Cerbere.
In Barcelona we paid 30 pesetas watch to a bull fight. All our sympathies were with the bull, but we didnít dare show it. From Barcelona we moved on to Madrid. After three days there we travelled on to San Sebastian. By this stage we were running short of money, and found we didnít have enough for a train ticket to Paris. We came up with a plan to buy tickets to Orleans, and when the train got there, we would miss the stop by pretending to go to sleep. The scheme failed miserably. It was an express train, and didnít even stop at Orleans.
The guard was unimpressed with our story, and handed us over to the military police when we arrived in Paris. An American major interrogated us, didnít believe our story of meeting friends in Orleans. Eventually, he let us go with the warning: ďNext time you go on holiday, make sure you have enough money to get backĒ.
Wise words! I still cannot work out how we manage to travel so far. This was well before the days of the Euro and we didnít possess either cheque books or credit cards. Somehow we manage to travel through six countries, needing six different currencies Ė French franc, German mark, Austrian schilling, Yugoslave dinar, Italian lira, and Spanish peseta.† Unfortunately, the train episode was not the only time we were arrested. On New Yearís Eve, 1952, we were arrested at bayonet point by French military police. Along with Peter, Tony and a number of others we had gone out to celebrate, although it was snowing heavily. Fuelled by numerous drinks, we went from throwing snowballs at each other to hurling them at street lights and then house windows. Suddenly we were surrounded by armed soldiers Ė they could have been riot police Ė and everyone sobered up as quickly as if we had been ducked under a cold shower. After being held for several hours, we were released, and incredibly we escaped any punishment. The Commanding Officer of the RAF contingent, Wing Commander Walker, refused to believe any of his men could be involved.
I was demobbed in September, 1953. Tony followed a month later.† I returned to work for the Birmingham Sports Argus. Tony got a job with Henry Hope, a company that made metal window frames.
Peter was left at Fontainebleau, but later he was posted to RAF Gaydon, Warwickshire. It was while he was at Gaydon that he acquired a motor bike. On one occasion, was out on his bike when he became ill. He decided to have a rest in a field, but then felt worse. He managed to clamber out of the field. Good job he did. If he had stayed longer, he might not have come out alive. He had a duodenal ulcer! I remember going to see him in Barnet hospital. Iím not sure of the timescale, but we had another European foray Ė Copenhagen, Oslo and Stockholm. I canít recall much about that trip except the Little Mermaid and Tivoli Gardens in Copenhagen. †Along with Tony, we also went on a tour around Devon and Cornwall We travelled in my old 1939 Anglia de luxe, one of the last cars made before the war.
When Peter was demobbed, he moved to Wolverhampton to be near his old mates. All three of us had been shining lights in the Fontainebleau athletics team, so we decided to join Tipton Harriers. It was not a good move! Peter was a really good sprinter while Tony and I were half-milers.† Tipton was the home of the legendry marathon runner Jack Holden. In 1950, he hit the headlines when he won the Empire Games marathon in New Zealand after running the last nine miles barefoot after his shoes fell apart. When we reported for training, the other Tipton Harriers disappeared into the night to god knows where, hoping to become another Jack Holden!
We were left to jog around the track. The only other person who used to appear was Jack, then retired from running but employed as the groundsman, along with his rather menacing bulldog. The training quickly became pointless, and it didnít do our fitness much good as we used to go to a pub afterwards.
†
Peter got a job with Goodyear Tyres. He thought he was going to be handling car tyres, but instead they were huge aircraft ones. The physical effort proved too much for Peter, and, having met his future wife, Nancy, returned to Norfolk I, too, got married, and, after the Sports Argus (Evening Despatch) was taken over by the Birmingham Mail, moved down to Devon.
Tony had married Evelyn and moved to Canada, where he worked for British Steel. I lost touch with both of them until Danny Rogerson sparked off a reunion.
21st ANNUAL REUNION 2018
In my absence Colin Hogg stepped into the breach. There were a number of last minute cancellations. There were insufficient attendees to justify using the private dining room on the Saturday evening. Dinner was served in the Restaurant with other guests dining there Ė not an ideal setting mingling with other guests of the hotel. However, from all accounts the Vets enjoyed the evening. The raffle produced £80 to keep the Association afloat. The Angel kindly waived the charge for the late cancellations.
22nd ANNUAL REUNION - 2019
The Angel Hotel in Leamington Spa is holding a provisional booking for our Reunion on Saturday 12 October. See Page 7 for details. Colin Hogg has kindly offered to help with the organisation.
MY NATIONAL SERVICE ABROAD Ė Part 2 FRANCE and GERMANY by Edmond Clements
My problem now was that I had to go from the Headquarters area to the residential area which was separated by a minor road, each side of which were double steel gates manned by armed guards.† Worse still was that only one gate was open diagonally opposite on each side.† All this and I had never yet driven a car. ! I sat well back in shadow to hide my face, and set off.† The car began to move and I aimed at the open gate.† I managed to pass through without incident, then across the road diagonally, and through the other gate. I was not only pleased by my success, but to my surprise I received two very smart salutes from the guards who assumed I was Martin! I arrived outside my room, and excitedly ran inside saying "Look out of the window "George said "That's Mickey Martin's car! . . . . . What the hell are you doing with that?" I must have got some food and returned the car safely, but strangely never thought to ask for his autograph.† I don't now remember the end of the story, except that I was the talk of the town for a long time.
Colonel Paul W. Tibbetts, USAF, DSC, Legion of Merit, DFC, Purple Heart, etc. This is the man who flew the B29 Super Fortress, Enola Gay after his mother, and dropped the atomic bomb on Hiroshima in August 1945. He retired as a Brigadier General. He arrived at AAFCE Headquarters in Fontainebleau one day and I was told that he would happily sign autographs Iím sure he had already been doing this for many years. This was too good to miss. I found his office, knocked, waited and entered on his command.† In spite of his rank, he received me cordially, as was the American way, and readily gave me his autograph. I thanked him respectfully and left. It is still in my autograph book today.
Shirley Medley, Daughter of Commodore Ralph C. Medley, RN, DSO, OBE of the Battle of the River Plate in December 1939. During my time at Allied Air Forces Central Europe I shared an office with Shirley Medley who sat opposite. She was a beautiful young girl.
I was the envy of all my friends when she took over the civilian vacancy in my office. Some of them would invent excuses to call at my office. Shirley was a very sweet girl and good fun, with lots of upper class charm.
†
She was the daughter of the famous Commodore Medley who was the Commander of the Royal Navy unit at Fontainebleau, but had found fame in December 1939 as Operations and Intelligence Officer on the staff of Commodore Harwood on the cruiser Ajax in the Battle of the River Plate. The Exeter, Ajax and Achilles had pursued the
German battleship Graf Spee after it had sunk nine of our ships until it took refuge in the
River Plate Estuary, Montevideo.† The captain scuttled the ship and committed suicide.†
It was a great victory said Churchill.† Medley was portrayed by Patrick Macnee in the 1956 film The Battle of the River Plate.
†
We all enjoyed cheap petrol as part of S.H.A.P.E forces and were issued with ration coupons. I only had a scooter and used little petrol so I would sell my surplus coupons occasionally. Shortly before leaving for Germany, where I would not be able to use them,
I offered my remaining coupons to Shirley, but at an exorbitant price which I knew she would happily pay.† Indeed she bought them, knowing they were expensive, but still worth it to her. When I later asked for her autograph before departing; as you will see in my autograph book; she good naturedly referred to this deal.†
Today, in June 2015, I searched for Commodore Medley on the internet and found that there had recently been a 75th River Plate Association Anniversary Luncheon in Portsmouth, and Shirley and her sister were listed among the guests.† Her father had died in 1999 at 92 years of age.† It is hard to believe that the beautiful young Shirley that I remember would now be an 80 some-thing grandmother, but then, whatever happened to that young airman?††
††††††††††††††††††††††††††††††††††††††††††††††††††††††††††††††††††††††††††††††††††††††††††††††††
GERMANY
In October 1956 I was posted to Germany and spent the remaining months of my service at the Headquarters of the 2nd Allied Tactical Air Force (2ATAF) at Gutersloh in Westphalia. Although sorry to leave Fontainebleau, I was eager to see Germany and the country with which we had been at war posted, and together we arrived at Cologne station in the early hours of the morning. We bought sausage and coffee and passed the night in the station subway until the first trains next day.††
Alone, I ventured up to the street to find the spectacular floodlit cathedral towering above way to work. It was only eleven years since their fine city was devastated by RAF
bombing and it was impressive to see these industrious and hardworking Germans beginning to rebuild their country and economy. I felt quite vulnerable in my uniform as they passed, and also sitting amongst the German passengers on the train. I expected hostility but there was none. I think the common feeling was guilt and also humiliation that we were the victors and now occupied their country.
The RAF camp at Gutersloh had apparently been the headquarters of a German Panzer Division (tanks) during the war and the evidence was everywhere. Rifle racks were still there in the corridor outside my room, and my metal bed was stamped underneath with a swastika. When I started work in the Headquarters building, to my horror I found a swastika and the date '1943' stamped under the saucer of my cup of tea, and again on the back of a wooden stationery rack when it was moved. The whole place was still just as it had been when it was taken over by the allies in 1944 and surprisingly, they hadn't even changed the tea cups! However, there was worse.
THE CONQUES FAMILY sent with best wishes for 2019
<![if !vml]>

<![endif]>
† Duane and Loula at hom†††††††††† ††† Danielle Conques††††††††††† ††††††††Sassman family
††††††††† Schrawtz, Texas†† ††††† and her† four children†††††††††† ††††† ††††††††††in Hawaai
<![if !vml]>

<![endif]>
Leucht family at ††††††††††††††††††††††† ††††††††††Davis family††††††††††† ††††††††Lyons family at†††††† †††††††
Highland Park, Dallas††††† †††† ††Hollywood Park, ††††††††††††††††Hollywood Park,
San Antonio†††††††††††† ††††††††††††††††San Antonio††††††† †††††††††††† ††††††††††San Antonio
<![if !vml]>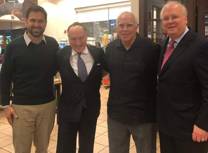 <![endif]>
Darryl Lyons Jr. (businessman lobbyist, also my son-in-law). Andrew Roberts (English historian), me, and Karl Rove (American Republican Political Consultant and former Deputy Chief of Staff for President George W. Bush).
The occasion was two-fold: a small restaurant dinner party with members and their guests in San Antonio, Texas, in regards to "The International Churchill Society," followed by a book signing and presentation by Mr. Robert's at a nearby bookstore. His new book is entitled: CHURCHILL WALKING WITH DESTINY
VISIT TO YEVRES
The Memorial Service to remember the two brave airmen who sacrificed their lives when they steered their wounded Lancaster into a field to avoid crashing in the town of YŤvres will be held on 6 October. All are welcome. A very nice lunch is laid on after the ceremony and church service. The hotel we stay in is close to Ch'teaudun, Really comfy, we have been going there for so long we are part the furniture. We usually stay for 4/5 days one day getting there, one day coming home, one for the event itself and one day to do our own thing. Fontainebleau is about 90 miles from Chartres which is about 40 miles from the hotel.
This will be the 75th anniversary, a landmark occasion, making it an extra special event. If you have not been there the cathedral is worth a visit. Michael and Ann Capon are organizing the trip. If you wish to join the party please contact Michael.
E-Mail: capon769@btinternet.com Tel: 01732 505864
22nd ANNUAL REUNION ~ 12 & 13† OCTOBER 2019††††††††††
As the years advance the numbers attending our only annual event falls. Last year we hit an all-time low. The main event was held in the restaurant among other guests staying at the Angel. Depending on the number we may be able to choose from our own menu. There is no longer a Private Dining Room.
The Angel, Leamington Spa is reserving a few rooms for our Annual Reunion Dinner on Saturday 13 October 2019. This will be reviewed on 30 June. Going ahead will depend on the number of attendees. Please act fast if you wish to attend.
<![if !supportLists]>1. <![endif]>The rates are: £70.00 per person per night for Dinner, Bed & Breakfast sharing a twin or double room and £85.00 per night for single occupancy.
There is a lift to some floors so when you book specify if you need a lift.
The Angel is located in the centre of town and is close to the railway station and shops.
The hotel has acquired an overflow parking facility.
<![if !supportLists]>5. <![endif]>Dress is informal ~ smart casual is fine.
To avoid any confusion all bookings must be made through me to co-ordinate.
Booking form below for you to complete and return to me. You may reply by e-mail with your requirements.
Please reserve my place at the 2019 Reunion
Name.......... .......... .......... ..........
Number in my party..........
Any special room request ..........
Do you require use of the lift?..........
Night(s) for which you require hotel accommodation?..........
AND FINALLYÖÖ
Christine and I thank all of you who sent Christmas cards. We were both restricted in our ability cope with preparations for Christmas. This is a good opportunity to wish all our readers a peaceful and happy 2019. Please send you stories to enhance the Newsletter Ė donít leave it to the usual contributors.†
LATE EXTRA
Marion Gunn lost her brave fight against cancer and passed away on 1 February 2019, She will be remembered by those who visited Camp Guynemer. Until last year she was ever- present at our Reunions from way back. Our hearts go out to Jim. Her obituary will feature in the next Newsletter.
DAVID ROGERSON,† BROOKWOOD,† HUNGERFORD,† BURSLEDON,† SOUTHAMPTON† SO31 8DF
TEL 023 8040 2846 E-mail ; davidrogerson@talktalk.net