<![if !vml]>

<![endif]>FONTAINEBLEAU VETERANS
ASSOCIATION

NEWSLETTER
EDITORIAL
This year has not got off to a good start with the loss of three members of long standing. Their Obituary Notices follow below. However we have a large membership to keep ticking over but require more support for our Annual Reunions because of our declining numbers.
OBITUARIES
<![if !vml]>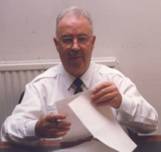 <![endif]>It is with great sadness to write that we have lost one of the Association's greatest supporters Sgt. Ron Pole BEM passed away peacefully on Saturday 27 May aged 94 after a short illness. Ron joined the Association in 2002. Despite his advanced years Ron supported all the Association's activities to which he made a valuable contribution.
Prior to joining the RAF in 1950 Ron had served 11 years in the Army. Ron, a true and colourful Veteran, arrived at AAFCE in May 1956 as Chauffeur to the Chief of Staff, Air Vice Marshall Sir Theodore McEvoy. In August 1959 he followed Sir Theodore McEvoy to his new post as Air Secretary at the Air Ministry. When Sir Theodore retired in 1962 Ron was employed to drive VIP's on their visits to RAF Establishments and he had the pleasure of driving H. M. The Queen, H. M. The Queen Mother and other members of the Royal Family. After a spell with HQ Fighter Command Ron reached retirement age and left the RAF in 1966 to take an appointment as driver/guardian to a large Greek Shipping family ~ this gave him an opportunity to travel the world. At the age of 65 Ron retired again in 1988 and was invited to join the Corps of Commissionaires as Sergeant Major. In this post Ron was stationed at Windsor Castle to show the public round the State apartments before moving to the Royal Mews at Buckingham Palace as supervising Sergeant Major. Ron retired for third time in 1996 after a hip replacement operation and settled with his wife Beryl in Clacton-on-Sea to rest and remembers "the good old days."
A donation of £30 has been made to the British Legion on behalf of the Association.
Tributes
Another great loss. A very nice chap whose company I shall miss. Condolences to his family. I will try to attend funeral representing our Association.
Terry Bryant, Diss, Norfolk
Thanks for of the death of my dear friend Ron. When I lived in Weymouth he always participated in the Annual Old Comrades March through the town. Please convey our deepest condolences to his wife Beryl, who we know will miss Ron very much
Les and Bernadette Hills, Geraldton, W. Australia
Thanks for the info, I have spoken to Alan his Son gave me the details of the funeral arrangements. It is about a 400 mile round trip, I don't think I am capable of that these days and have said so they do understand. I would be more than happy to make a contribution, if appropriate, to the Association. Ron and I go back to 1955 when I was at No1 School of Cookery He drove us to Hotel Olympia with our exhibits and we won!
Jerry Anderson. Gillingham, Dorset
So sorry to hear the sad news of Ron - such a lovely person with a very interesting life.
Elaine and Peter Argent, Bexleyheath
Ron was a great mentor for me when I joined him on the staff of Air Vice Marshall McEvoy. I was young and inexperienced in particular company - not the R.A.F. which I was familiar with. Ron put me right and soon had me working within the team. Please let me know the funeral arrangements. Thank you again for your dedication to our band of brothers and sisters from Fontainebleau.
John Ross Aylward, Oakham, Leics.
So sorry to hear this sad news David. Do you have name of Ron's son's name and address as we would like to send our condolences.
Tim and Linda Hunt,
What a sad loss to our group. - George Wright,
What a tough part of the job you have there. It's tough saying goodbye to 'old comrades', but more so if you knew them personally. For what they are worth, I add my condolences to the relevant families. I am just off to bed now, 11.20 pm but will follow up with some news about life down under. Bon chance mon vieux.
Eric Billingham, Springdale, Australia
AC1 Peter Pete Prentice passed away on 6 May. He served in the RAF Support Unit as an Admin Orderly from October 52 – May 55. After demob he joined the London Fire Brigade and later served in the Chelmsford Fire Brigade. Pete had a happy disposition and attended our Annual Reunions until his health deteriorated. He left a large collection of photographs of his time at AAFCE which his son undertook to send me. They have not arrived. I did not take his phone number and have lost contact.
<![if !vml]>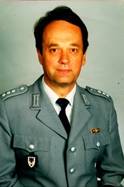 <![endif]>Sergeant Hans Boebbis passed away peacefully on 9 May aged 79 years, after suffering from Parkinson disease. Hans was our first member from Germany. He served in the Army Air Corps at LANDCENT Operations, Planning and Training Branch from April 1961 until October 1964. He was a career soldier serving for 33 years, mostly in High Commands, including German Korps AAC, General Army Office and MOD in Bonn retiring as a Captain. Because of his long service with AFCENT he was given the opportunity to take a 3-year course training to be a military translator. After the Army he worked as a tour guide for 15 years mainly in the UK and France. Hans lived in the beautiful city of Cologne, and is survived by his children Sabine and Ralf.
AC 1 Peter (Pete) Prentice passed away on 6 May. He served in the RAF Support Unit as an Admin Orderly from October 52 – May 55. After demob he joined the London Fire Brigade and later served in the Chelmsford Fire Brigade. Pete had a happy disposition and attended our Annual Reunions until his health deteriorated.
Ted Caton writes - As well as Pete's attendance at early reunions I met him twice later. Once when I called at his house in Hatfield Peverel to sell him a book and again at the funeral of a friend of mine who had been on Red Watch with Pete at Chelmsford Fire Station. Perhaps Pete had been in the London Brigade before transferring to Essex. I doubt if my son-in-law would have known him because of the time difference. Although I never realised it was him at the time at the time, Pete drove an ancient fire engine in the Chelmsford carnival procession every year. I believe he told me he owned it.
FROM THE POSTBOX
<![if !vml]>

<![endif]>In the spring I had a scary episode in a shop in my home town. I was paying for goods when I had a blackout and came to on the floor with no knowledge of what had happened. An ambulance was called and in the journey my heart beat was at 188 almost twice the normal !!! I was kept in for a couple of days and they found out nothing and that is very worrying. I have never fainted in my life before. My diabetes nurse thinks it could have been a repetitive hyper but they are so infrequent she is reluctant to state this officially. I am now allowed to drive and have got to check my blood sugar every time I go out for a journey. If it is above the level I have been given I stay at home. So since then I have only travelled short distances. I am frightened to go out and was hoping I would be all better but my progress is really slow I can't say at all definitely that I will be OK in time for the get together in October.
Don Conning, Bedford
l was first posted to Fontainebleau in 1959 and was accommodated in Quarter Chateau and left in March 1960 on posting to BAOR. After getting married in '61 I was posted to Advance Base in Belgium where I stayed until 1963 when I was sent to Tripoli. In 1966 Col. Gadhafi threw the British out of Libya and as I was still security cleared I was immediately posted back to Fontainebleau. Now being a married man with two very young twin daughters I took private accommodation in the village on Thomery on Rue De Montfort, in the forest, close to the Seine. By 1964 I was transferred to SIB where I served at various places throughout the world until I retired from the Forces in 1980.
Brian Samways, Poole
I have been racking my brain for anything that might be of interest to the members out there. I'll give it a go and say the highlights of my time at AAFCE were to say the least, pretty low key. I was fortunate in that I was a member of the table tennis team representing AFCENT and well remember a couple of my team-mates were Heinrich Pfitzenmeyer a German youth champion, and a guy called --- Kramer who were a long way ahead of me in the skills of the game, and a RAF sergeant who's name escapes me. But we were able to hold our own in the distinguished company. A German Airforce major ran the show and took us to Germany to play against a team in Norvenich, Cologne; I think we gave a good account of ourselves... I was billeted in the erks block, and my roommates were, Nat. Broadhead, Jim Stollery and Paul Barton all of whom worked in the Equipment Section in one form or another. Where are they now? I remember Gunner!! Our little member of staff, he used to spend time with us in the stores, and was well looked after by big Paddy the Corporal Armourer as I recall. Sgt Les Cave our NCO left us to take a commission, and we missed him. This posting was the cream of my RAF experience. I will always remember it as a great time of my life.
Hi David, I fell and broke my hip in February last year, got a new one the next day, and then started treatment for skin cancer, now going into my second year. Hope all is well with you both.
Doug Chennell, Reading
I see from my computer that the NATO flats at La Faisanderie have all been refurbished and look quite smart. The under flat parking areas seem to be all glassed in now and I wonder if you have any idea what has been done behind the glass?
Richard Amor, Cottingham, E Yorks.
Can you if possible contact Jim Howes who sent in the photos of the 1962 Yevres parade, to ask him if he attended the after parade dinner in the photo, the guy in the bottom left corner is F/Sgt Hartley? If so, can he confirm it with me via my g.mail. I met the said N.C.O. once again on my tour in Aden, and am curious to know if it is he. Thanks in anticipation!!
Dennis Luke, Cowes, IoW
Thank you for Newsletter 64 which was received in good order. Very interesting to read the experiences of young airmen posted to Fontainebleau in the early 1950's. I was very surprised to hear about the complete lack of interest from Fontainebleau's Mayor and others, concerning the enquiries about the state of Camp Guynemer etc. Maybe it has something to do with Brexit!!
Tim had been experiencing back pains which would come and go. On Easter Sunday an ambulance was called as the pain seemed to be moving round to his stomach and upwards and he was also breathless. A paramedic arrived promptly and he made the usual checks before taking him to hospital
Tim had an aortic aneurysm which, had it burst, would have been the end so he was very lucky. He had two other procedures, one to fit stents, another long operation, and the third to realign them. He was in hospital for two weeks.
We are both thankful to the Doctors and nurses at the John Radcliffe and to all our friends for their love, prayers and support.
Could I just add that what Tim experienced is quite common, especially among men who are smokers or ex-smokers but there is a test that can be done! So my advice is to contact your GP and get checked out.
Linda Hunt, Thame, Oxon
When I was 65 I was given an out patients appointment at the RSH Hospital; this was to check the likelihood of aortic aneurism. Thankfully there was little risk. – Ed.
MOVE TO BRUNSSUM – 50th ANNIVERSARY.
It is hard to believe that it was 50 years ago that Gen. de Gaulle threw NATO out of France. Everything was moved to Brunsum in The Netherlands. A video to mark this Anniversary are on a video at the websites https://www.youtube.com/watch?v=euOZxMduE_A
and http://www.fontainebleauveteransassociation.org
MERCHANDISE
There are some ties, blazer badges and lapel badges in stock. Details on application.
ANZAC DAY – 2017 – Les and Bernadette Hills "on parade" in Australia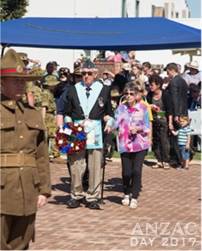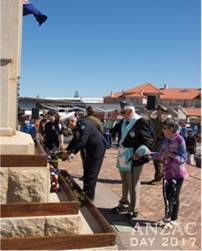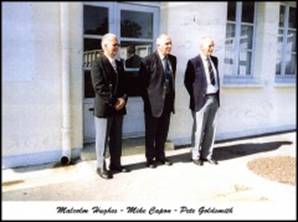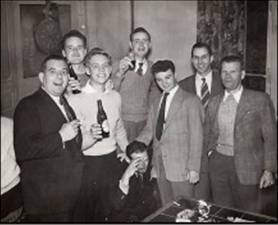 Terry Thorpe, Mike Capon, Pete Goldsmith Melun Ground Crew at Malcolm Club
Entrance to the NAAFI
Ian Davis ID form for L'aviation Flying Club
SOME INTERESTING FACTS ABOUT WW II
The first German serviceman killed in the war was killed by the Japanese.
Over 100,000 Allied bomber crewmen were killed over Europe.
More U.S. servicemen died in the Air Corps then the Marine Corps.
Polish Catholic midwife StanisBawa LeszczyDska delivered 3,000 babies at the Auschwitz concentration camp during the Holocaust in occupied Poland.
In World War II, British soldiers got a ration of three sheets of toilet paper a day. Americans got 22.
In 1941, more than three million cars were manufactured in the United States. Only 139 more were made during the entire war.
Four of every five German soldiers killed in the war died on the Eastern Front.
Only 20% of the males born in the Soviet Union in 1923 survived the war.
In World War II, the youngest serviceman in the United States military was Calvin Graham age 12. Graham lied about his age when he enlisted in the US Navy. His real age was not discovered after he was wounded.
Only one out of every four men serving on U-boats survived.
The Siege of Stalingrad resulted in more Russian deaths (military and civilian) than the United States and Britain sustained (combined) in all of World War II.
To avoid using the German sounding name 'hamburger' during World War II, Americans used the name 'Liberty Steak.'
Adolf Hitler's nephew, William Hitler, served in the US Navy during World War II !!! Adolph Hitler and Henry Ford each kept a framed picture of the other on his desk.
During World War II, the largest Japanese spy ring was actually located in Mexico.
Had it been necessary for a third atom bomb, the city targeted would have been Tokyo.
Total casualties for World War II totalled between 50 - 70 million people,
80 percent of which came from only four countries - Russia, China, Germany and Poland. Over 50 percent of the casualties were civilians, with the majority of those being women and children.
TWENTIETH ANNUAL REUNION
Despite our declining membership we are going ahead with our Annual Reunion in October. For those of you who have never attended this highlight in our calendar, so why not give it a try. Apart from the AGM there are no formalities. Leamington Spa has lot to offer by way of places of interest and a fine shopping area. The Angel Hotel offers good value for money. So please, please make an effort to join the happy band. Remember that wives and girlfriends are most welcome – but not together!
FONTAINEBLEAU MEMORIES - by Corporal Terry Bryant, RAFP (Rtd.)
How many of us can recall, with any detail, periods of life when all was well? When friends surrounded us each day at work and play. Some to remain lifelong friends, others, through the Fontainebleau Veterans Association (FVA) to become good friends later in life. Camp Guynemer, on the edge of Fontainebleau, that quintessentially French town was an hour's drive from Paris just off the RN7 on the other side of which stood an ancient forest. The town was a place where you could meet for a drink, enjoy a hot chocolate and a fresh crusty sandwich jambon with all the trimmings at most times even late at night.
The six, later seven nationalities, when the German's joined the American, Belgian, British, Canadian, Dutch and French at Fontainebleau learned to work in harmony, at least most of the time. We enjoyed sports and athletics, the cinema and the big prizes that could be won at the inter-services, inter-camp Bingo, which were reputed to be the biggest in Europe at the time. Those of us lucky enough to have wheels with an engine enjoyed cheap petrol. Ration cards gave us cheap cigarettes and booze aplenty. This also meant Paris was within reach for us to delight in all that that lovely city had to offer.
As WWII was not long over the French were overwhelming in their hospitality. I recall motoring to Dijon with friends and ending up in a dancehall. After learning that we were Armie De La Air (forgiveness please if that is an incorrect term for the French Air Force) the barman demanded that a group seated near the bar give up their seats for "our gallant British comrades". I do not recall paying for a single drink all night! We made a return trip at a later date and the same courtesy was extended to us. Dijon was a city where the Brits did cut the mustard!
The only fly in the ointment, so to speak, were problems caused by the Algerians in '1959/'60 when major French cities/towns were on alert as were the camps around Fontainebleau. The "Aircent Police", as we were called collectively, were on alert and, with the exception of the British, personnel were issued with side arms. The RAF Police were issued with truncheons.
The accommodation for singles was good, four to a generous sized heated room that was cleaned weekly by a local lady. The food was good and plentiful, particularly if you were on night duty at Melun Airfield and you knew the Junior Tech. in the Mess Stores.
The two years of such harsh conditions flew by but are recounted with great affection by yours truly and I am sure by the majority of those fortunate enough to have been there. I am sad that Camp Guynemer is just a shadow of its former self and is closing down but I am grateful for my time there and the wonderful memories I have. No recollection of Fontainebleau would be complete without mentioning Dear old Flight Sergeant Charlie Collyer BEM; not one of the best but 'The Best'
MISSING
The following members have gone AWOL. If any member knows the whereabouts of one or more of those listed below please contact the editor.
Peter Taylor, Jean Allen, George Millington and Harry Hepple
ANNUAL VISIT TO YEVRES
Michael Capon is leading a group of 6 members to Yevres in October for Annual Memorial Service on 1 October 2017 for the two brave Airmen who ditched their damaged bomber in a field to avoid the village with the consequential heavy loss of life.
If you would like to come contact Michael Capon
Tel. No. 01732 505864 or e-mail capon 769@btinternet.com
AND FINALLY………
With declining health and advancing years it is difficult for some to maintain an interest in the Association. However, I am determined to keep going to preserve something I started in 1994. We have enjoyed many good times reflecting on those halcyon days at Fontainebleau. More support is required for our activities. The turnout at our Annual Reunions is dwindling. For those who have not attended they can be assured of an enjoyable weekend with their erstwhile colleagues.
Secondly – there is always space in the Newsletter to include your recollections of the time you spent in Fontainebleau, so why not pick up your pen and write a few words.
DAVID ROGERSON, BROOKWOOD, HUNGERFORD, BURSLEDON, SOUTHAMPTON SO31 8DF
TEL 023 8040 2846 E-mail ; davidrogerson@talktalk.net