<![if !vml]>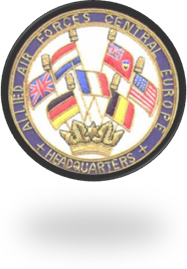 <![endif]>FONTAINEBLEAU
VETERANS ASSOCIATION
NEWSLETTER
ISSUE No.63 DECEMBER 2016
EDITORIAL
There were good times and there were bad times! The good times include the visit to Yevres for the Annual Remembrance Service. You are able to read a report on Page 7. Our Annual Reunion week-end in Leamington Spa was perhaps the most enjoyable for some time. Two new members joined the Association. Our Website is shaping up nicely thanks to Roger with assistance and guidance from Michael Capon.
The bad times included the deterioration to Ted Caton's health to the extent that he could not join us at the Reunion. Abbie Price, Alan Smith and Robin Lees were all posted to the big Airfield in the Sky.
WELCOME ABOARD
<![if !vml]>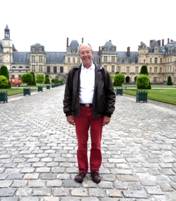 <![endif]>Private Jan Jong, Nederland Air Force Police arrived at Fontainebleau in July 1964. His workplace was Den Haag. Jan left AIRCENT in January 1966. After demob he made a career as a photographer. Some of his recent photos of Camp Guynemer and the town bear witness to his skill. He lives with his wife Nel van Someren in Voorburg, The Netherlands. Jan recalls his recent return to Camp Guynemer - walking over the campsite - it all came back in his memory. It was quite something for a boy of 19 from mother's wings to that far-away place in France. He loved it!
Jan has many hobbies and interests including DIY, golf, music – playing the guitar and singing mainly folk songs, photography, the theatre and riding his BMW K 75 motor-cycle.
OBITUARIES
Colonel Frederick Carter Newton, Sr. (USAF) was born on 11 Sept. 1924 in Rockdale and was a son of James Oscar Newton & Annie (Rumple) Newton. He and Patricia McBride were married on 3 June 1945 in Houston and to this union three children were born. He graduated from Rockdale High School in 1942 as Valedictorian and class President, the entered Texas A & M. In 1943 he was called for active duty and received his wings and commission in the Air Corp. He flew 35 missions over Germany. He retired from the Air Force after 31 years with the rank of Colonel. Frederick then retired after 20 years from Global Marine Drilling Co. as a Senior Vice President of Sales and Contracts. He was preceded in death by his parents, infant son and daughter, Lawrence R. and Malinda A. Newton and two brothers, Bowell & Charles "Tip" Newton. Frederick passed away 31 Aug. 2010 in Houston having reached the age of 85. Survivors include his wife, Pat, two sons, Carter Newton Jr. "Rick" and Steve Newton, a daughter, Kimberly Newton, and a grandson, Oscar James Newton.
Further to the recent announcement, SAC Alan Smith joined the Association in its infancy. Looking through my records I noticed that he attended the first Reunion Dinner when it was decided to put our Association on a formal footing. He served in the MT Section from May 1961 until December 1963
FROM THE POSTBOX
<![if !vml]>

<![endif]>Just to say the badges arrived in perfect order, am very grateful for extra lapel badge. My nipper who is retiring soon after his long service, likes to know all about my stint, so I keep reminding him of how it used to be, and he is quite impressed with the bull I keep pushing .It ain't going to work for much longer!! He's got more medals than I got, and a much bigger pension. However, I digress. The newsletter 62 was received, and made for very interesting reading, thanks very much, and keep them coming,
Dennis Luke, Cowes IoW
Thanks for your efforts with the Newsletters, outstanding job. I saw where SAC Paul Blake was in the Communication Centre the same year I was there too.
Richard Christenson, Florida
I don't remember a Richard, but its nearly sixty years now, perhaps Dick may remember a couple of USAF guys I knocked around with, they were Guy Loose, who was from Dayton Ohio, and a chap with the nickname of Squeaky, not sure of where Squeaky came from though I was friendly with quite a few USAF lads but forget the names. Would love to meet up with some of them again.
Paul Blake, Les Fourneaux, France
The further reference to Robin Lees reminded me to look up my Fontainebleau album, which includes three pictures of the young pilot officer; two of him in AAFCE hockey team that played Stade Francaise in Paris and the other of him standing in the team line up at the newly built pitch at the Camp when Colonel Lindsey introduced the team to Sir Basil before the return match with Stade.
Brian Simpson, Llowes, Hereford
I received Newsletter No. 62. I have been racking my brain for anything that might be of interest to the members out there. I'll give it a go - the highlights of my time at AAFCE were to say the least, pretty low key. I was fortunate in that I was a member of the table tennis team representing AAFCE, and well remember a couple of my teammates were Heinrich Pfitzenmeyer a German youth champion, and a guy called --- Kramer , who were a long way ahead of me in the skills of the game, and an RAF sergeant who's name escapes me. But we were able to hold our own in the distinguished company. A German Airforce major ran the show and took us to Germany to play against a team in Norvenich, Cologne; I think we gave a good account of ourselves... I was billeted in the erks' block and my roommates were, Nat Broadhead, Jim Stollery and Paul Barton, all of whom worked in the Equipment Section in one form or another. (where are they now?) I remember Gunner!! Our little member of staff, he used to spend time with us in the stores, and was well looked after by big Paddy the corporal armourer... as I recall. Sgt Les Cave our NCO left us to take a commission, and we missed him. This posting was the cream of my RAF experience. I will always remember it as a great time of my life.
Dennis Luke, Cowes, IoW
This little card brings a big thank you for all your hard work that went in to making the Reunion such a success. It was lovely. Jim really enjoyed it and we both appreciated the opportunity to make new friends. Everyone made us feel very welcome. We are looking forward to next year.
Pat Howes, Lincs.
PRESENTATION TO THE ANGEL HOTEL
<![if !vml]>

<![endif]>On his own initiative and expense Ron Pole, MBE commissioned a plaque in the form of a shield, pictured left, depicting the RAF emblem. At the Dinner it was presented to the Manager of the Angel Hotel where it will be displayed prominently over the fireplace in the bar
Thanks Ron – it was a kind gesture which the Manager appreciated. – Ed
NINETEENTH ANNUAL REUNION DINNER
25 members gathered at the Angel Hotel in Leamington Spa on Saturday 8 October to enjoy the hospitality of the hotel and relish an excellent dinner. All the staff were friendly and attentive. Jimmy and Pat Howes were welcomed to their first Reunion. Kevin Price was welcomed back after an absence of 5 Years while he was caring for Abbie. Also welcomed was George Wright's daughter Fiona. Pam Adams and Hazel Bryant did a fantastic job selling raffle tickets raising £230 for our funds. We now look forward to returning on 14 October 2017. See photos on page 5
AGM held at the ANGEL HOTEL on SATURDAY 8 OCTOBER 2016 with 25 Members present
Apologies were tendered by Ted Caton, Colin Hogg and Don Conning
The Financial Statement was tabled and approved. The cash in hand showed a healthy balance to continue without any calls for a top up.
Reunion 2017 – it was unanimously agreed to return to the Angel for our Twentieth Reunion on Sat 14 October 2017. It was noted that Annual Service at Yevres will be held on 1 October next year.
It was reported that our Webmaster, who has no connection with the Association, is doing a brilliant job managing our website, in conjunction with Mike Capon. As he maintains the site in his spare time it was suggested and agreed that we give him a gift.
No-one knew what happened to the plaque and bench that the Association presented to Camp Guynemer. Jim Gunn suggested the we commission another plaque and install it somewhere in France that has a connection wirh AAFCE. Mke Capon was authorised to ask a friiend to try to trace them.
Terry Bryant said a few words on his recent visit to Alan Lake whose health has deteriorated. Alan wished to be remembered. The Chairman agreed to write to him expressing the Association's concern and thanking him for the interest he has shown in our activities over the years.
Brian Gibbons proposed a vote of thanks to the Chairman for his work throughout the year.
IT'S A DOGS LIFE by the late Peter Kinsley
<![if !vml]>

<![endif]>
British Army National Servicemen adopted a dog named Gunner in Fontainebleau in the early 1950s.
Beaten up and injured by French youngsters, he was rescued and nursed back to health by men of the RAF and lived on their camp.
The drivers were ordered by the Corporal Major to "lose him" by dropping him in Paris on the provisions run to Les Halles. Three times Gunner walked the 60 kilometres back to barracks. The little mongrel went on training runs with the football and rugby teams, watched the matches, queued for the bus to the AAFCE Camp Guynemer and watched the films in their cinema, barking at other dogs on the screen. He was with the servicemen for ten years.
Gunner the mascot was buried with full military honours in Guynemer in the 1960s where a plaque to his memory was placed on his grave by the ex-servicemen, who have never forgotten him.
Peter, who is no longer with us, was a Fleet Street journalist. He published a few books including one on Gunner. Unfortunately it is out of print. For those who knew Gunner you may find a copy for sale on
E-bay. - Ed.
50th ANNIVERSARY OF NATO's ARRIVAL IN BRUNSSUM
50th Anniversary of NATO's arrival in the Netherlands I am led to believe that HQ Allied Joint Force Command at Brunssum (formerly HQ AFCENT) will celebrate next year the 50th anniversary of NATO's arrival in The Netherlands, after the move from Fontainebleau. Would you be able to let me know if a date has been agreed for next year to celebrate this milestone anniversary to ensure that we can get the Fontainebleau Veterans' Association some visibility at the event.
Michael Capon
Plans are underway to mark the milestone of a NATO HQs being hosted by the Dutch town of Brunssum for 50 years. The actual date of this landmark is 01 Jun 17 but the event will take place Wed 31 May 17 to allow certain VIPs to attend. The current intent is to have a military parade in the town that will be followed by a reception. Short and sharp, I expect the whole thing will last circa 3 hours. The following Saturday (03 Jun) we are planning a families/sports day with the town but that is still very much at the conceptual stage.
Barry Mellor, Brunssun
YEVRES – ANNUAL MEMORIAL SERVICE Pictures by Maud Theron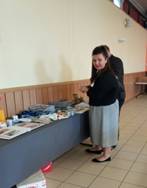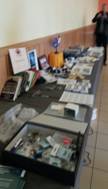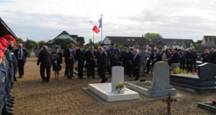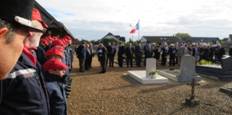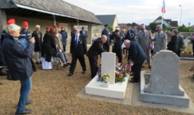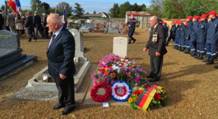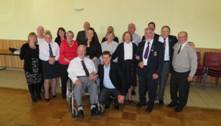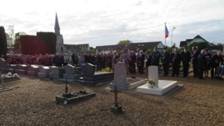 INCOME & EXPEDITURE ACCOUNT ~ 12 months to 31 Aug 2016
£ £
Cash Balance at 31 Aug 2015 256.35
Income
Subscriptions 40.00
Reunion 2015 Raffle 220.00
Merchandise sales 5.00
Total Income 255.00
Expenditure
Postage & Stationery 78.69
2015 Reunion Gratuity 60.00
Web Fee 10.00
Total Expenditure 148.69
Cash Balance at 31 Aug 16 372.66
Stock – Blazer Badges at cost 130.00
Total Cash & Stock 502.66
REUNION 2016 – PICTURES as seen through the cameras of TERRY CLAMP and PETER ARGENT
<![if !vml]>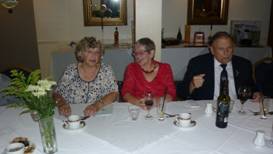 <![endif]><![if !vml]>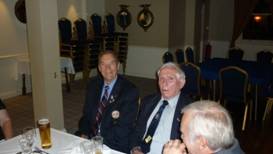 <![endif]>
 Pam Adams, Andrea and Brian Gibbons Tim Hunt and Michael Capon
<![if !vml]>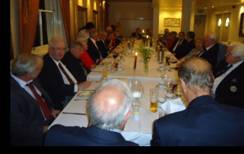 <![endif]><![if !vml]>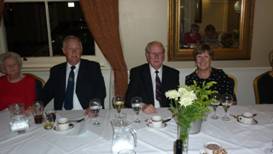 <![endif]>
Full House        Marion and Jim Gunn, Arthur Moone Linda Hunt
<![if !vml]>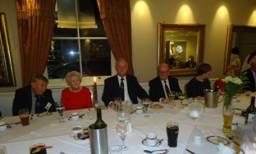 <![endif]><![if !vml]>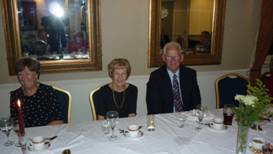 <![endif]>
John Reynolds, Marion and Jim Gunn Linda Hunt, Pat and Jim Hoyes
<![if !vml]>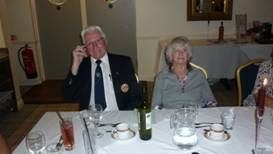 <![endif]><![if !vml]>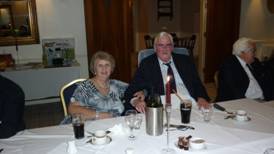 <![endif]>
Terry and Hazel Bryant Christine and David Rogerson
<![if !vml]>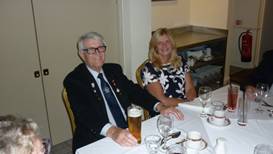 <![endif]><![if !vml]>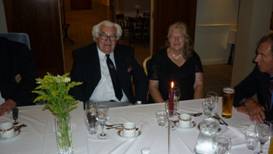 <![endif]>
George and daughter Fiona Peter and Elaine Argent
SAC TED CATON – AN APPRECIATON by David Rogerson
Ted Caton roomed with me at Camp Guynemer in the early 1950s. He has been a mainstay of the Association and is suffering from the early stages of Parkinson's disease. He was a founder member and joined me in our enthusiastic search for our erstwhile colleagues from those halcyon days in Fontainebleau. Appeals were made on the radio and Channel 4's Teletext site. Trips were made to the library to search telephone directories. Ted with his wife Ann attended all our Reunions until this year because he was unable to make the journey. He also made all our coach trips to Fontainebleau. Ted, a National Serviceman, wrote a book "An Erk's Eye View" in which he recounts his days working for Air Chief Marshal, Sir Basil Embry, the Commander. We send Ted and Ann our very best wishes and appreciation for all they have done for the Association over the last 22 years.
THE SAGA OF THE MAPLE TREE 2016 by Michael Capon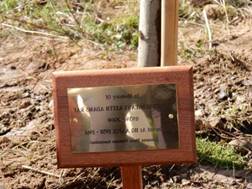 At our 2015 Reunion at Leamington I was speaking with Pam Adams and her daughter Suzanne about the possibility of some kind of a memorial to Keith, to be placed at Camp Guynemer. As a result of talking to Brian Moulding it seemed that there would be considerable difficulties as the camp was being demolished: indeed most of it had been so already. I believe he walked up there to find that even some of the trees had been destroyed.
Brian then gave me the name of the Commanding Officer and my next door French neighbour composed two letters to the French Army C.O. at the Camp from which I received a reply saying that he, the C.O., would have to refer the matter to the Ministry of Defence (MoD) in Paris but that he would be in touch with the result. At the same time he supplied the name of the security officer through whom all future correspondence should be sent. In due course, permission was granted by MoD Paris for the planting of a tree. Further correspondence with the Security Officer revealed that they would prefer a maple tree as, in future years, it would look particularly attractive. There were more telephone calls to Brian asking if he could source a maple tree which fortunately he could.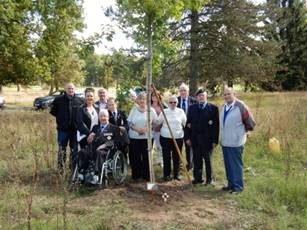 I then spoke with Suzanne's husband, Richard, asking if he was able to get a brass plaque made up which he did with some difficulty. Now we were all set for the 3rd October, after our visit to Yevres, to drive the 90 miles from Chateaudun to Fontainebleau with a slot time of 1200. Then, during my weekly Skype conversation with Brian Gibbons, I was told that we were invited to a dinner at 1800 at the Marie in Yevres, hosted by M & Mme. Hublier the same evening! We were now rapidly running out of time. The maple was planted and we dashed back to Chateaudun to get changed and scraped into the Marie at Yevres on time.
Finally I would like to thank Brian in Fontainebleau for the incredible help he gave in making it all possible. He was not well at the time I was putting a very heavy burden on him when he certainly didn't need it. Also many thanks are due to Brian Gibbons who scoured the local newspapers in Avon and Fontainebleau in a search to find out just what was going on at Camp Guynemer in the way of demolition and reconstruction
REUNION 2017
Arrangements are in hand to meet at the Angel Hotel, in Leamington Spa for our Twentieth Reunion Dinner on Saturday 14 October. Dress is smart casual. Wives and Girlfriends are welcome (but not together!) Attached on Page 8 is a Booking Form return to me. Please complete if you wish to attend and return to me. If you book directly with the hotel it will cause confusion.
RON POLE'S CITATION
AMBASSADE DE FRANCE, LONDON 9 February 2016
Dear Mr. Pole,
I have the pleasure of informing you that the President of the Republic has appointed you to the rank of Chevalier in the Ordre national de la Legion d'honneur.
I offer you my warmest congratulations on this high honour in recognition of your acknowledged military engagement and your steadfast involvement in the Liberation of France during the Second World War.
<![if !vml]>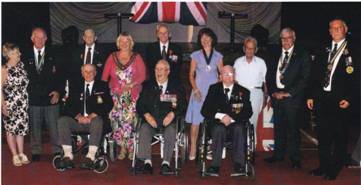 <![endif]>As we contemplate this Europe of peace, we must never' forget the heroes like you who came from Britain and the Commonwealth to begin the liberation of Europe by liberating France. We owe our freedom and security to your dedication' because you were ready to risk your life. I am happy to enclose your insignia of Chevalier de la Legion d'honneur and once again extend to you my heartfelt congratulations.
Since a large number of decorations has to be awarded between now and the end of this year, I shall be unable to present this honour personally to every single veteran. However if you would like an award ceremony to be organlzed I invite you to contact your region's French Honorary Consul, who has been informed and is at your disposal.
Yours sincerely, Sylvie Berrman
above - Recipients of Citation in front row- Ron Pole – centre
YEVRES 2016 by Brian Gibbons
Our Association attended the 72nd Annual Ceremony and Parade on the 2 October at Yevres, where we were warmly received by our many friends.
During the Ceremony we laid wreaths at the Town Memorial and Cemetery. Wing Commander John Parker was present again on behalf of the British Embassy. This year the Town Council invited the German Military Attaché to attend, consequently four National Anthems were played at both sites. British, New Zealand, German and French….quite a challenge for the town band ! Following the Church Service we attended the traditional Vin d'Honneur with a series of speeches before taking our seats for a splendid leisurely Lunch.
A surprise guest this year was the great-nephew of the deceased pilot who had recently inherited Flt.Lt. Stokes medals and pilot's log-book. It was a pleasure to meet Brian Wilding again, the brother of the buried Rear Gunner. Arnaud Theron is currently producing a video of the Ceremony and Luncheon for our website.
This year our visit to France had a rare special and important reason for returning to Camp Guynemer where we had all served so many years ago. There, at the request of his family, we planted a splendid Maple Tree in memory of our dear friend Keith Adams. Somehow the bright sunny day helped soften this sad, poignant moment. Keith's widow Pam, daughter Susie and son-in-law Richard, planted a brass plaque by the tree. A fitting tribute to a fine husband,, father and popular member of the Fontainebleau Veterans Association.
On our return to Yevres, we were invited to a superb supper hosted by the Town Franco-Allied Association. Somehow the year since our last visit has flown by !
We extend Many Thanks to Mike Capon for coordinating our trip and to our Fontainebleau resident member, Brian Moulding, for his efforts in finding and delivering the tree, as well as preparing the spot for planting.
<![if !vml]>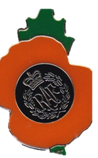 <![endif]>REMEMBERANCE SERVICE – 2016 by Linda Hunt
On Saturday afternoon, 12 November, Tim and I, along with our friends, Helen and Alex Barbour, caught the Oxford Tube Coach from Lewknor to Victoria and from there a taxi to the Premier Inn at Westminster. Once we booked in we took a stroll over Westminster Bridge and decided to find exactly where the Theodore and Bullfrog was located as the Aden Vets were lunching there the next day. It didn't take long to find and, as it was raining and now well past our lunchtime, we decided to have a meal there, which, I have to say, was very nice.
We then walked to The Lord Moon of the Mall, a Wetherspoon pub in Whitehall. The place was heaving with people, mostly ex-servicemen and women or serving members of the Forces who were all there for the Parade the following day. We were lucky enough to find a table so we stayed for a couple of drinks. There were some ex RAF guys singing 'There were 10 German Bombers in the Air and the RAF from Britain shot them down' by the time they had finished singing, well one couldn't really call it singing exactly! We were thoroughly sick of it! I am surprised the Army didn't get involved! After that we went back to the hotel for the remainder of Happy Hour and retired early so we could get a good night's sleep.
Next morning we woke to a crisp, sunny autumn day. This is our fifth year of marching and to date, we have been so lucky with the weather. I would hate for it to have rained but then I guess better standing in Whitehall getting wet than lying in a cold muddy, trench dodging bullets and mortar fire. It would make me ashamed to complain about a bit of rain!
We walked across Westminster Bridge and, before Horse Guards, had to go through a few security cordons. The atmosphere was great with everyone talking to each other and telling stories of where they had served or tales about their fathers, grandfathers etc. who had served in the World Wars or other emergencies. All very interesting and, before we knew it, we were in Horse guards trying to find Aden Vets.
After finding our spot Tim and I went to find John Pullman who was an old friend from my days in Rheindahlen. He was in the RAF during that time but then joined the Kings Own Scottish Borderers. We had a chat and then back to our Association to line up and get ready to march into Whitehall. The Aden Vets were one of the last groups to leave Horse Guards and this meant we were right at the back waiting to march down Whitehall. The Remembrance Service then took place. Always very emotional but gives everyone a chance for reflection, especially during the two minutes silence. There was no sound except the singing of the birds and, considering the crowds, made the stillness and silence even more poignant. Sadly we were right under a large TV screen so we couldn't see the laying of wreaths. However, we sang the hymns and said the prayers with gusto and proudly stood to attention for The National Anthem. Once the marching commenced we cheered our fellow servicemen as they passed by. We were one of the very last to march off but the atmosphere was amazing and the support from members of the public very touching. We finally turned into Horse Guards and gave an 'eyes right' to Prince Charles who was taking the salute. We remained in Horse guards until the contingent of marchers came by then we made our way to Theodore and Bullfrog in John Adam Street.
When we arrived at the pub we were met by a sea of green. This apparently, was the haunt of the Royal Green Jackets and the place was heaving inside and out.
Fortunately we had a room booked on the first floor so, to Tim's relief, he didn't have to fight his way to the bar! We had a very pleasant buffet lunch and spent the time discussing the morning. Can I just say thanks so much to Geoff for looking after us and making sure we did not go hungry.
When we finally left the pub it was still full to the brim with Green Jackets who were shaking our hands as we left. I was talking to one man and told him that when I was 10 I lived in Hong Kong and used to take a 3 ton truck to school. The escorts were always young soldiers whose official
………………..Continued on page 9
name for this particular role was 'Duty Father'. I should think to an 18 or 19 year old guy this was rather uncool. Anyway, I told him that I had been secretly madly in love, well as madly in love as a 10 year old could be, with our Duty Father whose name was Danny. I asked him if he was Danny? He said 'I can be whoever you want me to be!' and after a bit of banter we then started to make our way home. I had better mention at this time that I don't think it was the Green Jackets who were in Hong Kong in 1958; I think it was the Green Howards!!!!!!!!!
On the way back to the Premier Inn we passed lots of pubs, which were overflowing with veterans who had attended the parade, and they were all very friendly. The road was actually closed off and, in one place there were about 40 men standing in the middle of the road having their photo taken. Most of them wore RAF berets and had an RAF badge on their jackets. We were clapping them as we passed by and they called for Helen and I to join them so we rushed over to have our pic taken with them. I asked one of them who they were and he replied Harriers. I said 'Oh you're all pilots' which didn't please them at all! 'Pilots!' yelled one guy, 'We're engineers!' so I had to apologise profusely and Helen and I sheepishly left them to it but pleased that we can tell people we photo bombed a load of Harriers!
We passed the Cenotaph and were able to have a good look at the wreaths that had been laid earlier.
All in all it was an amazing day and we enjoyed it but we didn't lose sight of why we were there and I hope all those who sacrificed their lives so we could live freely are aware that we will be forever grateful.
Thank you Linda for an interesting report. – Ed
AN APPEAL
<![if !vml]>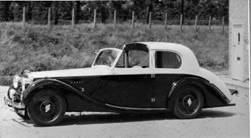 <![endif]>Maybe you can help in my quest. I am researching a marque of car called an Atalanta. I am aiming to write a book on it. Atalanta cars were built at Staines near London between 1936 and 1939. Only 26 cars were built during that period, all very individual, but the war stopped things. They built equipment for the war effort and continued to make pumps after the war was over. A Major Dick Shattock continued to make Atalanta cars after the war after buying the Company and spare parts in 1947. His cars were known as RGS Atalanta and continued until 1958. His son Alan is also helping write the book. The company is now owned by Martyn Corfield who is producing a new car.
One of the pre-war Atalanta cars, I believe, was built for Air Chief Marshall Sir Basil Embry in 1939. It had sedanca de ville style coachwork where the chauffeur had an open roof when lifted off while the occupants in the back were enclosed. I attach a picture of the car taken at Fontainebleau after the war. I believe Sir Basil went there a lot and was a member of your Association. I bought Sir Basil's book Mission Completed but there was nothing about the car in it. I also have a record of him preparing to sell the car to Air Marshall L F Sinclair on the 7th July 1954. I think he kept the car until 1958 when it went in to private hands. Sadly the car is not known of today, I believe it was painted cream and dark blue and also had a dicky seat in the boot.
I have emailed his son Mark in Australia who I hope may help. I did wonder if you may or any one in your association may recollect the car or even have a picture of it. It was a long time ago but hope someone may help.
Barry Ward Lincoln
20th ANNUAL REUNION ~ 13 & 14 OCTOBER 2017 CIRCULAR No 1
The Angel, Leamington Spa has been booked for our Annual Reunion Dinner on 8 October 2017
1. The rates are: £65.00 per person per night for Dinner, Bed & Breakfast sharing a twin or double room and £75.00 for single occupancy.
There is a lift to some floors so when you book specify if you need a lift.
Individual deposits are not required.
Extensive menu ~ choice from 4 starters ~ 4 main including vegetarian option ~ 4 deserts. Coffee and mints £1.50 extra. Details will be circulated later.
The Angel is located in the centre of town and is close to the railway station and shops.
The hotel has acquired an overflow parking facility.
7. Dress is informal ~ smart casual is fine.
To avoid any confusion all bookings must be made through me. Booking form below for you to complete and return to me. You may send by e-mail with your requirements.
Please reserve my please at the 2017 Reunion
Name…………………………………………………………………………………………………………………………
Number in my party................Any special room request …………………………………..
Do you require use of the lift?………………………………… ……
Night(s) for which you require hotel accommodation………………………………………
AND FINALLY……..
Two things would please me in 2017 – Firstly more support for our Twentieth Reunion and secondly having your news and memories to include in your Newsletter.
Please don't leave it to the usual suspects.
Only yesterday di9d I receive an excerpt from an airman's biography. He served in the Comms Centre
1952 – September 1953. Too late to include in this Newsletter but will be serialised in future editions.
I shall conclude by wishing you all a joyous Christmas and a Happy, Healthy and Peaceful New Year.
DAVID ROGERSON, BROOKWOOD, HUNGERFORD, BURSLEDON, SOUTHAMPTON SO31 8DF
TEL 023 8040 2846 E-mail ; davidrogerson@talktalk.net