<![if !vml]>

<![endif]>FONTAINEBLEAU VETERANS ASSOCIATION
 NEWSLETTER
<![if !vml]>

<![endif]>
EDITORIAL
In this issue you will find contributions from the Army. Congratulations to Brian Samways who has been appointed Secretary of the Dorset Branch of the RMPA. We need more input from our Army members.
This may be our last Reunion where the attendance is down to 26 unless more of you come forward. We are not getting any younger.
I cannot let it pass without thanking  Roger, our webmaster. He has done a remarkable job setting up and maintaining our website in his own time. It is so easy to navigate and contains many more features. Thanks also to Mike Capon for all the assistance he provides.
OBITUARY
Abbie Price said goodbye to this world in August after a long illness during which time her husband Kevin was her carer. Prior to the onset of her illness Abbie attended our Reunions with Kevin. We send Kevin our deepest sympathy for his loss 
WELCOME ABOARD
<![if !vml]>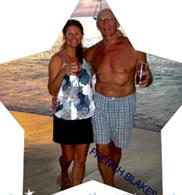 <![endif]>SAC Paul Blake arrived at AAFCE in January 1958 to work as a teleprinter operator in the Comms Centre. He returned to the UK in September 1960. After demob Paul developed his skills to become a toolmaker before he switched to become an hotelier. Paul loves France so much that he now lives in Les Fourneaux, Dracy with Shealagh, his wife of nearly 40 years. Paul has three children, two boys: one living in Australia with his family the other son lives in London while their daughter is a nurse in South Wales. There are four grandchildren. Paul and Shelagh settled back in France after sailing his yacht "Queenie Rose". But they plan to return home within the next few years. During Paul's time at Fontainebleau he was known as Taff Blake. Paul enjoys cycling, sailing and skiing. He built his own 14 metre steel hull sailing ketch in which he sailed round the World.
FROM THE POSTBOX
<![if !vml]>

<![endif]>Recently I was appointed Secretary of the Dorset Branch RMPA, and we now produce our own newsletter. One of our members, like myself served at ALFCE, so we did an article, which you may find interesting.
Please find attached a copy of our newsletter, and feel free to use any material, if you wish copies of any of the photos please just email and I would gladly send them to you.
 This article can be found on below
Brian Samways Poole, Dorset
It is always a pleasure to read Ron (Jock) Fraser's letters that I wish to share his latest missive.
<![if !vml]>

<![endif]>Last year's letter was full of expectation that we would "downsize" and move into somewhere less work and more convenient in Yeppoon. So much for the best laid schemes of mice and men –Cyclone  Marcia put paid to that and we're just getting back to the state where we can put the place on the market in 2016. 22nd January 2015 was something to remember as we watched the destruction! Standing at the window watching our huge pencil pines falling in different directions, trees and branches flying everywhere and when it all died away going out to find all our roads and paths blocked by fallen trees and power lines. Our neighbours were marvelous, cutting up and moving trees so we could get in and out and lending us their spare camping solar panels, generators and 12v little 'frigs and with the gas barbecue, and little stove we were fine till power was restored 7 days later. Then came the battles with the insurance, who repaired or replaced gutters, roof sheets on the shed (different colour - ("OK mate, it will fade") etc. etc. but wouldn't touch the roof light pillar on the sundeck that came down "lack of maintenance". How do you maintain a concrete pillar?
What with that, having to put in more new pool fencing for next year's revised regulations - we had left the choice of ways to do it to the next owners - !t's been an expensive year. Even the pool, which took 4 barrow loads of branches, leaves etc. out of as it looked like a vegetable broth, took a witches brew of expensive chemicals to get back in order.
But are we downhearted -too damn right we are...! We're on bonfire No.59 of tree trunks branches and greenery and till more to go - carefully, it's the bushfire season and trying to "prettify " the scars of where trees are down or broken. A break with Christmas in Brisbane with Diane's family and then next year hopefully getting this place on the market. Mind you, we've had Biblical Fires Floods and Tempest since we came here, could we have the plagues of locusts next? I'm still continuing to support my Ophthalmic consultants new BMW and Bermuda holidays every month and still passing my annual driving eye tests and both of us having the aches and pains of advancing years to try and outdo each other with.... Nasty dose of a 'flu which was not the one we all had injections for, lasted 4 +weeks and required 2 lots of antibiotics to clear up and has still left us very - I think the technical term is knackered. However my coughing and barking was so good it got me fan mail from some lady sea lions in Baja California and an improper proposal from a gay elephant seal in the Falklands....
Regularly in touch with Alasdair and Rhiannon as to their activities and work and life in the UK which we also read about in the UK papers we get each week, and the world news doesn't really improve, does it?  I was stationed in Fontainebleau/Paris during the Algerian FLN campaigns of the mid 50's which was - ah - interesting, and all that's happened in the intervening years is more and worse of the same. How much is all this terrorism costing in time, money, disturbance, and general disturbance to travelers etc. So far Oz is relatively untouched by it but already there are demonstrations against new mosques, and while the "boat people" have been stopped the "bleeding hearts" industry is growing apace it's all too much for a simple soul and there are some advantages in being away in the sticks. Anyhow, enough of my prattling, at least you only have to suffer it once a year, just sympathise with Christine...
We hope it's been a good year for you and yours and let us hope the only wind we get here in Tungamull next year is caused by an excess of butter beans and artichokes and not Mother Nature, the fickle old hag. Incidentally we're forecast a very hot dry summer with a strong EI Nino, it's only Spring and we've already had 36C degree days, very low rainfall for November, the dam is down to a third and while we're not yet short of water in our tanks,  I'm diluting my pre-prandial  whisky with more whisky to save water.
Look after yourselves, all we nice people are getting thin on the ground...
Ron (Jock) Fraser, Tungamull, Australia
Here are some thoughts on my posting to AFFCE '56 -'58, I was Chief Cook and Bottle Washer to C of' S Air Marshal Sir Theodore McEvoy (Mac to everyone). Sir George Mills was C in C at the time. l must admit I am not sure I remember Robin Lees, our ADC was Fl. Lt. Adair who I was regularly in contact, with re. the Entertaining side of my job. As we were living out at Chartrettes near Melun we had little or no contact with Base Camp at Fontainebleau. However Sgt. Ron Pole (Mac's Driver) was from Uxbridge. Before posting he was the nominated driver when the RAF was on Royal duties (they had a Rolls for the job), I have never experienced driving like his before or since. He always appeared motionless when driving, his skills were unbelievable. I learnt a lot. He had driven Tanks in the Army during WW2. We also had 2 Batmen; Dennis Hockenhull was one prior to National Service he worked for Rover Motor Co. and went on after Service to become General Sales Manager for the Group. He spent quite some time in the Middle East..
I suppose my interest in the Association mainly died when it seemed the Police and Motor Pool were the only interested members and as a Master Chef from the No 1 School of' Cookery at RAF Halton I had little in common and as a busy man to this day (still working but not cooking, I had done my share) I never really made the time.
At my wedding in '62 Ron Pole was my Best Man. he is still with us in his '90s and living at Clacton-on-Sea. We keep in touch and In 1967 I was honoured when Mac accepted my invitation to be Guest of at my Annual Dinner Dance as President of Beaconsfield Chamber of Trade at the Bell House Hotel. He and his wife Marion were wonderful guests, it was some do! I went on in the National Chamber of Trade to become member of the Board and Area Chairman until it folded in 1976
I am a member of the Sturminster Newton Dorset Branch of RAFA and still proudly wear my FVA Badge emblazoned on my Blazer at Meetings and Events.
One disastrous event in '57 when I was at home on leave I contracted the very virulent Asian flu. I was laid low for a week or so, when I had a call from France asking if I could get back as they had a very important guest for supper and could I help. I thought I was through the worst, rang my Doctor he asked if I felt OK, I said yes and arrangements were made for  me to get a Flight from Heathrow, and I would be picked up at Orly. On arrival I got halfway down the Aircraft steps (as they were in those days) and promptly collapsed on the runway. Fortunately, Ron was there and promptly took me to sickbay at Fontainebleau, where somehow or other I managed to give the bug to other members of the Camp which rapidly spread, say no more. I later found out Air Ministry were told and my Doctor at home finished up with a few questions to answer and explanations to give. It did not go down too well.
Jerry Anderson, Gillingham, Dorset
Those of you who access the RAFPA Official Website, the Associates Website and the various RAF Police Facebook sites will be aware that one of our active Association members in his 80's is seeking the whereabouts of former colleagues with a view to re-establishing contact. Apologies if you are aware of this situation. If you are not aware, then maybe you can help. Do you know any of the following persons, or can you recollect serving with them: GEORGE PARSONS: Driving Instructor at Debden 1960 - 63 and later WO in Royal Rhodesian Air Force, MT section at New Sarum.  Reportedly, George was a cockney, originally from Hackney.  ANDREW GREEN: Ex RAFP - Bruggen 1968 – 71 ANDREW GIBSON: Ex RAFP, Service Number: P42633493 if you can remember any of the above PLEASE respond to this email. Even if it's something simple; the name of a spouse; which town or region they came from; location when discharged; Scottish accent perhaps. Anything, no matter how insignificant it may seem to you, might help. We have been successful on one occasion and he has had a telephone conversation with one old friend that he had not heard from in over 50 years. PLEASE HELP IF YOU CAN. snowdrop-retd@outlook.com
Colin Hogg, Warwick
Here are some photos off my motortrip to Fontainebleau and Camp Guynemer where I slept, ate and swam in the new Olympic size swimming pool. A room for 2 nights in the new Casse for Euros 110 including an airco bed, shower, toilet and washbasin all very clean. The restaurant was good and inexpensive. The old building had been demolished, recogniseable by its foundations. Fontainebleau is still a very nice town back. I loved retracing my footsteps after 50 years. 
See below for a selection of Camp Guynemer photos                 Jan Jong, Voorburgh. The Netherlands
Below is translation of a letter from the Head of Body Sports at Camp Guynemer to Michael Capon in response to a request for the Association to plant a tree in the camp.
<![if !vml]>

<![endif]>
Monday, 23 May, 2016
Dear Sirs,
We have received your letter dated 3 May and I would first like to thank you for your interest in the Joint School of Sports.
I fully understand your request, the initiative is part of a working memory that we, the military, especially affections. I also want to reassure you stating that the EIS still exists and that the 50 hectares of Guynemer camp are still in his grip. I must however warn you of radical change with regard to the implementation of infrastructure. Indeed, the site has been completely restructured as part of a public-private partnership contract and all the buildings from the NATO period and 60-70 years were demolished to make way for infrastructure modern in lesser number. Indeed, I fear that the veterans will find most anything they have experienced it a few decades ago.
As for the gift of a tree or a bench, I cannot, for now, bring you an answer because I have to validate the feasibility with our partner. Whatever the answer, I think, however, you can bring it quickly. In any case, it will be our pleasure to welcome the delegation of your association for its pilgrimage on Guynemer camp. I will return to you soon. Please accept, Gentlemen, the expression of my best greetings.
Lieutenant Colonel Christophe RATEL Body Head, Joint School Sports
Dear Mike (Capon) - many thanks for taking the time to write and gather articles for our magazine.  I really appreciate this, however could you please send me digital versions of texts and in particular any graphics, photographs should be highest possible resolution as even with the best software. It is difficult to generate professional standard products with low resolution originals.
Regards, Barry Mellor, Northern Star
DEFINITIONS
BEAUTY PARLOUR - A place where women curl up and dye.
CHICKENS - The only animals you eat before they are born and after they are dead.
COMMITTEE - A body that keeps minutes and wastes hours.
EGOTIST - Someone who is usually me-deep in conversation.
INFLATION - Cutting money in half without damaging the paper.
POLITICAL CORRECTNESS - A doctrine fostered by a delusional, illogical minority
TOMORROW - One of the greatest labour saving devices of today.
SECRET – A story you tell to one person at a time
DUST – Mud with juice squeezed out.
SKELETON – A bunch of bones with the person scraped off.
TOOTHACHE – The pain that drives one to extraction.
RUGBY XV circa 1954 - Courtesy Terry Clamp
<![if !vml]>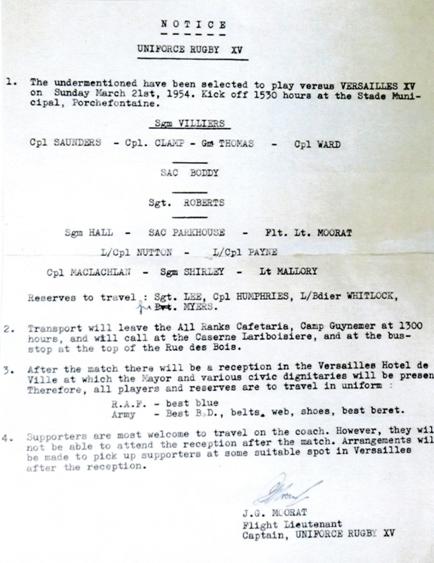 <![endif]>
I'm afraid I can only identify 9 on the photo, the others on the team sheet, the names I remember but not the faces. Over that period 53/54/55 many guys played both RAF and Army or as they called them Landcent. Those names I remember are:
Front row left SAC. Boddy, TC, Cpl. Ward.
Middle row Sgt. Roberts, Flt Lt Moorat, Cpl Taffy Seabourne, Gunner Thomas, standing next to Cpl Nutton.
Back Row second left Cpl. MacLauchlan.
Back row second left, Cpl. Maclachlan.
We were a mixed bunch of RAF and Army with one Navy a Lt. Mallory I think.
<![if !vml]>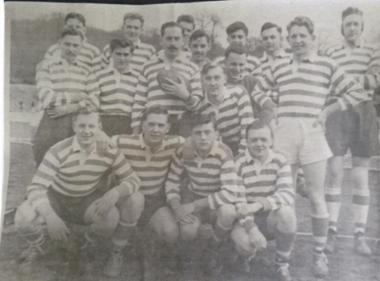 <![endif]>
One story I can recall when we played at a French Air Force flying station, jets and all. It was not until we were stripping off for the game, and in my broken poor French found out that we were in fact playing the actually French Air Force team!!! Needless to say we were thrashed 56 something to nil, and that score was I learned after the game that at half time someone told the French team captain who our team was made up of, so they did take it easy in the second half. After the game we had a great meal and yes you guessed plenty of vin ordinaire.
<![if !vml]>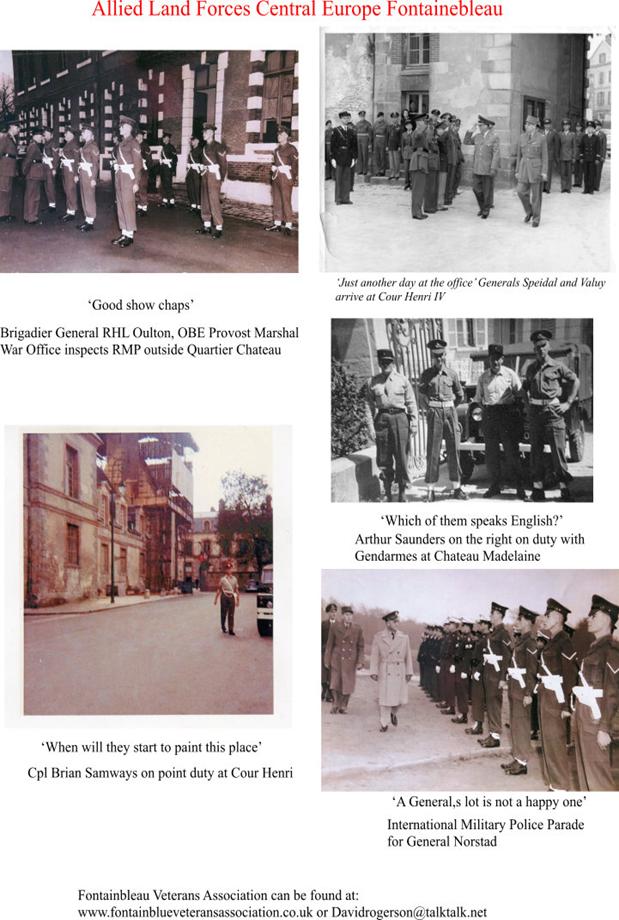 <![endif]>
<![if !vml]>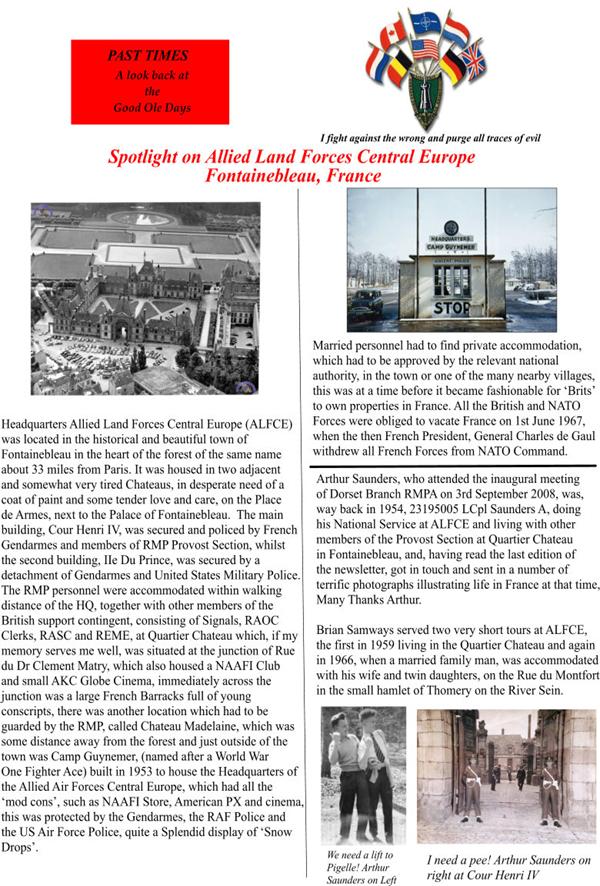 <![endif]>
A SELECTION OF PHOTOS FROM JAN JONG'S  VISIT TO CAMP GUYNEMER THIS YEAR.
PHOTOS OF FONTAINEBLEAU TOWN  HELD OVER FOR THE NEXT NEWSLETTER
<![if !vml]>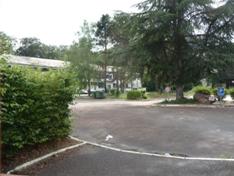 <![endif]> <![if !vml]>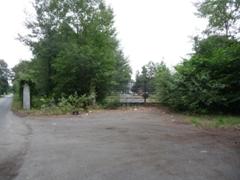 <![endif]> <![if !vml]>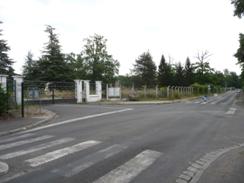 <![endif]>
<![if !vml]>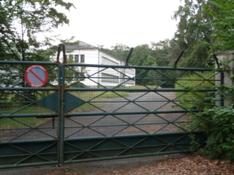 <![endif]> <![if !vml]>
<![endif]> <![if !vml]>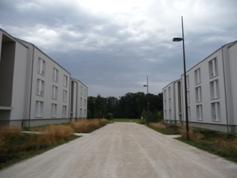 <![endif]>
<![if !vml]>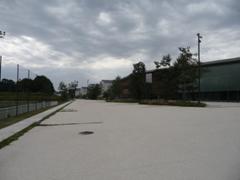 <![endif]> <![if !vml]>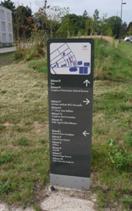 <![endif]>
ANZAC Day 2016 MELBOURNE - RAFA.  
<![if !vml]>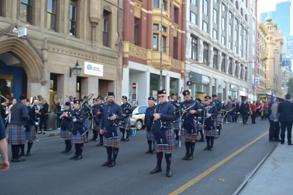 <![endif]>         <![if !vml]>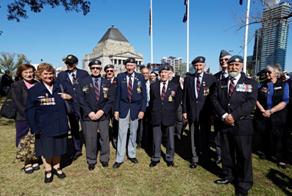 <![endif]>
                            One of the school bands taking part                       Melbourne Branch with Shrine of
                                                                                                     Remembrance in the background                           
<![if !vml]>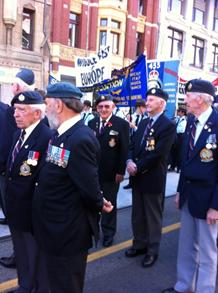 <![endif]>      <![if !vml]>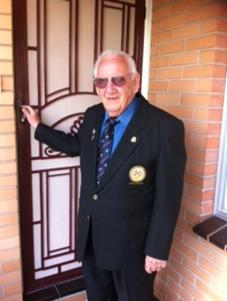 <![endif]>
                                  Some of the members at the head of          Eric Billingham displaying
                                         the Melbourne contingent.                   his AAFCE blazer badge.
<![if !vml]>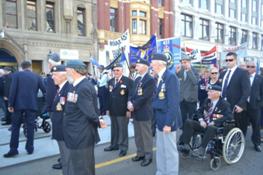 <![endif]>
                                                                Final assembly area after the march.
<![if !vml]>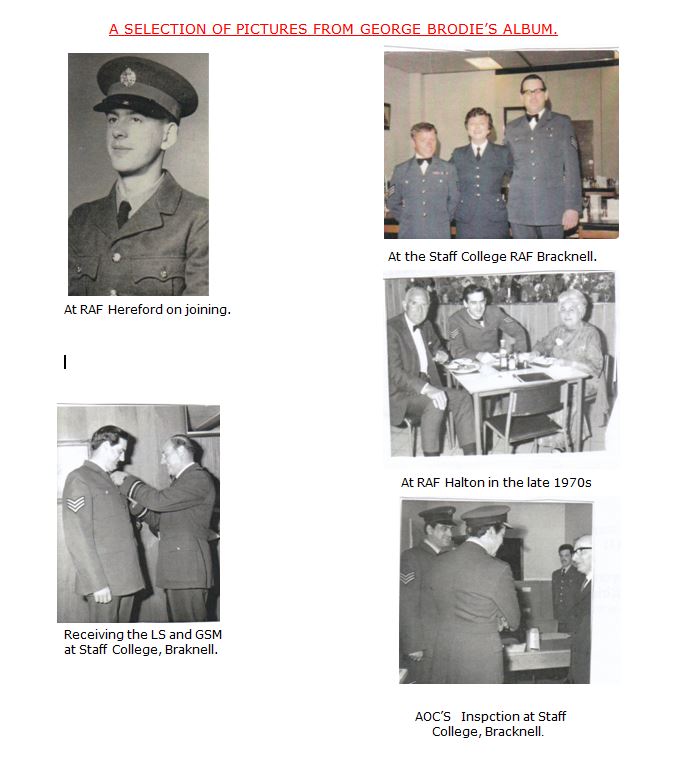 <![endif]>
THE LATE AIR VICE-MARSHAL ROBIN LEES CB, MBE – by Ted Caton
I would like, if I may, to follow up Brian Simpson's excellent obituary in the last newsletter with some further comments about Robin Lees. As a member of Sir Basil Embry's small office staff, I worked quite closely with the then Pilot Officer/Flying Officer Lees for about twelve months and, as Brian said, he took good care of both of us.
It is no surprise that he "annihilated" Brian on the tennis court. With a Flying Officer Nicholls (not an AAFCE man) he was to win the RAF doubles three times. He represented the RAF not only at tennis but also at squash and hockey. Surprisingly, when Mrs. Lees phoned to tell me of Robin's sad death, in our short discussion it transpired that, although she was aware of his tennis and squash exploits, she didn't know about the hockey! He was at one time a member of the committee of the All England Club at Wimbledon.
Robin was the son of Air Marshal Sir Alan Lees KCB CBE DSO AFC but was prevented from emulating his father as a pilot by eyesight problems. He was destined in the 1980s to head the RAF Administration Branch in the rank of Air Vice-Marshal, retiring in 1986.
In the late 1990s he very kindly wrote the Foreword for my book, "An Erk's Eye View", having first asked to read the whole script. His Foreword when received by myself was accompanied by a number of suggestions as to amendments and corrections to my script. We have since kept in touch!
Sadly I have no AAFCE era photographs of Robin as an individual:  those NATO photos I do have show him partly hidden by, and several paces to the rear of, Sir Basil and other high ranking officers, adorned with the golden aiguillettes of his ADC-ship, clutching the official briefcase and looking a trifle anxious. I am proud to have worked with Sir Basil, Robin Lees and the few other members of the office staff.
THE BIRTH OF NATO
In December 1950 talks were progressing under Field Marshall Lord Montgomery for a Western Union defence organisation, so far as it existed, to be merged into a North Atlantic Treaty Organisation.
This decision was taken by the Foreign Ministers of the five Brussels Pact signatories, Britain, France, Belgium, The Nethertlands and Luxemburg. This did not affect the obligations of the five countries undertaken under the Brussels Treaty.
The Ministers read in secret a draft of a reply to the Soviet Notes on German rearmament. This meant an end of the military Headquarters established at Fontainebleau under Field Marshall Montgomery. A spokesman said that this was a military decision and would be up to General Eisenhower.
AND FINALLY……………………
It is refreshing to receive articles from our coleagues who served in the Army. Keep them coming.
Editor : DAVID ROGERSON,  BROOKWOOD,  HUNGERFORD,  BURSLEDON,  SOUTHAMPTON  SO31 8DF
Tel : 023 8040 2846  E-mail mailto:davidrogerson@talktalk.net