FONTAINEBLEAU VETERANS ASSOCIATION
 NEWSLETTER
ISSUE NO 61                                                                             JUNE 2016 
EDITORIAL
We are now approaching the half way stage of this year – how quickly it has flown. This is the first newsletter for a very long time that there is not a new member to announce. There have been a few who showed an interest but when invited to join just did not respond to take up the offer to join our Happy Band.  However it is not all bad news – Our website is up and running and is much more user friendly than previously. We look forward to our Reunion in October. We would appreciate the attendance of some of you who have not experienced our friendly get together.
OBITUARIES
Air Vice Marshal Robin Lees – by Brian Simpson OBE
Robin Lees passed away on 27 February, his 85th birthday, as a result of multiple organ failures. Those
amongst you who served at Fontainebleau in the early  –  mid 1950s may remember the young officer
who was Sir Basil Embry's Aide de Camp 
The Internet tells us that he had a successful run as chief executive of the British Hospitality Association until stepping down in 1996, and provides what looks like a fairly recent picture. Died 27 February and buried in Alton Abbey 10th March.
As I remember he took good care of Ted Caton and me. He was instrumental in getting both of us on the famous flight to Nice with Paston-Williams as pilot. I later had a day trip with him as pilot to the USAF base in Landstuhl. Robin handed me a tennis lesson - I'd been winning most of my games and thought I could cope with him only to be completely annihilated.  While on tennis, my immediate boss - Squadron Leader Frith tried to persuade me to become a regular airman and gave me an excellent reference when I finished though when I spoke to him at Wimbledon, where he was both an AVM and vice-president of the club, I had clearly, and not surprisingly faded from his memory.
Sgt. Alan Smith
Alan served as SRO to the Commander at AAFCE from June 1961 until June 1963. Word reached me that he had passed but without any details surrounding his passing. Alan attended our early Annual Reunions and I used to chat regularly with him on the telephone until he lost interest in the Association.
FROM THE POSTBOX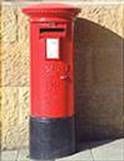 I arrived at AIRCENT in September 1954 and left in April 1957. I married my wife in April 1955. Because of my age she could accompany me until October the following year. Charley Collyer found us a lovely house in Samois sur Seine about 6 miles from Fontainebleau. It was a well-appointed house with all mod. cons. and included a garden that backed on to the river. In the village were 2 butchers, one pork the other beef and lamb, two cafes one of which served evening meals. A bus ran only on Sunday and Tuesday to the Market. For our wedding anniversary we spent 3 days in Paris. This included an evening meal – seven courses with wine on the "Baton Rouge" A quartet played music throughout the evening. An experience we shall never forget.……………to be continued.
John Pearce, Erith, Kent
Page 1 of 4
It is always such a pleasure to read Ron (Jock) Fraser's letters that I wish to share his latest missive.
Last year's letter was full of expectation that we would "downsize" and move into somewhere less work and more convenient in Yeppoon. So much for the best laid schemes of mice and men –Cyclone  Marcia put paid to that and we're just getting back to the state where we can put the place on the market in 2016. 22nd January 2015 was something to remember as we watched the destruction! Standing at the window watching our huge pencil pines falling in different directions, trees and branches flying everywhere and when it all died away going out to find all our roads and paths blocked by fallen trees and power lines. Our neighbours were marvellous, cutting up and moving trees so we could get in and out and lending us their spare camping solar panels, generators and 12v little 'frigs and with the gas barbecue, and little stove we were fine till power was restored 7 days later. Then came the battles with the insurance, who repaired or replaced gutters, roof sheets on the shed (different colour - ("OK mate, it will fade") etc. etc. but wouldn't touch the roof light pillar on the sundeck that came down "lack of maintenance". How do you maintain a concrete pillar? What with that, having to put in more new pool fencing for next year's revised regulations - we had left the choice of ways to do it to the next owners - !t's been an expensive year. Even the pool, which took 4 barrow loads of branches, leaves etc. out of as it looked like a vegetable broth, took a witches brew of expensive chemicals to get back in order.
But are we downhearted - too damn right we are...! We're on bonfire No.59 of tree trunks branches and greenery and still more to go - carefully, it's the bushfire season and trying to "prettify " the scars of where trees are down or broken. A break with Christmas in Brisbane with Diane's family and then next year hopefully getting this place on the market. Mind you, we've had Biblical Fires Floods and Tempest since we came here, could we have the plagues of locusts next? I'm still continuing to support my Ophthalmic consultants new BMW and Bermuda holidays every month and still passing my annual driving eye tests and both of us having the aches and pains of advancing years to try and outdo each other with.... Nasty dose of a 'flu which was not the one we all had injections for, lasted 4 +weeks and required 2 lots of antibiotics to clear up and has still left us very - I think the technical term is knackered. However my coughing and barking was so good it got me fan mail from some lady sea lions in Baja California and an improper proposal from a gay elephant seal in the Falklands....
Regularly in touch with Alasdair and Rhiannon as to their activities and work and life in the UK which we also read about in the UK papers we get each week, and the world news doesn't really improve, does it?  I was stationed in Fontainebleau/Paris during the Algerian FLN campaigns of the mid 50's which was - ah - interesting, and all that's happened in the intervening years is more and worse of the same. How much is all this terrorism costing in time, money, disturbance, and general disturbance to travellers etc. So far Oz is relatively untouched by it but already there are demonstrations against new mosques, and while the "boat people" have been stopped the "bleeding hearts" industry is growing apace it's all too much for a simple soul and there are some advantages in being away in the sticks. Anyhow, enough of my prattling, at least you only have to suffer it once a year, just sympathise with Christine... We hope it's been a good year for you and yours and let us hope the only wind we get here in Tungamull next year is caused by an excess of butter beans and artichokes and not Mother Nature, the fickle old hag. Incidentally we're forecast a very hot dry summer with a strong EI Nino, it's only Spring and we've already had 36C degree days, very low rainfall for November, the dam is down to a third and while we're not yet short of water in our tanks,  I'm diluting my pre-prandial  whisky with more whisky to save water. Look after yourselves, all we nice people are getting thin on the ground..
 Ron (Jock) Fraser, Tungamull, Australia
To help to reduce costs and workload, I feel that in the words of Samuel Goldwyn you should "include me out." I do not have Internet and I will not have until I get the other half of my eyesight back, having Fuchs Cornea Dystrophy. My contribution at AAFCE was working purely in the RAF Support Unit with very little contact with other nations. We did not have access to the Allied International Mess, thus we had the usual RAF fare which kept us slim – slightly anorexic (thankfully). Our colonial cousins (USAF) referred to us as "poor whites" Only the French National Servicemen were paid worse – after all it was their country. I laugh today – as part of NATO we endeavoured to keep the Eastern Europeans out especially those with snow on their boots. Now they are all over the UK any many own substantial parts of London especially in the wealthy areas. Only once did I set foot in Building 1 and that to be signed off from AAFCE
         David Barnes, Worthing
Page 2 of 4
Those of you who access the RAFPA Official Website, the Associates Website and the various RAF Police Facebook sites will be aware that one of our active Association members in his 80's is seeking the whereabouts of former colleagues with a view to re-establishing contact. Apologies if you are aware of this situation. If you are not aware, then maybe you can help. Do you know any of the following persons, or can you recollect serving with them: GEORGE PARSONS: Driving Instructor at Debden 1960 - 63 and later WO in Royal Rhodesian Air Force, MT section at New Sarum.  Reportedly, George was a cockney, originally from Hackney.  ANDREW GREEN: Ex RAFP - Bruggen 1968 – 71 ANDREW GIBSON: Ex RAFP, Service Number: P42633493 if you can remember any of the above PLEASE respond to this email. Even if it's something simple; the name of a spouse; which town or region they came from; location when discharged; Scottish accent perhaps. Anything, no matter how insignificant it may seem to you, might help. We have been successful on one occasion and he has had a telephone conversation with one old friend that he had not heard from in over 50 years. PLEASE HELP IF YOU CAN.
snowdrop-retd@outlook.com
Colin Hogg, Warwick
19th ANNUAL REUNION
We return to the Angel Inn in Leamington Spa for our Reunion Dinner on Saturday 8 October. There are still places re-maiming. Each year that passes our numbers decline. For details contact the Editor.
A reminder that a contingent of Veterans will attend the Memorial Service at Yevres in early October. For those who are not aware of the background here is a brief history. In 1944 a Lancaster Bomber badly damaged by enemy fire was returning to base when the damage was too severe and the Pilot and one remaining crew member on board were forced to crash land the plane. Its direction was the village of Yevres. The crew steered the plane to a nearby field to avoid any loss of life to the villagers. The two airmen who lost their lives are buried in the local cemetery. We are always assured of a good reception by the local inhabitants
If you would like to be included in the group please contact Michael Capon. Tel No. 01732 505864
or e-mail : capon769@btinternet.com for full details.
VOICE FROM THE PAST.
Story by: senior Aircraftman (SAC) Mike. Capon, lnternational Motor Pool, Allied Air Forces Central Europe (AAFCE). Printed in the Northern Star
The photograph below was taken by the author in June 1957 morning. It shows the range of vehicles typically in the lnternational Motor morning.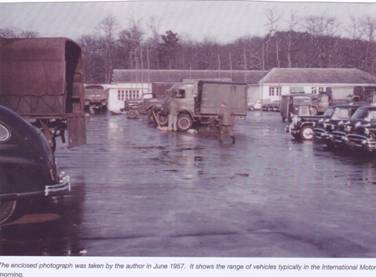 From day one of AAFCE to the closure, of all the articles ever written, the best ones were by Bill Gunston in 1953. They all seem to concentrate on the Commanders and the work in Building No. 1 and I never saw anything written about the Domestic site at AAFCE.
By crossing Rue du Rocher D'Avon, one came to the Domestic Site. lf you entered by Gate 6, the road led past the RAF Motor Transport Section which then led into the lnternational Motor Pool. The Motor Pool was under the command of an R.A.F. Squadron Leader with the deputy a USAF Captain. There were two further deputies, in the shape of R.A.F and USAF Warrant Officers. ln
the Motor pool, each nation had a two-bay workshop although the British and the Americans, because of the size of their vehicle fleets, had three bays. The RAF drivers were all VIP driver-trained and each nation usually drove its own senior officers. The R.A.F was in a unique position as it had to both  maintain its own national  fleet of vehicles and also those provided to the International Pool.   
Page 3 of 4
As part of the British National fleet there were four coaches. Three of these were tasked each day to shuttle British and Canadian children from outlying villages to the international School and back. The fourth coach provided return trips to Melun Nillaroche for air and ground crews where the RAF had a communications flight of three aircraft. At lunchtime, because of the distance from Fontainebleau, the ground crew were taken to a restaurant in Melun. There were also two ambulances in the fleet tasked daily with transporting nurses to the British Wing of the Fontainebleau Hospital and dental staff between Guynemer and Le Qartier Chatau. There were also regular runs to Paris for stores and food and also journeys to the Paris railway station, Gare delivering and collecting families.
ANAGRAMS
PRESBYTERIAN :  BEST IN PRAYER                    ASTRONOMER: MOON STARER
DESPERATION: A ROPE ENDS IT                        THE MORSE CODE: HERE COME DOTS
THE EYES: THEY SEE                             DORMITORY: DIRTY ROOM  
ANIMOSITY: IS NO AMITY                                SNOOZE ALARMS: ALAS! NO MORE Z 'S    
A DECIMAL POINT:  I'M A DOT IN PLACE             MOTHER-IN-LAW: WOMAN HITLER
THE EARTHQUAKES: THAT QUEER SHAKE            ELEVEN PLUS TWO: TWELVE PLUS ONE
SLOT MACHINES: CASH LOST IN ME                   ELECTION RESULTS: LIES LETS RECOUNT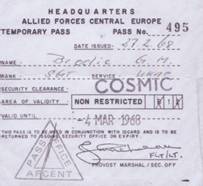 PERMITS and PASSES – courtesy George Brodie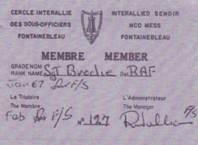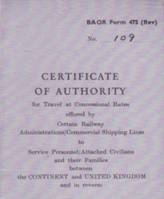 AND FINALLY……………
Michael Capon struck gold when he found Roger to run our website. Starting from scratch Roger has developed the website and he continues to add value. It is so easy to navigate. Recently, with Pathe's permission, he uploaded 2 of their short news videos. One is of General Norstad leaving Camp Guynemer in June 1953 and the other of Sir George Mills arriving in January 1956. For the sake of good order you can reach the website by clicking Fontainebleauveteransassociation.org
Editor : DAVID ROGERSON,  BROOKWOOD,  HUNGERFORD,  BURSLEDON,  SOUTHAMPTON  SO31 8DF      TEL 023 8040 2846