<![if !vml]>

<![endif]>

<![if !vml]><![endif]>

News Letter 44 November 2009
EDITORIAL
We are approaching the end of another year that saw an action packed trip to France and another successful Reunion. The Association continues to thrive and more veterans have come forward showning an interest in our activities although some have not yet been converted to membership.
It is pleasing to write this Newsletter without any obituaries to report, although I heard that Ken King died earlier in the year.
<![if !vml]>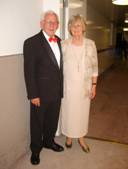 <![endif]>Sgt. Eric Billingham discovered our Association whilst searching for a site map of Camp Guynemer when he came across our website. Eric was one of the 'early' lot who arrived at Fontainebleau in February 1954 and was immediately attached to HQ AFCE as secretary to Group Captain Revell, RAF in the Logistics Division in Cour Henri Quatre together with a British army corporal and a number of American servicemen.
Looking through the rogues gallery on the website, reminded him that "Sir Basil Embry was the boss at this time and that he migrated to W.A. to become a sheep farmer. Anyway he has his autograph on my Certificate of NATO Service".
After returning to the UK for demob in October 1955 Eric decided to give Canada a try. This worked well for a year or so and when he returned to UK he met and married his first wife, who died after only seven years of marriage. His son Steven was born after a couple of years.   For the next few years he worked as a travelling salesman, manager of a drawing office supplies shop, and ended up as purchasing officer for a company making drawing office equipment.
Eric made the move to Australia in 1971 with Steven and eventually met and remarried.  He and his wife Ruth  have 4 grown up children between them and no less than nine grandchildren. Eric worked for a spell as a purchasing officer for a company making fibre glass cruisers before joining the ABC
(Australian equivalent to BBC) as an announcer. After turning down an offer to be a news reader at a television station they purchased their own retail business and  spent the last 12 years of his working life in the Family Court of Australia in management. Eric retired in 1996 and has been busy ever since and has been writing his autobiography in his spare time for the last three or four years.
Having returned 4 times from trips to the UK he sighed with relief when he landed at Tullamarine in Melbourne, home again!.
February 1954 ~ The western Allies reject a Soviet plan for a Pan-European pact to replace NATO
FROM THE POSTBAG
Hope your well, nice to hear the news from the newsletter. l read it out to Tony as he cant read very well after his stroke. l am a lot better now but have to slow down, take care of yourself, pass our good wishes on to (Tim Hunt) Tony's old drinking mate from France many thanks, be nice to hear from him.
                         Jen & Tony Almond (Pinchbeck, Lincs)
Hi  Just caught your site Looking for  the Afcent Badge ,  I have it on my certificate of service, But I'm In the process of getting My Stationn and Squadron Badges as well as Command  as I did some 35 yrs   in the RAF.
My Married Life started at Fontainebleau in 1961. I was in the catering flight that did the Xmas dinner and I recognised Bill Heslop's name on the Menu. The Catering Flight was Run by Flt Lt. Colenso,  2 sergeants, John Barnes and John Roddy  ran the combined mess that included  Cpl. Howard , Cpl.  Ken Burnell, SACs  Bill Heslop. Roy Kirton, Bill Mcfadzean, Roy Fletcher, Charlie Morgan,  Steward Bruce Smales and myself.. We had one of the best footy teams  at the time Bill Heslop was (he says)on Everton's books before he joined up.
I've a good picture of the football team.  My first son was born in The French Military Hospital as he was a Caesarian birth.
Ray Brewer (Doncaster)
Well after 34 years we moved from Cooper City, Florida, on the East Coast, to Largo, Florida over on the West Coast. We are about 20 miles West of Tampa, and just moved into our new home.
When Gail and I put our Cooper City home on the market we never felt it would sell in three days,  so when this happened there was a push on to get a new home in a rush.  We had to move out after the sale was closed (three month ) and since the new home was not finished we had to move in with my son,  his wife and two grandchildren  -  one 3 years old the other 1 .
Time could not go by quick enough. The movers arrived with our furniture and were  at least able to move into the house, no electricity and it was one of the hottest days of the year  " 93 degrees." after another week the electric Company made the connection and Gail and I were able to move in no phone yet  another five days and the phone was put in along with our fax and computer, so now we are up and running.
Dick Christensen (Largo, Florida)
Thank you for the newsletter received safely. I am now out of hospital again after third spinal op, and live in hope of some improvements in my health regarding my hands, arms, and legs, we can only  hope. Best wishes to you and all our members.
Cliff Clarke (St. Ives, Cambs)
While stationed at Camp Guynemer in mid sixties I had an occasion  to visit the Air Chief Marshal,s residence. Once when I was trying to marry Cathy Langley, Mrs. Huddlestone called me to come there to explain why it was taking the US Army so long to approve our marriage. Quite a lady.  Another  occasion was to watch the "World Cup".  I swear I had only one of his  beers.
Joe Connelly (USA) 
Many thanks for producing another fine newsletter ! Sad to note that we have lost members. Have been appointed Welfare Officer for RAFA Weymouth Branch and attending funerals is becoming more and more frequent. I remember meeting Ken King at RAF Lynton-on-Ouse a few years back, and he promised to join the FVA. Bumped into some people from York RAFA recently who told me that he had died earlier this year. A few weeks ago I was surprised to see Max Avey having lunch with his son-in-law in our local RAFA Club.
Was in Estonia recently and have had all my furniture brought back to the flat in Weymouth. Have had a busy time here with the annual Veterans Week. Looking forward to the Reunion.
Brian Gibbons (Weymouth)
It was so sad to read the latest newsletter to find how many of our team have passed away. Something strange exists amongst us Fontainebleau Veterans that when we lose a member, whether we know the person or not, its another old team mate that has reduced our ranks who we will  miss
Even more so when I read in this current edition of our newsletter that the very man I searched for  years after leaving the Royal Signals in  1960 , had passed away. We had both trained at Royal Signals, Catterick  Camp, enduring a bitter cold period, (snow ice etc ) on the parade  ground.
Before I left Fontainebleau in 1960, I trained up my relief over a period  of some 3 months to take over from me as a  clerk, at THE  PALACE,  ...this was Signalman Ian McGregor who was made up to full  Corporal later on as my replacement
I telephoned his mother a few months back and soon after that she called to say he was on the phone, I waited and  she apologised and said he would call me back. His call did not materialise so  I can only assume that  my friend was fighting some illness at that time. I have lost an old friend  and my sympathy goes out to his family.
Jeff Lester (Oldbury, West Midlands)
Just to say many thanks for an enjoyable Reunion evening in such convivial company. It was delightful.                                                                                      
George and Gloria Brown (Driffield)
Here are a few photos taken at the Reunion. What a great night that was. Dot and I had a fantastic time with lovely company.                                                                                
Bob James ( Tamworth)
Thanks for another enjoyable Reunion weekend. We fully appreciate the amount of work involved in organizing such an event. The dinner dance was much enjoyed ~ good company, good food and good music not to mention the wine.
We had a very good day in Coventry on Friday and did some exploring which was fun. Our room was comfortable as were the beds. We shall look forward to meeting up again next year.
George and Fay Durant (Portsmouth)
It was very sad to hear of the death of Dick Rogers he was a good friend at AAFCE and a great bloke.                                                                                                                  Les Goddard (Alresford)
THE FINAL FORAY TO FONTAINEBLEAU BY THE
FONTAINEBLEAU
VETERANS ASSOCIATION - 2009
A report on the visit to Fontainebleau,

Yévres

, Paris,

Châteaudun

and

Melun-Villaroche
by

SAC E Caton (2576583) Shorthand Typist RAF

Ret'd
Early on Sunday 13 September the fifth and probably final pilgrimage to Fontainebleau, as an organised group, by the Association made its eccentric way from the Union Jack Club in London, via Messrs Lidl's store in Tonbridge, where others were picked up, to the Channel Tunnel. A select but somewhat smaller party than in previous years, under the watchful eye of our group leader, Mike Capon, was in the capable hands of drivers Alan and Ian, on the Bluebird Luxury coach, the trip having been organised by Leger Tours. For some this was to be their first experience of travelling through the Tunnel. Nobody panicked! No-one got wet (externally - but drinks were served throughout the trip by the crew).  There was near panic in Fontainebleau though, when a very late arrival, caused by the volume of traffic around the Boulevard Péripherique (surprise!) led to concern as to whether it would be possible to get something to eat. The panic was unwarranted as the restaurants and bars in Fontainebleau were in full flow late on that Sunday evening and everyone was able to get the meal of their choice.   And a drink or two!   Reminders of times long passed!
Bright and early on Monday 14 September (it was always bright and early on this trip - well, early anyway) we set off for Yévres, last visited by the Association in 2006, where after 65 years the villagers still remember and commemorate the actions of the pilot of an Avro Lancaster bomber who succeeded in avoiding the village and crashed his stricken aircraft in a nearby field. The 99 year old lady who was first on the scene of the crash was among those who accorded us a very warm reception. Her 92 year old husband found himself wearing a RAF Police beret.
The national standard of the RAF Police Association, in the capable hands of Keith Adams, with escort Colin Hogg, led the parade of the many French standards to the cemetery where the RNZAF pilot and RAF rear gunner are buried. Here, wreaths were laid by Terry Bryant and the Mayor of Yévres and a minute's silence was observed. A reception in the Mairie (Town Hall), during the course of which Linda Hunt presented two inscribed books to the Mayor who, in return, handed out Eure et Loire Département keyrings to the gentlemen, was followed by an excellent meal in a village restaurant, sadly curtailed somewhat by the necessity for an anxious driver Alan to get on the road to our next destination. The meal was notable for the appearance at the top table via its underside, on no less than three occasions, of the 80 year old organiser extraordinaire, Mme Lucienne Hublier. Her reception was reminiscent of that accorded to a dropped plate of food in an airmen's mess!
It was an unnecessarily hurried departure from the restaurant as we had a long wait before gaining admission to the FAF base at Châteaudun, where we were shown around the museum hangar by Sergent Smith – and he had an English first name which I have forgotten, but spoke English like a Frenchman! The hangar housed an impressive array of somewhat dusty aircraft, mostly of French manufacture, including Mystere, Mirage, Etendard and Jaguar. We were accompanied by M and Mme Hublier and others from Yévres and were able, after returning them to their village, to spend a few minutes in the Church and admire the stained glass window, donated by the villagers to commemorate not only the two aircrew buried in the village, but also the children of the village who lost their lives in WW2.
Mme Hublier and her husband André are the driving force behind a formal annual ceremony of remembrance, 'Le Souvenir Franco-allies', which takes place in the village in early October. We have been invited to be represented next year when this will apparently be a special two-day event. 
Page 4
Battle of Britain Day (apparently the French refer to the Bataille d'Angleterre) dawned a bit wet and we made our way on foot and under umbrellas to the Mairie in Fontainebleau. We had been invited to a reception by the Mayor who, unfortunately, was unable to be present but was represented by his deputy, whose speech of welcome was made in French, translated for us by the indispensable Brian Moulding, after which we discovered that he could speak pretty good English.   I had the honour of presenting a framed photograph of a group of dignitaries taken on the balcony of the Mairie in the 1950's, after which drinks and nibbles were enjoyed.  We were then conducted through the streets by the Deputy Mayor to a new museum, specially opened for us, illustrating the improvements planned for the four blocks of  "international" flats constructed in the early 1950s off the Boulevard du Maréchal de Lattre de Tassigny. These were the 'married quarters' occupied by (the lucky) families of all the nationalities based in Fontainebleau and were exceptionally modern for their time. The municipality recognised their quality and instead of demolishing them will totally refurbish and remodel them. Many of the junior personnel were housed in hirings of various quality and standards in the area surrounding Fontainebleau-Avon.
We now had a rare hour or two of free time before departing for Paris and the highlight of the trip – the Battle of Britain Day Parade at the Arc de Triomphe. A leisurely tour around the sights, stopping only quite close to the Eiffel Tower at what must be one of the smelliest underground toilets in Paris – and that's saying something – brought us to the wrong side of the Arc de Triomphe. The marchers then spent some considerable time trying to arrive at the correct assembly point while many of the non-marchers enjoyed coffee before making their way over to the Arc. No problems this year thanks to the excellent badges produced by our wonder webmaster, Dave Bloomfield, depicting the Union Flag, Tricolour and NATO Star, which resulted in our group being allocated prime positions beneath the Arc.
Accompanied by the usual French confusion, and not helped at the outset by the attentions of wildly photographing Japanese tourists, the parade and rekindling ceremony ran their usual course. As our Association wreath bearer I marched at the head of the parade with the other bearers, not daring to look sideways at the traffic hurtling around the Etoile being deflected from the parade by a phalanx of Gendarmes. As we approached the Arc I was surprised to find, in addition to the band of the French Air Force, a guard of honour awaiting our arrival. They presented arms as the Standards and wreath bearers passed. Brian Moulding laid our wreath and the eternal flame was rekindled by the UK Defence Attaché, Air Commodore Bryzinski, assisted by (presumably) his two children and a French 4 Star General (name unknown). At one point Ann (Caton) was asked if she was the mother of the children: grandmother maybe but mother, no way!
We had been given the opportunity to attend the reception vin d'honneur at the British Embassy which followed the ceremony but had to decline as a meal had already been arranged at the L'Oree des Champs brasserie to which we repaired on foot in some haste. Fortunately for us all, Tim Hunt had scouted the way and we succeeded in arriving almost an hour before expected. However, all was well and most, if perhaps not all, enjoyed their meal. I believe we arrived back at the hotel at about midnight but the old memory is a bit hazy here.
Next year will see the 70th anniversary of the Battle. As on the 60th anniversary in 2000, when the Central Band of the RAF was present and the rekindling was undertaken by the British Ambassador, 2010 is likely again to be an extra special occasion. It is understood that a Spitfire has been requested and there have been certain murmurings among our members………..
Wednesday 16 September. Another early start, this time for Camp Guynemer where the present Commandant is a general and we were hosted by his deputy, Col Lapouge. What has become the
routine group photo was taken at the entrance to the former Base HQ/Support Units Bldg #5 and
by lunch time copies had been made for all the party. Tim Hunt presented a framed collection of 1950s photos of the camp, surrounding a facsimile copy of 'Aircent News', to Col Lapouge who, in return, presented a silver platter engraved with the base title, 'L'Ecole Inter-armees des Sports, Camp Guynemer' to Mike Capon. The AAFCE Badge in all its coloured glory still dominates the wall in the foyer. We were then shown round the museum housed in one wing of the building before strolling around other areas of the camp. Sadly, the RAF airmen's mess, along with the French and US messes, has been demolished since our last visit in 2006. We were allowed to visit the Piscine which is undergoing a complete restoration. Colin Hogg remembered it well - he worked there as a lifeguard.
Then a first. We were given access, not to Building #1 as some had hoped (which is now part of Le Centre des Archives Contemporaines) but to the Comms Block, Bldg #2 hidden away in the trees.   There was no electricity but with the aid of torches wielded by our French "guides", Tim Hunt, who had worked there, gave us - and the French - a conducted tour. Dick Christensen of the USAF, who had been a member of the party on our first trip (2000), had very much hoped then to have been able to visit here as it was his place of work, and will be envious to learn of our visit this time. Apparently there are plans to refurbish the building and use it for civilian community purposes.   We were also permitted to visit Bldg #6 for the first time.   It was the police/security HQ in Aircent days. It still serves the same purpose today and the ex-Police personnel on the visit who toured it said it had changed little. Even the cell, where John Day spent 'some time' after his escapade across the Continent in the 50's, was still there!   Sadly, John is no longer with us to read this.
The lunch provided in what seems to be a combined mess - officers and other ranks all in one large mess hall - was for some not as enjoyable as it might have been but as it cost only €7 (with wine) we weren't too unhappy.   It was suspected that there were alternative serveries with differing menus of which we were not aware. After leaving the camp for the last time, most of the ladies and the odd gent (by odd I don't mean 'odd', I mean odd) opted out of the remainder of the afternoon's visits and some at least spent time in the Chateau gardens and discovered a café not previously seen, the offerings within having, of course, to be sampled.
First afternoon visit was to the Gendarmerie HQ in Casernes Lariboisiere, where we were greeted by the Commandant, Lt Col Roy, who arrived hot-foot from a meeting with a group of German Polizei personnel. Following the presentation to the Col of a framed photo, of a Gendarme on a motorcycle escorting the UK element of the 2007 Tour de France cycle race, by Keith Adams, himself an ex-RAF Police motorcyclist, we were shown round the motorcycle museum by the Commandant and later saw the hundreds of identical machines used by the trainees from all over France and the colonies.   The "hangar" which housed these had been used by the Germans during WWII and later by the US forces for the storage and repair of tanks, and heavy lifting gear was seen to be still in the roof.
Final visit was to the Snecma Moteurs aero engine factory at Melun-Villaroche airfield, where the RAF Communications Flight was based in AAFCE days. The group was shown around the museum by M Dominique Blohorn, an enthusiastic former employee who had worked at Bristol Motors at Filton for 4 years It was later joined by the Head of PR, M. Daniel Declerq,  to whom a framed photograph of 3 aircraft in flight was presented by Brian Moulding at the conclusion of the tour. Daniel then invited the attendees to join him in canapés and champagne. Now came an especially good bit:  because only about half the expected number had gone on to the museum the hardy few were able to enjoy twice the quantity of champagne and canapés provided for the expected larger group. All good things come to those who last the course!
We left Fontainebleau at the unearthly hour of 0715ish on Thursday 17 September and, travelling via one of those (supposedly) cheapo and uninteresting wine stores near Calais, the Pidou Cash and Carry, the Channel Tunnel and some railings on a sharp corner close to the welcome toilets in Tonbridge, where some left the coach, the rest of us reached the Union Jack Club well before the planned hour of 1605.
It had been an intensive and tiring but nevertheless very enjoyable trip and Ann and Mike Capon (aka Al Capone) are to be congratulated on not giving up when faced with seemingly insuperable problems and eventually making it all possible. Even on the tour Mike had a number of situations to resolve necessitating him to refer back to Legers in the UK. All was resolved however.   Grateful thanks are due to them, Mike and Ann, and to those who helped them, namely, Brian Gibbons, Keith Adams and, especially, Brian Moulding in Fontainebleau who did such an enormous amount of the necessary spadework.   Brian said he was happy to help because we were "such nice people" and he was given the opportunity to meet important local people in France he wouldn't otherwise have encountered. He was also able to speak English for a change! In the few hours of 'leisure' in Fontainebleau, we were able to enjoy each other's company, mainly over meals and the odd drink, which caused quite a few humorous incidents in the local hostelries. Overall, I'm sure that we all had a memorable time.
We were made most welcome by everyone we met at all the places we visited. We hope that we left a lasting mark with those people, dignitaries and ordinary citizens, befitting the name of the Association. Although we may never see them again as a Group, I'm sure that if individuals do make future visits, the name of The Fontainebleau Veterans Association will be remembered and ensure a truly Gallic 'Bienvenue' is again extended.      
Au revoir.   A bientôt, ~ Ted Caton
YEVRES
This small town in Northern France has a strong connection with the RAF and every October holds a remembrance service

for the 2 Lancaster bomber crew who were killed when their plane was steered into a field thus avoiding crashing into the town centre

. Who remembers the Annual Church Parade we attended during our time at Fontainebleau? The Group that went to Fontainebleau in Sep

09,

visited Yevres and took part in a ceremony at the graveside of the aircrew followed by a formal reception by the

Maire

and lunch. The townsfolk made them most welcome and extended an invitation to the formal ceremony in 2010. As we cannot gain enough support for an organized trip to France a number of members propose to make their own way independently across the channel in October 2010 to meet up in Yevres to attend the ceremony. If anyone is interested in joining the party please let me know so that the visit can be co-

ordinated

.
BIBLIOGRAPY
<![if !vml]>

<![endif]>I am reading an excellent book - Tail-End  Charlies (The Last Battles of the Bomber War 1944 –1945) written by John Nichol (a Flt. Lt. whose Tornado bomber was shot down on a mission over Iraq during the 1991 Gulf War. He was captured and became a prisoner of war) and Tony Rennell, an author. It is a gripping account and includes memories from many brave aircrew who survived the dangerous missions to bomb German towns and help the land forces advance after D Day.
TWELFTH

 

ANNUAL

 

REUNION
 56 gathered at the Honiley Court Hotel, near Warwick on 2  and 3 October. Members came from far and wide ~ The Netherlands, Devon and Scotland but sadly there was dearth of members who reside in the Midlands and who do not have to face a long journey.
After a splendid dinner music for dancing was provided by Bojangles punctuated by the raffle that raised £325 for the Associations funds.
The Annual general Meeting was held during the Saturday afternoon. The main points are :
The Income and Expenditure Accounts for the year ending 31 August 2009 were approved. (The Accounts are appended to this newsletter)
Because the Hotel is in the Warwickshire countryside there is little for people without their own transport to do apart from staying in the hotel. This is especially a drawback for those who spend 2 nights at the hotel. It was resolved that for 2010 we seek an alternative venue in the centre of a town with amenities in the vicinity.
In 2010 it is hoped to meet in Yevres on the Anniversary when the town remembers the crew of the Lancaster that crashed during the war. A show of hands indicated that a number of members were interested on the basis of making their own way to France to meet up at Yevres.
It was agreed that in future wives be invited to attend the AGM.
<![if !vml]>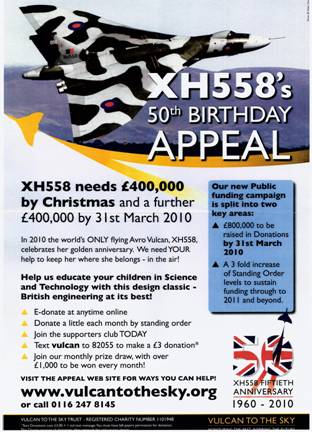 <![endif]>
REMEMBERING SHIFTY
This moving tale has been doing the rounds on the Internet and was forwarded by Dick Christensen.
Let us remember those real heroes while there are still some left to remember! We hear a lot today about big splashy memorial services. I want a nationwide memorial service for Darrell "Shifty" Powers.
Shifty volunteered for the airborne in WWII and served with Easy Company of the 506th Parachute Infantry Regiment, part of the 101st Airborne Infantry. If you've seen "Band of Brothers" on HBO or the History Channel, you know Shifty. His character appears in all 10 episodes, and Shifty himself is interviewed in several of them.
I met Shifty in the Philadelphia airport several years ago. I didn't know who he was at the time. I just saw an elderly gentleman having trouble reading his ticket. I offered to help, assured him that he was at the right gate, and noticed the "Screaming Eagle," the symbol of the 101st Airborne, on his hat.
Making conversation, I asked him if he'd been in the 101st Airborne or if his son was serving.   He said quietly that he had been in the 101st. I thanked him for his service, then asked him when he served, and how many jumps he made. Quietly and humbly, he said "Well, I guess I signed up in 1941 or so, and was in until sometime in 1945 .. . . " at which point my heart skipped.  At that point, again, very humbly, he said "I made the 5 training jumps at Toccoa, and then jumped into Normandy . . . . do you know where Normandy is?"  At this point my heart stopped.
I told him "Yes, I know exactly where Normandy is, and I know what D-Day was."
 He said "I also made a second jump into Holland, into Arnhem ."  I was standing with a genuine war hero . . . . and then I realized that it was June, just after the anniversary of D-Day.. I asked Shifty if he was on his way back from France, and he said "Yes. And it's real sad because, these days, so few of the guys are left, and those that are, lots of them can't make the trip." My heart was in my throat and I didn't know what to say.
I helped Shifty get onto the plane and then realized he was back in Coach while I was in First Class.   I sent  the flight attendant back to get  him and said that  I wanted to switch seats.   When Shifty
came forward, I got up out of the seat and told him I wanted him to have it, that I'd take his coach. He said "No, son, you enjoy that seat. Just knowing that there are still some who remember what we did and who still care is enough to make an old man very happy.."  His eyes were filling up as he said it. And mine are brimming up now as I write this.
Shifty died on June 17, 2009 after fighting cancer. There was no parade.  No big event in Staples Center. No wall to wall back to back 24x7 news coverage.  No weeping fans on television. And that's not right.
Let's give Shifty his own Memorial Service, online, in our own quiet way.   Please forward this e-mail to everyone you know. Especially to the veterans.   Rest in peace, Shifty.
Chuck Yeager, Maj. Gen. (ret.)
INCOME & EXPENDITURE ACCOUNT ~ 12 months TO 31 AUGUST 2009
Cash Balance at 30 Aug 08                                           700.86                        700.86
Income
Subscriptions                                         25.00
Reunion 2008 wine                                238.00
Reunion 2008 raffle                             310.00
Merchandise sales                                  25.00
Total Income                                                                598.00                        1403.16
Expenditure
Postage & Telephone                            114.92
Donations                                               20.00
Reunion 2008 Gratuity & Corkage         323.00
Reunion 2008 Music                             120.00
Web Fee                                                49.91
Trip to France 2009                             353.80
Total Expenditure                                                        1121.63
Cash Balance at 31 August 2009                                  117.23                        318.14
Merchandise ~ stock at cost
14 Ties                                                 96.60
9 Blazer Badges                                      82.00
29 Table Mats                                        88.16
45 Coasters                                            65.70
15 Mouse Mats                                       69.60
117 Enamel Badges                                145.00
8 Books                                                  64.00
Wine for 2009 Reunion                                    140.00
Total value of stock at cost                                            751.06                        785.65
Balance ~ cash & stock                                       928.29                       1103.79
<![if !vml]> <![endif]> FROM

 

THE

 

ARCHIVES

 

~

 

YEVRES

 

MEMORIAL

 

SERVICE

 

~

 

1957
<![if !vml]>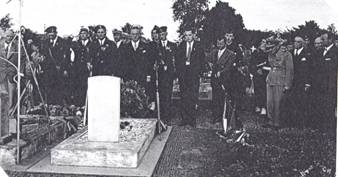 <![endif]>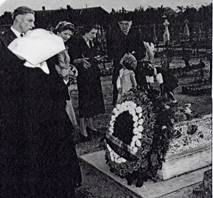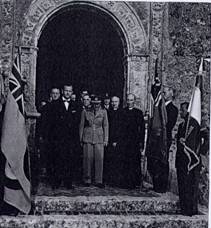 <![if !vml]>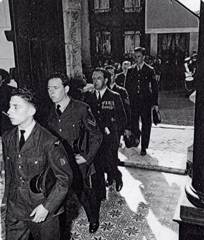 <![endif]>
<![if !vml]><![endif]>
<![if !vml]>
<![endif]>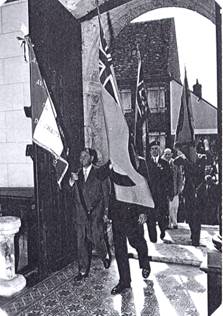 Marshall of the RAF McEvoy leaving church
Marshal of the RAF McEvoy saluting during Last Post with colours dropped in salute
FAF and RAF marching into position at War memorial
RAF Contingent at the cemetery 
French Assoc. and RAF entering church
Grave of RAF aircrew killed during WW II at Yevres 
RAF Element filing into church                             
THIRTEENTH ANNUAL  REUNION 8 & 9 OCTOBER 2010
A firm booking has been made for our Reunion at the Angel Hotel in Leamington Spa for Friday 8 and Saturday 9 October next year. Full details are included in the attached circulars. The Function Room has a maximum seating capacity of 70 so book early to avoid disappointment.
AND FINALLY ………………
Do you still wish to receive the Newsletter in hard copy? If you have internet access you will be able to read it on line and provided I have your e-mail address you will be notified when it is uploaded. Maybe you find it a chore having to post it to the next person on the list or perhaps you do not find the newsletter of interest anymore. Please indicate on the distribution list attached whether or not you wish to continue receiving future editions. Feel free to write any comments to improve the quality of your Newsletter.