<![if !vml]>

<![endif]>
ISSUE No. 42

  

DECEMBER 2008
This issue reaches you later than intended because your editor was diagnosed with a rare form of cancer. My consultant in Southampton referred me immediately to the top urology department in a London hospital where I underwent surgery to remove the tumors followed by a further procedure to remove lymph nodes for biopsy. At a follow up visit to the day clinic the surgeon gave me the good news that the disease had not spread and a check up will be made in 3 months time. I received the best medical treatment available from a great team.
WELCOME ABOARD
<![if !vml]>

<![endif]>Sgt. Charles Wallis arrived at Cour Henri IV on 30 January 1954 and was assigned the post of RASC Secretary until 10 July 1956.
After his military service Charles signed a contract to work as the Secretary to Manager of Grace y Cia. (Bolivia) S.A., a subsidiary of W.R. Grace and Company of New York, for three years.
Returning to Britain he determined that life in the UK was not for him so he returned to Montréal, Canada where he had spent the five years of  WW II with relatives. He quickly secured employment with Canadian National Railways where he was appointed as Secretary to a Vice-President and then several other functions within the Purchasing Department ending up in Information Systems until his retirement in 1995.
Charles married Sally, a New Zealander, in Montréal and they have two children, both married, and three grandchildren.  One son works for Air Canada and lives in Montréal, the other works for Research in Motion (makers of BlackBerries) and lives in Oakville, Ontario.
January 1954 ~ The US Navy launches the "Nautilus, the first nuclear powered submarine
<![if !vml]>

<![endif]>L/Cpl Richard Hales served as a dental Technician at the Quartier Chateau from July 1953 until June 1954. Richard now lives in Peterborough with his wife Pauline.   
After leaving the Army in August 1954 Richard decided on a career change and went to work for a local firm that produced diesel engines where he stayed for the next thirty two years, during this time he had various jobs ranging from machinist, tool setter and production foreman but most of his time was spent as a work study engineer. In 1986 Richard was made redundant and after a few weeks in a temporary job with a firm of civil engineers he secured a job as senior production engineer with a firm that made hi tec multi layer circuit boards about which he knew very little when one needs a job one doesn't mention this lack of knowledge but gets on with it and learn quickly.  He remained with this Company until retirement in 1999. In retirement Richard and Pauline tend to have quite a few holidays and when at home he enjoys model engineering and voluntary work.
July 1953 ~ The Korean war is over after 3 years of bloody fighting costing over two million lives          
<![if !vml]>

<![endif]>Cpl Barry Hayes served as a member of the RAF Police at Fontainebleau from April 1955 until October 1958. Over 50 years ago Barry met and married Irene Brack a WRAF at AAFCE.
After leaving the RAF Barry worked for Vickers (later BAC and British Aero Space) at Weybridge, on various aircraft including Concorde. Later moved to Filton working on Concorde and then to Farnborough  later to test rig Concorde. After twelve and a half years at the end of Concorde production, Barry then worked at the Inspection Department for RFDGQ at Godalming before moving to Drummonds Inspection Department. He was then recruited by Lucas Defence as Inspection engineer for a reverse engineering exercise, for the Egyptian military on Russian equipment. This lasted for twelve years until glasnost stopped everything. Then followed a period of a few years when Barry was self-employed installing BS 5750 later to become ISO into various companies. At the same time he built his Black Lion Caravan & Camping Park on the farm that he bought in Llanelli, Wales. His caravan park is now 4star and has the David Bellamy GOLD conservation award.
Barry and Irene would like to hear from: Ron Wheeler, George Skinner, Eric Crittall, Pete Maskil, and anyone that remembers them.
April 1955 ~ Churchill resigns as P.M. and is succeeded by Anthony Eden
OBITUARIES
The last Newsletter was returned to me with the sad news that that Reginald Wheeler passed away earlier this year. Reginald was a Flight Sergeant in the RAF Police at Fontainebleau from April 1961 until November 1963. Reginald and his wife attended one or two reunions and joined the coach party to visit France on one occasion.
Royston Jones, who was member of the Melun Communications Flight from December 1956 to August 1959 was called to the airfield in the sky in September.
FROM THE POSTBAG
<![if !vml]>

<![endif]>I am delighted to advise you that the York Branch RAFA Re-Launched Web Site went 'live' on 2nd June. Access address will be: www.rafayork.com
The access 'buttons' to the various pages can be found on the left hand side of the Home Page. Please ignore the other sites under RAFA York - they are out of date
The site developer Sprocket Internet Services and myself welcome your comments and any information that you have that can be imported on to the site will be very welcome. Information can be sent either to johnarafa@tiscali.co.uk or kmcgowan67@btinternet.com or there is a form at the
bottom of the "Contact Us" page for your use, please feel free to use it. We look forward to hearing from you soon
John Allison (York)
On a recent visit to my late wife's family in Fontainebleau I stopped for an impromptu lunch at a bar-restaurant in the Place d'Etape. Somewhere I had often frequented all those years ago. Following my two years posting with the R A F at Camp Guynemer, I spent a further three years as a civilian working for the US Army at Caserne Lariboisiere, enjoying such long lunch breaks would often eat in town.
Sipping my aperitif and glancing across the road I thought about how all the surroundings had changed. Of course, many of the shop fronts were different, but not the buildings themselves. Tucked away in a corner stands a relatively small bar and I was immediately reminded of an amusing incident that happened there just a couple of days after my arrival……………
Many of us, I am sure can recall the oddball plumbing and quaint toilets in France, and there at Chez Pierre's, as it was then called, I had my first encounter! Shortly after ordering my first beer in France and so proud that my schoolboy French had been understood, I slipped in to the rather dingy toilet. To my horror when I pulled the chain the complete system came away from the wall splitting the water inlet pipe from the tank and ball-cock . In an instant the cubicle was transformed into a shower room ! What on earth was I to do ? Sheer panic was quickly replaced & thanks to my street-wise London East End upbringing, I managed to smile and squeak a hasty "Au Revoir", leaving my half-empty glass on the zinc counter as I dashed out into the sunlight………..Never to return !
Another dark and grotty toilet actually came to my rescue a few months later but this time in Paris……at a club in Pigalle to be exact. I can't quite remember as to why Terry Vine and I were there : we had probably been visiting churches or visiting educational museums or the like and got lost. On my return to the bar, having been chatting to a charming young lady upstairs, I ordered a round of drinks. Whilst in the toilet I checked my wallet & found that all it contained was my Form 1250 and a rail ticket. Quite a surprise really as I had just swapped a couple of cartons of cigarettes (surplus to requirements you understand ) for an innocent few francs. The squaddies nightmare I had been "rolled" and couldn't pay the bar bill! I could feel the beads of sweat forming on my brow as panic set in. Somehow I sensed a draught & looking round I saw an old ill-fitting door with three large rusting bolts. In a flash of inspiration I drew the bolts, gently pulled the door open and could feel the cold night air envelope me. I was in a courtyard and could see traffic passing close-by. It was a long walk to the Gare de Lyon. "What happened to you last night ?" But I was too embarrassed to answer truthfully. "Somehow I must have got lost……..!"
Brian Gibbons (Weymouth)
Just caught your site whilst looking for  the AFCENT Badge. I have it on my Certificate of Service, But I am In the process of getting my Station and Squadron Badges as well as Command as  I did some 35 yrs in the RAF.
Married life started at Fontainebleau in 1961 I was in the catering flight that did the Xmas dinner. I recognised Bill Heslop's name on the Menu. The Catering Flight was run by Flt Lt Colenso,  2 sergeants ran the combined mess with John Barnes and John Roddy, Cpl. Howard, Cpl.  Ken Burnell, SACs  Bill Heslop. Roy Kirton, Bill McFadzean, Roy Fletcher, Charlie Morgan Stwd, Bruce Smales and myself. We  had one of the best footy teams  at the time Bill Heslop was (he says) on Everton's books before he joined up
I've a good pic of the football team.  Oh my first son was born in The French Military Hospital. as he was a Ceaserian birth  complete with French Birth Certificate
Ray Brewer
A quick note to thank you for a very enjoyable evening on Saturday. Tim and I had a good time. It was nice to meet up with old friends and meet new ones. We also appreciate the hard work you and the team put into the Reunion.
Linda Hunt (Thame, Oxon)
When I arrived at Fontainebleau 30th Dec 64 the first person to greet me in the Mess was Sgt Bill Souter RAF Police. There were quite a few waiting to meet me because I was posted there for the sole purpose of furnishing and maintaining 81 married quarter apartments. Less than a year later I was de-furnishing them and transporting the contents to Holland or U.K. The best posting I ever had (my own empire)      
Ron Gray  (Balby, Yorks)
David Talbot, son of the BBC war correspondent seeks WWII men with stories to tell for the WWII EXPERIENCE CENTRE in Leeds.
I put him in touch with two friends of mine and (the Leeds archive people) they are over the moon: Tony Iveson DFC, the Dambuster  whose bomb finallly sank the Tirpitz and Capt Eric "Winkle" Brown, Fleet Air arm (see Google of him or Guinness  Book of Records) who flew the jet planes found in Germany in 1945, back  to Farnborough, also Himmler's private plane and knew Hannah Reitsch who tried to persuade Hitler to use Kamakasi pilots - he said NO. David does about an hour's tape for the archives in Leeds, and he lives at Croydon, but "Have  tape recorder will  travel"... RSVP.  PK through the editor. (Not especially heroics.  I did none being an evacuee and under falling bombs on Tyneside.)
The lads can get the full picture by clicking on wwwwar-experience.org As they will see this vast collection of memorabilia includes letters, photos etc and also the Korean War, but mainly 39-45. Tony Iveson and Winkle Brown are amazing, almost 90 and still at it, lecturing and travelling. Tony with his girlfriend touring etc, but Winkle said to me at lunch when I said, laughing about Tony (he was Helen Cordet's boyfriend, stole her from Prince Philip) "You still get the urge" "Yes, I do, but I can't remember what for"
Delay on "GUNNER IN PARIS" but should be out Feb/Mar with the pix sent in by the lads.
Does anyone from Quartier Chataux know the whereabouts of Douglas Rosenbaum, RASC, who later worked for Reuters in London and speaks 14 languages?  Old pals from BFPO 6 want to get in touch.
Peter Kinsley (Peckham)
1958-1959 were two wonderful years full of great memories spent at AAFCE. My wife came over for a two week holiday in 1959 and my eldest son was conceived there in the city of love. Thats what I tell my other two sons and friends. It gets a laugh.
Pat and I celebrated our 50th wedding anniversary on 4th January this year and we had a wonderful day. We are sorry to be missing the reunion this year. We have had this trip booked almost a year ago. Pats aunt lives in the USA and it will be her 94th birthday we will be celebrating , after we have had a cruise.
Good luck for the reunion, I know it will be a hit because all those attending are of a special breed.
Take care and God Bless
Harry Horn (Cullercoats, Tyne & Wear)
The economic situation in Estonia has changed dramatically. Following several years of high GDP growth, good investment potential and full employment, the "credit crunch" has hit hard. The property market has come to a full stop. With the sale of my flat falling through when the potential buyer's bank withdrew their mortgage offer, I decided to "lock-up" and spend winter in the UK.
                                                                                                                  Brian Gibbons (Weymouth)
Yes, I think I do remember Pete Kinsley and the dog Gunner.   He will remember the many run-ins we 'young ones' had with Art Rink the Guards RSM whose thankless job it was to try to make soldiers of us.                                                                           Charles Wallis (Kanata, Canada)
I recently spent some time in Spain and managed to see Brian Ward through the help of Jim and Iris Eliott (not Font Vets) who have been sending friends of Brian regular updates on his horrific accident, coma and recovery since he moved to Spain.
I spent half an hour with him and although he knew my face he could not remember who I was and was unable to hold a conversation. If any Font Vets who knew him well would like to ring me on a more personal side of his condition, on my home number 01352-711877. 
Brian Russell (Mold)
BRIAN WARD ~ UPDATE
<![if !vml]>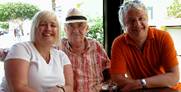 <![endif]>Brian's good friends in Spain, Iris and Jim, pictured left, have been so supportive during his long illness following a fall from a bus. Brian spent a long period in hospital with some time in intensive care ~ their visits entail a 3 hour round journey. Iris and Jim wrote the following bulletin on 18 November :
It seems a miracle that Brian has beaten double pneumonia and is getting better and stronger by the day after his two weeks stint in hospital. We did have a  minor scare when they thought that he was getting another infection and were on the verge of calling an ambulance, again, when his  temperature returned to normal.
Since Brian went back to Sanyres, Jim and I have continued to visit him daily to ease him back into his routine. He was so out of it in hospital that he thought he was either in a hospital in Edinburgh or a hotel. The doctor and staff at Sanyres were all very worried because he had lost even more weight and looked like a skeleton with skin. His appetite returned to normal during his first few days out of hospital but all the good efforts that had been made with his physio had all been for nothing. He now seems to move his legs even less than before and only uses his hands to help feed himself - yes to all of you who know and love him he still loves his food, thank goodness
After spending two weeks flat on his back he got a new bedsore and his original one was threatening an infection so they took Brian down to the theatre to do a deep cleanse of both of them. Things there have also improved and on his last outpatient visit to the hospital they have told the Home to continue the treatment as set out by the consultant.
We are now just visiting 3 - 4 times a week as we have also been busy with the lawyer in the hope that the insurance company will finally agree to Brian's lifelong financial/medical help. The good news is they have agreed to fund Brian's care for a further three months - up to 31 January.  Meanwhile our lawyer will speak to a litigation lawyer to see how we can move forward. We still have a long way to go but watch this space.
Brian received a visit from Brian Russell, a friend, who knew him when they were in Fontainebleau together. As we had never met Brian and Dee, his wife, before we did not know what to expect. We should not have worried as we got on like a house on fire. Our Brian recognised Brian R too but could not remember his name and called him John. However, during their reminiscing Brian did remember a few more things. All in all this was very successful so anymore of you that are out there and are likely to come to the Costa del Sol for a holiday, just email us like the Russells did and we will make arrangements. The Russells will be call in if they are in this area again.
Another successful thing we have done is to get Brian over to our apartment for afternoon tea. Jim came up with the brain wave of using the taxi we always have for Brian's outpatients appointments, picking Brian up from Sanyres and driving him to our home then taking him back at the agreed time. This we did last Thursday and Brian really enjoyed himself, it being the first proper outing he has
had since his accident. We invited some of our friends that Brian knew and he recognised them and remembered their names. He not only ate everything we gave him but when he left us he would have been just in time to have his evening meal. We shall be doing it again and inviting some other friends (we did not want to overwhelm him with too many people at once) in about two weeks as these are dry runs to get him over here for his Christmas dinner on Boxing Day.
That is all for now folks. Once again, thank you to those of you who continue to email messages for Brian, sending him letter cards etc, all of which we take to him. We do not mention any bad news and again I request that you keep your messages short and sweet as his attention span is not what it used to be. Keep up with all your prayers. Take care and God bless.    ~    Iris and Jim
ELEVENTH ANNUAL REUNION & DINNER
On a fine weekend at the end of September 58 veterans including wives and partners gathered at the Honiley Court Hotel near Warwick to celebrate our Eleventh Annual Reunion and Dinner. On Saturday afternoon the AGM was held. After approving the financial statements discussion centred on a coach trip to France in September 2009. This will be our last opportunity to visit Camp Guynemer and the Gendarmerie.
It was also agreed that we hold our next Reunion at the Honiley Court on 2 and 3 October 2009
After an excellent dinner in the evening we danced to music provided by Bo-Jangles either side of the raffle which realised £310. A selection of photographs from the weekend is included as a supplement to this issue.
 CLICK HERE TO VIEW (PAGE 1) (PAGE 2) (PAGE 3)
TWELTH ANNUAL

REUNION

 

~ 2 – 3 OCTOBER 2009

               
The Honiley Court Hotel, near Warwick, has been booked for our Reunion next year. The cost is £70 per person per night for dinner, bed and breakfast. There is no single supplement. A deposit of £15 per person is payable, deposits will be deducted from your account when you check out. This represents excellent value for a weekend in a hotel set in beautiful country surroundings.
We would like to see as many of you as possible there. All you have to do is complete the Form attached to this Newsletter (CLICK FOR BOOKING FORM) and send it with a cheque for your deposit.  Cheques will not be banked until the spring when the deposits are payable to the hotel.
W A N T E D
Good home(s) for the following PC accessories:
1 x Lexmark 17G0050 Black ink cartridge
1 x Lexmark 17G0060 Colour ink cartridge
10 x Verbatim 8x-12x 700MB Hi-Speed CD-RW discs on spindle (unused)
9 x Phillips 4x-12x 700MB CD-RW discs in jewel cases (unused)
Call Ted Caton on 01245 256790 or e-mail ted.caton@tiscali.co.uk
THE CATON COLLECTION – PART 5
More from correspondence received by Ted Caton following the publication of his "An Erk's-Eye View".
"The memories of square bashing came flooding back with a vengeance, the smell of saturated uniforms in the so called drying room, polishing of galvanised buckets as adjuncts to the black leaded stoves and the incessant screaming of orders by the demented DIs. I recall the dreadful food on offer at Wilmslow which really beggared description from day one of being there. For example fried bread was produced by stacking sliced loaves, 8 in a large deep tray, molten fat was then poured over the top and the tray placed top shelf in a hot oven. You watched through a glass spy hole until the bread started to smoke and then opened up the oven and the cinderised offering went straight out to the servery."
From J of Hockley, Essex 
"I remember F/O ***** [Adjutant at RAF Norton] very well, I had been issuing fuel all morning and at 12.00 hrs it was pay parade.   I was wearing rubber boots and sea boot socks, plus a waterproof jacket. I went on pay parade which had already started wearing all of this."
"The paying officer had me put on a charge, it was for being improperly dressed.   Even though it is 47 years later, I can still remember standing in the corridor in headquarters waiting to be marched in front of the Adj. There was a plaque on his door which read F/O A N F ***** Adjutant. I have never forgotten that. But the good news was, that I got off the charge as in Air Force Regulations you were not allowed to work on a fuel installation wearing footwear that could cause a spark.   So I got off."
"I recall that F/O ***** was a short thick set man, with reddish hair, he always appeared to be looking for trouble or causing it. He was a person I stayed clear of."
From P of Paignton, Devon
AND FINALLY ……………….
Copy for the Newsletters is still desperately needed. You must have some stories of those halcyon days in Fontainebleau which you would like to share with our readers. Snippets of current news will also be welcome.
More people are joining the dot.com brigade. If you have an e-mail facility please write your e-m address under your name on the distribution list or e-mail davidrogerson@talktalk.net
With warm seasonal greeting to you all and best wishes for 2009.
STOP PRESS
Sandy Warrener, a storekeeper at Fontainebleau between October 1954 and August 1956 passed away at the end of November