<![if !vml]>

<![endif]>
ISSUE No. 41 MAY 2008

   
EDITORIAL
It has been a sad year, unexpectedly losing two members who have given so much support to the Association since it was formed in 1995. Dave Bennett generously left a legacy of £500 in his will. Due to inadequate bookings the proposed trip to France in September was cancelled. Terms for a visit in 2009, which may be our last, will be tabled at the Warwick Reunion.
OBITURIES
<![if !vml]>

<![endif]>
Geoffrey Callaghan was born in Manchester in 1930, where his father was a Fire Officer. After leaving school he worked as a solicitor's clerk before joining the RAF as an A/C2 in 1949. In the early 1950s he served in Fontainebleau. In 1950 He opened the Central Registry at the Allied Air Forces Central Europe HQ, where he met his future wife, Joyce. He later served in Athens in 1956 as assistant to the Air Attaché before taking a commission in 1956 in the Secretarial Branch. Subsequently he was stationed at the Records Office in Gloucester, Coningsby, Aden (1962-64), Kenley, Staff College Bracknell (1966), MOD (1966-1969), Waddington (1969-71) and finally as Wing Commander Admin at Scampton (1971-74). He retired from the R.A.F. in 1974 and settled down in Lincolnshire, where he worked in a variety of roles, including secretary to the Lincolnshire North Community Health Council, before setting up his own office training company in Scunthorpe. He lived at Glentham in Lincolnshire for several years until the death of his wife, Joyce, in 1994. While in Glentham he co-wrote a short history of the area. He later moved to Retford and finally to Abbey Court in Shrewsbury.
He had suffered from Parkinson's Disease for 25 years, and was active in the local branch of the Parkinson's Disease Society. He died in Shrewsbury on 15th December 2007 following a fall. He leaves a son Nigel.
Geoffrey was a much loved member of our Association and despite his disability attended all our Reunions with Vera, his carer.  A true officer and a gentleman, his happy disposition and smiling face will be missed by us all
Lavinia Hughes died suddenly, but peacefully, at home on 18 March, aged 76 years. She is now reunited with her husband Malcolm who died last September.
John Wright passed away on 9 December after fighting bowel cancer for nearly 2 years. He really enjoyed his time in the Military Police at Fontainebleau where he served from 1952 -1954
The TIMES reported the death of Air Vice-Marshal Reginald Bullen  CB, GM on 27 January. After war service flying as a navigator from which he suffered serious injuries when his Wellington bomber crash landed and burst into flames in the spring of 1944. The war was over by the time he recovered from his injuries and he was classified unfit to return to aircrew duties. Moving to the Admin. Branch he rose rapidly to become the Adjutant-General of Allied Forces Central Europe 1965 – 1968. Almost at the outset of his posting General de Gaulle withdrew France from the military side of NATO and ordered all the alliance's HQs and bases off French soil. The HQ had to be relocated from its agreeable Fontainebleau ambience at short notice to Brunssum in the Netherlands, a task to which Bullen made a considerable contribution.
Peter Charlton writes : I'm sure he was known as Lt. Col. Collins Charlton when he was C.O. at Quartier Chateau when I was there, 1958-60 - but I noticed an obit in the Daily Telegraph on Nov. 15th giving an obit for Lt. Col Wingate Charlton.  Towards the end it says "After a posting to Allied Forces Central Europe at Fontainbleau, in 1962 he retired from the army". Must be the same man - there were rumours that he'd been a parachutist during the war. I've kept a copy of the Obit.
A LIFE REMEMBERED
Sad to see yet another of our team pass on to a better place. Though I did  not know him and having lost all my family, my sister, mom, dad and twin brother I know what the family will be feeling.
I commend the work you do David and I realise that many of the membership  who served with him will be sad to hear the news.
Jeff Lester
Very sorry to hear that Geoffrey has received hi final call, like you say helpfully supported the Association and will be sadly missed by all the members.
Gordon Lawrie
Sad to see yet another of our team pass on to a better place. Though I did  not know him and having lost all my family, my sister, mom, dad and twin brother I know what the family will be feeling.
I commend the work you do David and I realise that many of the membership  who served with him will be sad to hear the news.
Jeff Lester
Very sorry to hear that Geoffrey has received his final call, like you say he helpfully supported the Association and will be sadly missed by all the members.
Gordon Lawrie
I only had the pleasure of meeting Geoffrey at several of the re-unions. I consider myself to be among those lucky ones who were able to have a conversation with and share a drink and smoke with one who must surely be described as one of Nature's Gentlemen..  He will be sadly missed by all who met him
                                                                                                Doug  Chennell
Both Pat and I were very saddened upon learning of Geoff Callahan's death. We would like to convey our heartfelt sympathy to his Family, and to Vera his companion, friend and carer.  He was a True Gentleman of soul and character and he will be missed by The Association and his friends.
                                                                                            Ken and Pat Harriman
WELCOME ABOARD
<![if !vml]>

<![endif]>Sgt Dennis Graver had a short spell in Fontainebleau serving in the Telecomms Centre from January 1966 until June 1967 when De Gaulle forced the NATO Allies out of France. AAFCE relocated to Brunsum in Holland  and Dennis was in the advanced party as we had to install test and commission the communications centre.
After 2 years in Holland Dennis returned to the UK, stationed at RAF Luffenham. After a year at Luffenham? he had completed his 12 years service and was discharged. This was followed by about 5 years in Saudi Arabia, at Jeddah International Airport working for International Air Radio a division of British Airways.
Returning to UK Dennis found work with Ericsson Telecommunications. It was for the next 25 years when he was lucky enough to be offered voluntary severance. A happy time and a very interesting job. So for the past 7 or so years he has been working as a volunteer gardener at 2 local National Trust properties. This allows him to travel in the winter months, Australia twice, New Zealand and South Africa, with stopovers in Hong Kong, Singapore. Dennis resides in Birmingham with his wife Ann.
January 1966 ~ 117 die when an Air India airliner crashes into Mont Blanc
<![if !vml]>

<![endif]>SAC/A/Cpl Bill Cameron is another Policeman to join our ranks. Bill who served at Camp Guynemer from November 1961 until April 1964 and played cricket and football for the AIRCENT XIs. The cricket XI at that time included our very own "Test Match Special" Bill Frindall who was initiating his scoring format. After service in RAF Farringworth, Akrotiri in Cyprus and Scampton Bill left the service in May 1972.   Bill, a widower, now lives in Havant near Portsmouth.
 November 1961 De Gaulle arrives in London amid tight security for talks with Harold MacMillan
RAF BIKINI
<![if !vml]>

<![endif]>
The RAF celebrated its 90th Anniversary with the launch of diamante encrusted bikini which leaves little room for hanging medals. This is part of the RAF's spring collection. Some of the money raised will support the RAF free museums. In RAF colours the top is priced at £20 and the bottom at £15 on the website  www.rafcollection.com
<![if !vml]><![endif]>
FROM THE POSTBAG
What happened to the LAC Irish lad who came into the Airmen's Mess one night drunk  demanding a cheese and onion sandwich which I refused. 12 flying dinner plates flew through the air. I have heard of flying saucers but this was too much.
Gilbert Wilkins (

Yeovil

)
We send you our Best Wishes for the New Year, as well as to all Association members. We have received several cards from them. There were enclosed some photos of the Remembrance Ceremony of the 5th. October 2007 that have been mislaid in the editor's office. They will be included in the next Newsletter if they turn up.
M & Mmme Hublier (Yevres, France)
I found your website tonight by sheer coincidence - I know that I don't count as a Fontainebleau veteran, but as children my sister and I were lucky enough to travel with our parents being at Tengah in 1949/1950 and Fontainebleau 1952/1955.
My daughter asked me for the name of a school in France for her homework -so I naturally suggested  my old school. I typed it into  Google and lo and behold I found a photo in the  French equivalent of  Friends  Reunited, with me standing next to  a friend (Chris Parrot - he is in a cub scout uniform  or wolf cubs as we were in those days - 1st Fontainebleau British
After finding that I put in Camp Guynemer and that is how I came across your site. We lived there for about 3 years. coming home to the UK on 30 September 1955 (5 days after my 9th birthday). Initially we lived in Moret-sur-Loing (Rue de Pave Neuf) until the new married quarters were built and then we moved into 4 Rue de Belgique.
 Our first school was in the right wing of the Palace as you enter the main gates, and then to the Ecole Internationale Lycee de Fontainebleau when it was built - which of course is just behind the flats.
The Americans used their own school, with Mom's leaning out of the windows shouting "The Bus!! The Bus!" when it stopped outside the individual doorways - we Brits, Belgians, Dutch, French and Canadians  walked  to the end of the  block and climbed  into our respective  bus for the trip to  the
Chateau - of course when the new school opened we just walked!!
As children my sister and I had great times - waving flags when the Duke of Edinburgh visited - I remember the Cirque Pinder, shopping in Prisunic and Bon Marche, the 100 franc stall in the market.
I still have my Christmas Nativity set which is now over 50 years old and is part of my family Christmas. I enjoyed the small piece about Gunner as he was known to us both - somewhere my sister  has a magazine  cutting  about  him,  which  I  will  try to get  for you  - she holds the family Fontainebleau album and I hold the Tengah album.
My mother is now deceased (in 1982) but my father is still alive and now 86 - I have his AAFCE certificate signed by Basil Embry, a boyhood hero of mine (when a hero was a true hero, not a footballer!!), and I note that you only appear to show the later AAFCE badge with the West German flag on it on your site.
I will see if I can scan Dad's certificate which will give you a copy of the earlier version if you are interested as West Germany was not a member when we were there (nor when Basil Embry took charge of course!!)?
My sister and I have both been back to Fontainebleau several times - and I have also been to Moret a few times and our house still looks exactly the same. The first morning after we moved in Mum went to open the blinds only to hear a commotion outside - it was the day of the market and a stall holder had placed some of his wares on our windowsills!!    Happy Days.
Allan  Hillman (Truro)
I must first apologise for the delay in contacting you after the last reunion dinner. My wife and I had a wonderful weekend and we thank you and all the friends we met for making us both very welcome. Lots of memories came flooding back to me, some I had forgotten but most still fresh in this old head.
After arriving home we set about packing our cases again, because the following week we were off
on a cruise around the Med. We had a wonderful time visiting places we had seen before and also a couple of cities new to us. The year before we took a cruise through the Panama Canal which we enjoyed so much that we booked to do again this year to celebrate our golden wedding anniversary. Unfortunately it is the same time as you are having your reunion. We are both sorry that we will be away at that weekend but wish you all a great time and look forward to the next.
On Tuesday 27th November, Bernadette and I went to Boyup Brook about 120 kilometers south of Perth, to lay a wreath on the grave of Air Chief Marshall Sir Basil Embry on behalf of the Fontainebleau Veterans Association, please find a note of the words we wrote on the wreath. We also took some photographs for you to put on the WEB Site of his grave we are sorry they are not that good but the grave is very low and is sinking in places it is a very plain granite slab with the inscription as shown on the photograph only nothing else. It was so low it was difficult to get the grave, the wreath and myself all in one photo, as you will see I had to kneel to even get near the inscription, and gosh was that ground hot. Prior to going down to Boyup Brook we made contact by phone with Sir Basil's son Mark and his grandson Paul. who has now taken over his grandfather's farm called 'Dowdells" about 26 kilometers from Boyup Brook. Mark Embry has given us permission to give you his address which is
Mr Mark Embry,  51 Peron Avenue,  Dunsborough WA 6281 ~ E-mail : Jomarin@iprimus.com.au
What an adventure we both have had since I left the shores of Blighty on 5th September 2007, to fly to my new home down under in Geraldton, Western Australia, the trip over was pretty uneventful except for being rather long, I arrived at Perth Airport at 2.15 pm on the 6 September 2007, Bernadette was at the airport to meet me, we stayed overnight at Eileen's who lives in Perth The next day we drove the 460ks by car to Geraldton, when I arrived Bernadette had in advance decorated 9 Patio Place to welcome me to my new home down under, I felt very touched and emotional and gave Bernadette a big hug and a kiss for being so thoughtful and making me feel so at home. It was not long before I was into the swing of living in Geraldton, because on the 15 September 2007, Bernadette and all the girls who came out to Australia as Child Migrants had there 60th Anniversary since leaving England in 1947, so for the next week prior to this event, as Bernadette was very much involved we spent a lot of the week prior to the event getting everything prepared. On the Friday before all the girls started to arrive from all over Australia and the local girls here in Geraldton were putting them all up, Eileen and three other girls stayed with us. On the Saturday the reunion was held at "Nazareth House" which was the first home the girls came to in 1947. There was a good 80 to 100 girls at the reunion, and of course Bernadette introduced me to her girl friends who now got to know who this POM was they had heard so much about. They were all very nice and they were quick to tell me that once I married Bernadette I would have over a 100 sisters in law, which I think is right because they have all really taken to me and I have become one of the group. The Reunion was really nice and a great time was had by all reminiscing over the years gone buy. The same evening we had 45 of the girls at our house for a real swinging party which went on till pretty late, so that was my first week in Western Australia, soon over.
The next week was a little quieter but several of the girls stayed on in Geraldton so we had several around for lunches and dinners over that week On the 21st we travelled down to Perth for the weekend for another reunion given by the Australian Government for the 60th reunion of the Child Migrants who this time included men as well as ladies, so I met quite a few more of Bernadette's friends and found them all so very friendly, I also met several of the dignitaries including the Archbishop of Perth, The Immigration Minister and also The Attorney General, so we had yet
another hectic weekend but it was really nice to meet so many nice people. After the Reunion was over in the evening we went out with Bernadette's oldest son Chris and Family for a meal, so that was nice. The next week was a little quieter but we were now starting to make arrangements for our wedding, on the 27th. We went to the Theatre to see Gerry and the Pacemakers - a really good show. On the Friday Bernadette's son Chris came up from Perth on business so stayed overnight with us. At the start of the week all the neighbours in Patio Place invited us to a Pre-Wedding party it was really good of them so I got to meet everybody who lives in Patio Place. On the Tuesday I went to my Lodge Champion Bay for a Lodge Meeting, Wednesday Father Brenton called in to discuss arrangements for our wedding, in the evening we went down to Geraldton City Band to arrange the tunes they would be playing at our wedding, yes I belong to the band as a Ready! as does Bernadette. On the Friday we had to go down to the Bandrooms again because they were entertaining two other bands from other parts of WA who were playing in Geraldton for their Sunshine Festival on Sunday. Saturday came and we drove to Tardun (where Bernadette used to farm) and had a Farmers' Reunion sitting under the Pepper Tree drinking grog (beer) and eating sausages and steak cooked on the barbie, so now I was getting to know the farmers as well. In the evening we went to a party given by the band at one of the local eating holes, great night. On the Sunday morning I helped Bernadette sell morning teas at the Band Concert, it was a real nice warm day. We are now on the 8th of October only six days off our big day, so for the next week we were very busy getting ready for our Big Day. On the Saturday the 13th apart from being our Wedding Day it was also Bernadette's 71st Birthday so of course we had a double celebration All Bernadette's family were up from Perth and Townsville over to celebrate our big day. I have to say it was a really lovely wedding we had over a 100 people in the church and would you believe I knew most of them. Bernadette looked gorgeous - she was given away by both her boys Chris and John. It was a really nice service we both received Mass. Gerry my friend out here in Geraldton was my Best Man and he did a really good job, not only at the church, but at the reception afterwards. Eileen was Bernadette's Maid of Honour and she also looked very nice. After the wedding we were driven to the reception in a Mercedes driven by one of Bernadette's friends When we arrived at the hall we were gob smacked; the girls of Bernadette's Badminton Club had really done a fantastic job in decorating the hall for us as you will see in the photographs. They also acted as waitresses taking plates round to all our guests who numbered about 200, and I was so pleased that I knew about 60 of those present. We had The Geraldton City Band playing for us, as well as a piper in full regalia. She also played us out of the church earlier. One of the Badminton Ladies had made us both a quilt each and all the Badminton Ladies wrote little verses inside hearts all over the quilts. The Badminton Club had been so good to us that we took them all out for a meal to thank them for doing such a grand job.
The local press were also there and a few days later our wedding story was published in "The local Geraldton Guardian so we have enclosed you a copy, I also have to say that Kerry who took the photographs was really excellent and took some really great photos.
So now I am married once more to a really lovely lady we both love each other to bits and I will never regret deciding to go on a cruise to Australia back in 2005 to meet a lady who is now is my lovely wife. I feel God has been very good to me in introducing to me three lovely Ladies who loved me and were a large part of my life, namely Jackie, Pauline and now Bernadette, I feel so fortunate. So now we are settling down to married life, but we are still pretty busy, we have decided to upgrade our en suit bathroom, the main bathroom and do a little bit more in the kitchen, like putting  up some more shelves to accommodate my possessions when they arrive from UK, In the main bathroom we are going to install a spa so that should be good. Now you might have thought that life
would quieten down but not a chance, on the 28th we helped out back stage when the Geraldton City Band played for Seniors Day. The following week was Nazareth House Fete so I helped out on that. On the Tuesday was Melbourne Cup day a bit like Royal Ascot everybody dresses up and the ladies wear posh hats all the men dress up in there Sunday best including me and we went to a very posh lunch at one of the big hotels in Geraldton, very good it was too. I won Best Dressed Man at the lunch and was presented with a lovely red wine. The following Saturday was a big installation at the lodge; Ladies were invited to the festive board afterwards. Then on the Sunday, Remembrance Day I was on Parade - afterwards the ladies, Bernadette was one of them, cooked a Diggers Dinner for the ex servicemen who took part in the parade, it was great but very hot mind you 40 degrees. Then on Sunday the 18th my belongings arrived from the UK not bad eh considering they left Weymouth on the 24th August, we had quite a shock when it came because we thought it would arrive in a small furniture van, like it left Swannery Court, not so! Up Patio Place, which is a cul-de-sac, came this huge big truck, with two large sea containers behind it. My belongings were in part of the last truck all 37 boxes, glad to say we have unpacked all of them now, and the only thing broken was one glass not bad eh?
While on the subject of Swannery Court contracts were eventually exchanged on the 16th October 2007 ~ much later than we expected. On Sunday the 25th November, we went down to Mandurah via Perth to stay with friends and family for the next week. So you can see life is pretty hectic out here but I love it. May we take this opportunity to wish all our friends in "The Fontainebleau Veterans Association a really lovely Christmas and all Best Wishes to them all for 2008. Sorry this has been rather a long letter but we really had a lot to write to you about, all we are waiting for now is to go on our honeymoon cruise on the Funchal, the ship we met on, for its Christmas Cruise for 10 days over the Xmas period. Hope to hear from you soon, and as we said earlier you or any other veteran are very welcome to come out here for a holiday.
When we spoke to Paul Embry he told us that "Nobby Clark" Sir Basil's driver had called in at the farm a few weeks earlier.
<![if !vml]>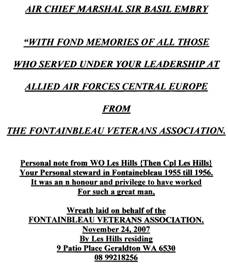 <![endif]><![if !vml]>

<![endif]>
<![if !vml]>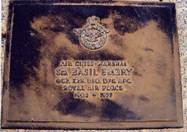 <![endif]>
Les Hills (Perth, Australia)
MEMBERS SNIPPETS
Keith and Pam Adams have moved temporarily to Spalding , Lincolnshire Their new e-mail address is adams@deci.orangehome.co.uk
Stuart MacGregor upped his roots in Ireland and is relocated to Edinburgh.
Brian Ward moved to Spain in December. His Dos e-mail address is :bwjward@yahoo.co.uk Since he moved Brian moved fell getting off a bus, suffering a severe head trauma. He was in intensive care and was transferred to a specialist hospital in Malaga, where Iris and Jim have visited him every day. This has involved a 2½ hour journey by road. Brian has responded well to treatment. However as there is no further treatment the hospital can give and as Brian is not yet able to look after himself he was transferred to the Costa del Sol Hospital in Marbella. Iris & Jim now have only a 25 minute drive which is certainly good news all round. They have access to his computer and it would be nice if his friends could send him greetings.
Barbara Hill is recovering from knee replacement surgery.
LETTERS TO THE TIMES
It's a dog's life
<![if !vml]>

<![endif]>Sir, British Army national servicemen adopted a dog named Gunner in Fontainebleau in the early 1950s (report, Jan 7, and letter, Jan 9).
Beaten up and injured by French youngsters, he was rescued and nursed back to health by men of the RAF and lived on their camp.
The drivers were ordered by the corporal major to "lose him" by dropping him in Paris on the provisions run to Les Halles. Three times Gunner walked the 60 kilometres back to barracks. The little mongrel went on training runs with the football and rugby teams, watched the matches, queued for the bus to the American camp Guynemer and watched the films in their cinema, barking at other dogs on the screen. He was with the servicemen for ten years.
Gunner the mascot was buried with full military honours in Guynemer in the 1960s where a plaque to his memory is to be placed on the next annual visit by the ex-servicemen, who have never forgotten him.
 Peter Kinsley  London SE15
A short but remarkable duck's life
<![if !vml]>

<![endif]>Your letter about a dog adopted by British servicemen (Letters January 12) recalls the remarkable episode of "Corporal Haggis" -- a Muscovy duck adopted by a tank crew of the Royal Scots Greys in Italy in 1943, which saw service throughout the Italian and Normandy  campaigns, before meeting an untimely end in 1945. Corporal Haggis had been found in the grounds of an Italian farm, and was about to have its neck wrung, then German troops opened fire. The tank crew, under the command of my late husband, John Warrender, later Lord Bruntisfield, scooped up the duck and stuffed it into the tank. Thereafter it wasa adopted by the driver, "Smudger" Smith who kept it, through many battles and on the long journey across Eurpe, on the floor of his tank. It was  transported back to Britain, then took part in the Normandy landings, crossed the Rhine, and reached the Baltic shore. There, most unfortunately it decided to make friends with a detachment of Canadian troops who killed and ate it. So important a mascot had Corporal Haggis become that he was given a special medal, which he wore round his neck, bearing the eagle emblem of the regiment. My step-daughter wrote an account of his adventures, called Corporal Haggis: The wartime story of a Muscovy duck.
Lady Bruntisfied, Edinburgh
Sir, My father was near Armentieres with the Royal Field Artillery in April 1 1915 and his entry in his handwritten diary reads : "April Fools Day and in the early morning some of our infantry made their opponents remember it. The enemy tied tins to their barbed wire to make a noise in case of attack. One of our chaps tied a length of string to the wire. This string was then pulled by our fellows from their own lines and the Germans started to blaze away for all they were worth. When daylight came they saw a notice stuck up between the lines with the date written on it.
David Evans, Croydon
ON THIS 2 DAY APRIL 1918
The Times reports on the merging of the Naval Air Service and the Royal Flying Corps to form the Royal Air Force
MESSAGE FROM THE KING
Yesterday the Royal Naval Air Service and the Royal Flying Corps were merged under the new scheme into one body, the Royal Air Force. The King marked the occasion by sending a telegram to Lord Rothermere at the Air Ministry in the Strand:- Today the Royal Air Force, of which you are the Minister in charge, comes into existence as a third arm of the defences of the Empire. As General-in-Chief I congratulate you, and I trust that it may enjoy a vigorous and successful life. I am confident that the union of the Royal Naval Air Service and the Royal Flying Corps will preserve and foster that esprit de corps which these two separate forces have created by their splendid deeds                                                                                                                               GEORGE R.I.
Lord Rothermere replied as follows:- Lord Rothermere, with his humble duty to your Majesty begs leave on behalf of the Royal Air Force to convey an expression of their heartfelt appreciation of the gracious message addressed to them by their General-in-Chief.
Lord Rothermere is confident that the assurance of your Majesty's interest and confidence will assist every officer and man in the Royal Air Force in the task of continuing the great traditions of the Royal Naval Air Service and the Royal Flying Corps - traditions which, as your Majesty has personally seen have   never been more gloriously maintained than in the struggle now proceeding.
DOWN MEMORY LANE
It was 50 years ago this month (I think) that the RAF withheld one week's pay, as punishment for damaging Air Ministy property. I suppose they had a point - let me explain why! I joined the International Motor Pool at HQ AAFCE, Camp Guynemer, Fontainebleau in October, 1957 to complete the remainder of my National Service. A shiny Standard Vanguard (83 AB 16)' was the mode of transport, taking officers to SHAPE headquarters and various conference centres around Paris. It was on a return trip, happily without passengers, when the accident happened, somewhere near Choisy-le-Roi in the Creteil arrondisement, about 6 miles south of the city centre and before the N7. It was a cold March day, as I remember, when I approached a large junction without traffic lights My error was to forget the French rule of priorite a droite" (priority from the right) and then to argue with a 16 wheel articulated lorry. It was unscathed, my staff car a near write-off! Fortunately, a local fire station was nearby - the Brigade des sapeurs - Pompiers de Paris - manned by a French Army unit. They cleared the debris and, as best they could, attended to my damaged pride before rescue arrived from base. The next day, Mike Capon and his team retrieved the vehicle and in hindsight, we both think the Vanguard was irreparable. No wonder the fine, for failing to observe French traffic laws ! By November 1958 on discharge from the RAF Support Unit at AAFCE, my Air Force conduct was considered "exemplary" with "very good" qualities of leadership and co-operation Clearly the RAF held no grudges !
Ian Davis
UP-DATE TO SAC IAN DAVIS' VANGUARD STAFF CAR CRASH AT CHOISY-LE-ROI
Corporal Arthur Cockroft and I were tasked to recover the damaged vehicle the same day. When we arrived there we went to the gendarmerie to enquire where Ian was and were shown the desk diary with his name and details in it. We were told he had returned to Fontainebleau. Knowing this was not true we actually went out into the town centre where we were stopped by a French lady who asked "Royal Air Force?" and said she had not seen anyone in that uniform since 1945. She told us we would find our colleague in the fire station, to which we then proceeded and found him having lunch and a few beers with the pompiers. We were offered a drink, which we accepted, before recovering the vehicle and towing it back on two wheels to Camp Guynemer. Until a few days ago when I saw lan's e-mail I did not realise that he was charged. Form 252 action. He was stopped one week's pay by the Officer Commanding the RAF Support Unit, Wing Commander R Stevens. As a poorly paid National Serviceman this stoppage would not have covered the cost of the repairs to the vehicle.
Mike Capon R & S Workshops
<![if !vml]>

<![endif]>1959 saw the 50th anniversary of Bleriot flight over the Channel. I don't know if any of our members were involved in the celebrations at that time or if they can remember it. I was sent to Paris in a Standard Vanguard to collect three helicopter pilots (1 Sqdn. Ldr. and 2 Flt. Lts.) at the Gare De Nord and take them to their hotel. Not having been to Paris before they asked me to drive them round the city which I did. I think they were a little scared at the speed of the traffic at first or maybe it was my driving. Nothing was said but I had that feeling. After a couple of days they got used to it and two of them had their wives join them, I had once again to take them on a tour of the city and they expressed an interest in the Moulin Rouge.  Unfortunately they couldn't get  booked in to see the show so then asked where they could see an exhibition on the Rue Pigalle. I had no idea but on arriving there they soon found one, the giggles lasted all the way to the hotel.
I was based at the French Air Force camp at Villa  Coublay and it was there that they had their two Sycamore helicopters and crew brought down from Germany. The competition was for a person to mount a motor cycle at the Arc de Triumph and ride to the Paris Heliport, then by helicopter to Villa Coublay and board an aircraft to cross the Channel to London (copter and motor cycle again) finishing at Marble Arch. The RAF had Hunter Jets and the French had their Mirage . The rest were a mixture of aircraft and the main one that I remember was Billy Butlin in his Spitfire.
I didn't get much of a feed back so I don't know any of the results. On the last day I was ordered into one of the Sycamores, duly strapped in and asked if I was OK? I hardly had the words out of my mouth when the Sqdn.Ldr. pulled up on the stick. ( Part of my stomach is still there). That was their thanks for my driving I guess. I had to change into the other machine to fly back and was I glad because close to landing the Sqd. Ldr had ignition cut-out and crashed. He and his passenger were a bit shook up but nothing serious. As for the Sycamore that was no more than a heap of metal. Only the day before they had fitted three new blades to get a bit more speed and lift at the cost of £5000 each. I kept part of those blades and my pass badge as a souvenir for years, unfortunately I have lost them probably when moving house.
20 yards before the runway there is a monument to honour an Ace French pilot who crashed and died there. It could have been two that day.
Next year is the centenary of Bleriot's flight and I intend to return to Paris. I expect they will have some sort of event. As yet I haven't been able to find any information regarding a celebration. If any members know of anything I would love to hear from them.
Harry Horn (Cullecoats, Tyne & Wear)
ELEVENTH ANNUAL REUNION and DIINER ~ 26 September 2008
It is not too late to book your place at this year's Annual Reunion at Warwick. The cost is £64 per person per night for dinner, bed and breakfast and represents excellent value. The hotel is now totally non-smoking. For those who wish to come for the dinner only on Saturday the cost is £24 per person. Bo-jangles will again provide the music for after dinner dancing. Now is the time to be thinking about prizes for the raffle table. 
Members come from far and wide but few from the Midlands despite the venue being on their doorstep. If you wish to join the party please complete the booking form (click here for booking form) & return it with your deposit.
We shall not be bringing our own wines from France this year. You may if you wish bring your own bottles, mark them with your table number when it is allocated and pay the corkage charge of £7 per bottle.
Dress is informal i.e. Lounge suit or smart casual.
AND FINALLY …………………
This is your Newsletter so please send in your news, tales of yesteryear or any items that may interest the readers. I have to trawl through newspapers and magazines to find copy to include.