<![if !vml]>

<![endif]>
ISSUE No. 39 
SEPTEMBER 2007
DEDICATION
We who served alongside other nations in the armed forces
are proud of our association with Fontainebleau
and are justly proud of our place in the history of NATO.
Through our Association we have found old friends and made new ones.
We are grateful for the opportunity to meet together in the spirit of comradeship
which will endure until the last.
To those who are unable to join us and our colleagues who have passed on
Thankfully we will remember them.
EDITORIAL
As I write this we look forward to our Tenth Annual Reunion in 4 weeks time with 75 attendees. The first twins have been added to our membership and their details appear later in this issue. The website has proved fertile ground for recruiting new members. The joining subscriptions have covered the fee for the site for another year.
Napoleon's sword makes £3m
A GOLD-ENCRUSTED sword worn by Napoleon when he ousted the Austrian army from Italy in June 1800 was bought by a descendant for more than €4-8 million (£3.26 million) at a sale in Fontainebleau recently. The sabre which had an estimated value of £800,000 - was the last of the French emperor's in private hands. It was sold by one branch of his family to another.
"It's a world record for a souvenir of the emperor, for a sword and for a weapon in general," said a spokesman for the auctioneers. The sword classed by France as an historical monument, and therefore unable, to leave the country  was sold by a descendant of the emperor's brother Jerome.
The slightly curved sabre, forged for Napoleon by Nicolas Noel Boutet at the Versailles firearms and blade factory, is decorated with Napoleon's favourite motifs of Imperial Rome, such as the head of Jupiter on the handle. - The steel blade is decorated in gold and has an ebony and gold handle, protected by an s-shaped guard beneath it, each extremity of which is decorated with gold.
WELCOME ABOARD
<![if !vml]>

<![endif]>SAC Ian Davis served as a driver in the International Motor Pool from October 1957 until November 1958. When their call up came Ian and his twin brother Brian who were aviation enthusiasts both wanted to enlist in the RAF but resolved that it would be better to split up and Ian won the toss leaving Brian to join the RASC. After a few weeks they regretted this decision and encouraged by an article in the Daily Mail about splitting up twins the "bullshine" was applied and they were reunited in Fontainebleau at camps close to each other. Eventually they both found themselves enjoying life in many parts of Europe.
After his National Service Ian joined the London Office of Union Castle Line which operated a weekly service of passenger liners – a ship sailed from Southampton at 4 p.m. every Thursday.
In the early 1960s the number of passengers travelling by air overtook that travelling by sea so a switch from shipping to aviation was made. After a couple of false starts with Air Safaris and BEA Ian was ready to team up with his bother Brian at Autair International Airways at Luton. Ian then joined Donaldson International Airways as General Manager which operated 3 Boeing 707s and 3 Britannias. The 1973 fuel crisis brought this exciting venture to an end.
Back at the bottom of the tree Ian joined Aerocontracts Ltd which provided spares support for airlines and air forces in 82 countries. He retired in 1999 as Managing Director.
Married to Gillian in 1972 they have lived in Horsham, West Sussex for the past 30 years. Their son is an airline captain based at Gatwick and their daughter is head of HR at Norwich Airport. Aviation is still in the blood.
October 1957 ~ Russia's Sputnik 1 launched to orbit more than 500 miles above the earth
<![if !vml]>

<![endif]>Sgt David Block (RASC) arrived at the Quartier Chateaux in November 1955 working as a clerk until September 1957
After NS, David worked as a salesman for a while, ending up with Olivetti where he broke the all-comers record for not selling a single machine in an entire year. Then he moved into the entertainments industry as an ad salesman for The Record Mirror, not much success there either and onto Publicity, where things became more successful and stimulating.  David's boss, Leslie Perrin, was a PR genius they worked for everyone from Frank Sinatra, Nat King Cole to Judy Garland and Tony Bennett, Radio Caroline and eventually The Beatles (after they'd split into 3/4).  He started his own company and represented people like Georgie Fame, Simon Dee, Dave Clark 5, The Zombies, Jonathan King and Ed "Stewpot" Stewart writing his first TV show and enjoyed it so much he quit PR and name-dropping to become a full-time writer.  Among the TV shows David scripted was Wish You Were Here. . . ? and that started him out as a travel writer which he still does ~ recently for The European magazine and currently for The Washington Times and International Living.  David also writes speeches for the public and corporate sector.  Retire?  He is not even thinking about it.  First because travel writing's so exciting and second, he needs to eat.  David who works in Central London mostly spends an increasing time at his partner Alice's house in Oxford of which he owns a few bricks.
November 1955 ~ First floodlit International football match played at Wembley ~ England v  Spain
<![if !vml]>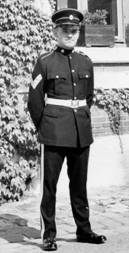 <![endif]>Cpl Brian W Davis enlisted for National Service in the Royal Army Service Corps in November 1956. Following basic training in Aldershot, he was lucky enough to be posted in June 1957 to the Secretariat Division of the ALFCE HQ in Fontainebleau. After 18 months enjoying the delights of Paris, and other parts of France, Belgium and Holland, Brian was demobbed in November 1958.
Intent on a flying career after leaving the forces, he discovered that his eyesight was not up to the required standard for a Commercial Pilot's Licence so he opted for the next best thing  - a career in the management side of civil aviation.  Brian secured his first traffic and operations job with Hunting Clan Air Transport at Heathrow which was later merged to form British United Airways. He later joined Autair International Airlines, a fledgling scheduled service and charter operator, which was subsequently acquired by the Court Line shipping company in 1965. This association enabled the company to purchase a fleet of BAC 111s and Lockheed Tristars to expand its inclusive tour operations within Europe and then to the Caribbean.  This ultimately lead to the construction of 3 new hotels in the Eastern Caribbean which flowed following the takeover of the local airline, Leeward Islands Air Transport.   Appointed a director and the first General Manager of the merged airline, Brian spent an enjoyable 18 months in Antigua. Sadly, the widely publicized collapse of the Court Line group in 1974, mainly as a result of the oil crisis at that time, was announced on the same day that his brother Ian's company, Donaldson International Airways, ceased operations for much the same reasons!
Despite this setback, Brian retained his enthusiasm for aviation and secured a post as Commercial Director with Invicta International Airlines, a specialist cargo operator.  After five years, he elected to take a sabbatical from the industry, and then held senior management appointments with National Freight Company and a large firm of international architects. When the call of the air became irresistible again, he formed his own aviation consultancy, Astra Associates, in 1992 which continues to operate today.
For leisure interests Brian has enjoyed a reasonable amount of private flying ~ his first solo flight being in a De Haviland Chipmunk operated by the BOAC Flying Club.  Sadly this activity is now too expensive to pursue. Locally, he was Secretary of the Radlett Lawn Tennis and Squash Club, a founder member of the local Rotary Club and continues to be active in church and local school governance. Brian lives in Radlett, Herts with his second wife Chris where his 3 sons and daughter were born.  With the aid of Chris' 3 boys, they now have 14 grandchildren between them - and still counting!
June 1957 ~ Headless body of frogman Buster Crabb found in Chichester harbour.
<![if !vml]>

<![endif]>SAC Joseph Harry Horn a 3 year regular airman arrived in Fontainebleau in April 1958 as driver allocated to the International Motor Pool where he remained until September 1959. Harry now lives with his wife Patricia in Cullercoats, Tyne & Wear. To avoid repetition, more of Harry's background and history can be found under "From the Postbag"
April 1958 ~ The newly formed CND march to attend a rally at AWRE, Aldermaston
<![if !vml]>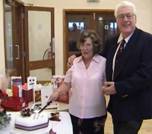 <![endif]>Cpl. Mike Evans was posted to Quartier Chateaux in September 1964 as an Armourer in the REME. He remained there until April 1967 spending a further 3 years in the Army at the RMP Depot at Chichester. After demob Mike joined the Metropolitan Police serving 25 years before retiring in 1995. In 2000 Mike and his wife Carol moved to Langtree in Devon. In February last year they celebrated their Ruby Wedding Anniversary.
September 1964 ~ Europe's longest bridge, The Forth Road Bridge, is opened
FROM THE POSTBAG
<![if !vml]>

<![endif]>Seeing the horrific pictures on Australian TV of the flooding in England, hope you are all OK, even if treading water and swearing a lot....The climate's obviously gone raving mad and knowing you all live in proximity to rivers, trust that you have been spared a lot of the dramas we've seen on the "box"  Let us know how you are coping if you have been affected and we hope that the insurance companies are not digging out small print...  Please can we have some of your rain - send it this way!
Christine and Ronald Fraser (Tungamull,  Queensland, Australia)
Whilst recently reading through the Newsletter No.38, I came across Stan  Bone's reference to living in the village of Thomery and it evoked a flood of  memories.
On my second posting to Fontainebleau March to November 1966 (first being  1958/60) my wife and I and our very young twin daughters were billeted at 30 Rue des Monfort, Thomery.  The landlady - Madame Ropion, was a petite, aged  female, always dressed in black and wearing a wide brimmed hat.
I remember when she was going to make the pilgrimage to Lourdes I drove her  into Fontainebleau to the 'Prisnic' to buy a new coat - she was so small we  ended up purchasing one from the children's department.  The Summer was  good in the village with the River Seine flowing through, separating the village  of Champagne on the opposite bank.
In 1984, whilst providing security at the BBC Elstree studios for the construction of the Eastenders set I met the studio manager named Phil  Pitcher who told me he had been a "service brat" who spent time growing up in  Thomery in the late 50's / 60's.  Perhaps some of our members may recall  his father?
Brian Samways (Poole, Dorset)
I had two contacts from people who were in Fontainebleau the same time as me. Next weekend we are off to see one of them who live in Hitchin. I have found some more photo's of the lads who were on my shift can I just put them together with a request for any body who may know some of the people on my list? Also could you send me the latest newsletter.
Brian Bursell (Coventry) 
On 25 April I will be taking part in the ANZAC DAY PARADE, here in Geraldton.
As Air Chief Marshal Sir Basil Embry spent his retirement here in Western Australia, where probably he bought land, built  his own home and started sheep farming. I hear from Brian  Gibbons that his family had fallen on hard times, so much so that they have been forced to sell his medals due to  financial hardship. I am not surprised to hear this because many Farmers in Western Australia have gone broke due to six years of bad drought, turning their farms into deserts, last weekend Bernadette took me to see her old farm which is about 60 miles from here, the house she and her husband brought all the family up in is slowly breaking up, the land is desolate and nobody can grow anything in the fields, the farm is for sale, but who would buy it? Sir Basil's farm is about 600klms from here so I guess his family must be in the same way.!!
Bernadette and I are returning to the UK on 30 April clear up my affairs in Weymouth, I hope to have emigrated out here by August at the latest, hope to catch up with you once we get back.
It has been really good having Brian look after my UK home for me, I have really appreciated him keeping me in touch with life in the UK.
I apologize that I have not sent an e-mail to Jock Fraser yet but I will try to do so before I leave.
Please pass on my regards to all my friends in the Association.
Les Hills (Geraldton, Western Australia)
During my time at Fontainebleau I was the Armourer for the Army Support Unit at Quartier Chateau. As there were comparatively few weapons held my duties were not exactly onerous, and the Quartermaster (my immediate boss) expected me to act as arms custodian as well as the repair and maintenance man.
The weapons were rarely out of store, once for the summer 'Camp' enjoyed by all on the banks of the Loire at Gien, and once for annual range classification, but every now and then there was a "2 Alert" that demanded all personnel to carry their personal weapon with them at all times when on duty. It didn't happen too often, and in fact the first time I experienced it was soon after my new wife joined me in France.
The "Alert Exercise" was called and I asked the QM (Lt. Col. of the Black Watch) how he wanted the guns issued. He handed me a stack of business cards for want of a better description. On each one was printed " For exercise purposes the bearer of this card is deemed to be in possession of his personal weapon"
Fontainebleau was crawling with NATO troops all armed to the teeth except the British Army guys, who had a small 3" x 2" bit of card...........
My new missus cracked up and couldn't stop laughing. She wrote "BANG" on the back of mine......
Mike Evans (Langtree, Devon)
On a recent visit to my late wife's family in Fontainebleau I stopped for an impromptu lunch at a bar-restaurant in the Place d'Etape. Somewhere I had often frequented all those years ago. Following my two years posting with the Royal Air Force at Camp Guynemer, I spent a further three years as a civilian working for the US Army at Caserne Lariboisiere, & enjoying such long lunch breaks would often eat in town.
Sipping my aperitif & glancing across the road I thought about how all the surroundings had changed. Of course, many of the shop fronts were different, but not the buildings themselves. Tucked away in a corner stands a relatively small bar and I was immediately reminded of an amusing incident that happened there just a couple of days after my arrival……………
Many of us, I am sure can recall the oddball plumbing & quaint toilets in France, and there at Chez Pierre's, as it was then called, I had my first encounter! Shortly after ordering my first beer in France and so proud that my schoolboy French had been understood, I slipped in to the rather dingy toilet. To my horror when I pulled the chain the complete system came away from the wall splitting the water inlet pipe from the tank and ball-cock . In an instant the cubicle was transformed into a shower room ! What on earth was I to do? Sheer panic was quickly replaced and thanks to my street-wise London East End upbringing, I managed to smile and squeak a hasty "Au Revoir", leaving my half-empty glass on the zinc counter as I dashed out into the sunlight………..Never to return.
Another dark and grotty toilet actually came to my rescue a few months later but this time in Paris……at a club in Pigalle to be exact. I can't quite remember as to why Terry Vine and I were there ~  we had probably been visiting churches or visiting educational museums or the like and got lost. On my return to the bar, having been chatting to a charming young lady upstairs, I ordered a round of drinks. Whilst in the toilet I checked my wallet & found that all it contained was my F1250 and a rail ticket. Quite a surprise really as I had just swapped a couple of cartons of cigarettes (surplus to requirement cigarettes you understand ) for an innocent few francs. The squaddies' nightmare……………I had been "rolled"and couldn't pay the bar bill! I could feel the beads of sweat forming on my brow as panic set in. Somehow I sensed a draught and looking round I saw an old ill-fitting door with three large rusting bolts. In a flash of inspiration I drew the bolts, gently pulled the door open and could feel the cold night air envelope me. I was in a courtyard and could see traffic passing. It was a long walk to the Gare de Lyon. "What happened to you last night ?" But I was too embarrassed to answer truthfully. "Somehow I must have got lost……..!"
Brian Gibbons (Estonia)
Just found this article in today's Dorset Echo. Les Hills and I have been friends for some time now and Claudine was pally with Pauline, so we saw quite a lot of each other. Les's health has really improved miracuously......a few years ago he was in a very poor state. I stayed at his flat in Weymouth from the start of November last to their return to the UK early May. Must say that Bernadette is a charming person. She had been sent to OZ from Britain as a very young child migrant along  with her sister. I know that I will miss him and it is unlikely that I will ever get to Western Australia or see him again in person. We will stay in contact though via Skype and we both have webcams.
  It's never too late to fall in love  ~ by Sarah Goldthorpe
The OZ couple Leslie Hills and girlfriend Bernadette Bowey are to marry in Australia.  A  pensioner  has shown  it  is  never  too  late  to fall in love by emigrating  to marry his  Australian
sweetheart. Friends of Leslie Hills, 73, say his girlfriend has given him a new lease of life after the tragedy of losing his last two wives to cancer. He met Bernadette Bowey, 70, on a cruise to Australia in 2005. The ship broke down and the couple were stranded together in Egypt. Now Mr Hills is set to move from Swannery Court, Weymouth, to tie the knot and live with his Sheila' on the other side of the world.
"She's gorgeous - a typical straight-talking Oz," he said. Mr Hills said his ill health improved dramatically after falling in love. He lost four stones in weight and is more active advertisement.
Brian Gibbons (Estonia)                
It was 1948 when I first flew a Spitfire and such joy it gave me. It took 3months to build, the feel of the balsa-wood and smell of that glue, the tightness of the paper over the wings. I knew then I wanted to join the R A F. that kit cost me 2/11d and it was wrecked on its first flight. I went on to build many more before leaving school at 14 to join my father in the family fish business. 
When my National Service papers came I had no hesitation and signed up for 3 years, I was told signing for 3 years would give me a better chance of a posting abroad. At that time I never thought travel would become as it is today and I would ever get to see the Far East. From day one I applied for a posting anywhere in the world especially the Far East.
I failed all the top gun tests and had to settle to become a driver, which was my next passion (driving). That came to me early on when my father came home after serving in the RAF in WW2. I was about 8 years old and he would take me with him on school holidays to his work. After WW2 the family firm bought a US army staff car and had the back replaced with a wooden truck body.  It was a Ford with a V8 engine and boy could it go, on a quiet road to the local docks Father would lift me on his lap and let me drive the last mile. All I wanted to do then was drive anything on wheels.
After RAF Padgate and Weeton I was posted to RAF Hope Cove in Devon and spent my time driving everything from dustbin truck, ambulance, fire tender and coaches. On occasions I would have to drive the CO's Vanguard to his house. Then one day I was told that the C in C was to visit and I had drawn the short straw (I am sure that was a fix) and would have to collect him at the airport. I was a little nervous at first but everything went off ok. That must have gone on record and not long after I received my overseas posting. HQ AAFCE. Where in the world was that? No one at Hope Cove had any idea. Once I found out I was a little disappointed but went home on leave to tell the folks. It was then my fiancé and I decided to get married, gosh we were only 19 at the time and we must have thought I was getting posted to the moon.
I had enjoyed my time at RAF Hope Cove and made many friends possibly because I did every weekend duty driver. Most of the lads lived fairly local and could get home on a 48-hour pass. I only did it once and it took me 16 hours to get home and 15 to get back. Then one summer my wife came to work in a hotel in Salcombe. Happy days with lots of good friends and memories.  I regret not having kept in touch with the lads and only 2 years ago I managed to find one and we now write to each other.
I was looking on the net for the AAFCE badge when I came across your site and how happy I was to see the photos and  read  the letters.  Many memories came back, I did have a few souvenirs of  my time there but over the years and moving house many have been lost. My first son managed to destroy my NATO service document when he was a baby. I did have a piece of a sycamore helicopter that I flew in just before it crashed, but that's another story.
I was assigned as 2nd driver to an officer and gentleman whom I will never forget. Air Chief Marshal Sir George Mills K.B.E. D.F.C.  Sgt. Peter Fryer was his number one driver and a finer NCO and mentor I have yet to meet. Sgt. Vic Barnes was the Commander's chef and Sgt. Barnes' wife his housekeeper. My main and very hard and difficult job was to deliver a newspaper and take Sgt. Barnes shopping. Once done it was back to the Motor Pool for a rest and stand by if I was needed. I had some interesting driving to do when Sir George was away but that's another story.  I took over from Sgt. Fryer when he left to go to the Pentagon, Washington, USA. That was the next posting for Sir George and Sgt. Fryer left to learn the routes. That left me to drive that big Humber Pullman, like a ballroom in the back but a child's peddle car in the front, lucky I was quite trim.
In all my service days I was never called by my name it was always Geordie and I met many fellow Geordies in the RAF. SAC Malcolm Wellings was in the MT section when I left, he was from Newcastle. A good friend was SAC "Shug" Stewart, he was from Dundee and I think he was in admin. I am not too sure if he isn't on one of the photos on your site. My room-mates in "M" block were SAC Derek. I. Mold (Admin) and SAC Paul Woodhouse (driver). Paul had a girl friend in Paris and we would often go to see her. I think it was his girl but we always dropped him off up the Alley. Paul was a great lad and he always wanted to go to the USA, which after leaving the RAF he did. I received a call not long after he came home from Derek to say Paul had been killed in a car accident. I know we may never have kept in touch but I am still very sad to have lost a dear friend. Derek came out the service and started a transport company, Guess who taught him to drive and in what vehicle.  I have lost touch since he last came to see me but I hope he is doing well and he looks in on your site some day. If only one could live life again! I wouldn't change a thing; my big regret is not getting the cookhouse recipe for Sortie- Bee- Merrago. Boy did I enjoy that, if anyone knows the recipe I would love to have it. My wife is sick of me asking for it (the meal).
Well as I said I am new to computers and I am trying to learn to type to help me with my story of my life, mainly the 50 years I have spent in the Fish trade. My ancestors may find it interesting. Thank you so much for giving me the reason and the opportunity to type this story. Not bad for a learner it has just taken under five hours to do this, over three days. What a lot of Dribble.  Sorry.
     Harry Horn (Cullercoats, Tyne & Wear)
SAGA magazine printed a letter saying that the search for the diamond ring of the young NS man from Fontainebleau, who had only the box, is being questioned by an ex customs officer (also an ex-serviceman) in Dover. No-one would invent this, and I do not like being told it did not happen.   Could you put a note in your next Newsletter saying this and asking members to recall any difficulties they had as servicemen, or any problems experienced by their comrades in arms with the British customs officers, to email you for forwarding to  me?  
I know from many years experience in France, Italy, Spain etc that the British customs were the most feared and hated in Europe.  GB number-plates were waved through, because Continental customs officers KNEW that the Brits would get any contraband at Dover, Folkestone or Harwich. Hope you can do it and I get some ammo to fire back in SAGA magazine.  Thanks. 
Peter Kinsley (Peckham, SE London)
I'm Joe Connelly and my wife, Cathy (Langley),  were both stationed at Camp Guynemer.  Cathy 1961-1967 in the Royal Air  Force.  And me in the US Air Force from 1964 to 1967.  While there she  worked as a stewardess for The Earl of Bandon and Air Chief Marshall  Sir Edmund Huddleston.  I too also met Mrs  Huddleston once when  the US Army was slow in approving our marriage.  She has some good stories  about the Earl.  She will write you with some.  I will pass on this link to all of my American friends that were stationed at Camp  Guynemer. 
Editor's note : Joe has declined our invitation to join the Association but Cathy has promised to send some items for the Newsletters.
Joe Connelley (Columbia, South Carolina, USA)
Accessed News letter 38. Thanks. I hope you are well and in training for the  London marathon (Ha Ha).  I'm getting ready for it - just ordered a new three piece suite so I can sit and watch it on 'The Box'.
Ken Harriman (Wigston Magna, Leicestershire)
Air Chief Marshal Sir Basil Embry ~ 1902 – 1977
Brian Gibbons and Mike Capon have been researching Sir Basil Embry for Les Hills who was his Personal Steward at Fontainebleau and they have come across the following potted history :
Sir Basil, Air Chief Marshal, and farmer, was born on 28 February 1902 at Longford, Gloucestershire, England, youngest of three children of Rev. James Embry, Anglican clergyman, and his wife Florence Ada, née Troughton. Educated at Bromsgrove School, from the age of 10 Basil longed to fly aeroplanes. On 29 March 1921 he was commissioned in the Royal Air Force. In 1922-27 he served in Iraq where he pioneered an airmail route across the desert, developed new techniques of 'air control' to keep the peace on the Kurdish border, worked with the air-ambulance service and won the Air Force Cross (1926). He married Australian-born Margaret Mildred Norfolk Hope Elliot on 1 August 1928 in Paris; they were to have five children. He was based in India in 1934-39 and was awarded the Distinguished Service Order (1938) for operations on the North-West Frontier.
Back home, in 1939-40 Embry commanded No.107 Bomber Squadron and became famous for his leadership, courage and exploits, including two daring escapes from the Germans after being shot down over France. He was awarded two Bars to his D.S.O. Having commanded a night-fighter wing in the Battle of Britain and served a stint in the Middle East, he performed staff duties in England. In 1943 Embry was promoted acting air vice marshal and given command of No.2 Bomber Group. Flying with his squadrons at every opportunity, he won a third Bar to his D.S.O., was awarded the Distinguished Flying Cross and was mentioned in dispatches. He was appointed C.B. and K.B.E. in 1945, and received a number of foreign honours.
Following World War II, Sir Basil was assistant chief of Air Staff (training) at the Air Ministry, then (from 1949) commander-in-chief of Fighter Command, in which post he was promoted air marshal. In 1953 he was appointed K.C.B., promoted Air Chief Marshal and sent to France as Commander-in-Chief,  Allied Air  Forces Central Europe.  On his retirement on 26 February 1956, he was appointed G C. B. His book "Mission Completed" (London, 1957) recounted his triumphs in the air and expressed his postwar disillusionment with the higher management of the R.A.F. and of the forces assigned to the North Atlantic Treaty Organization.
In March 1956, accompanied by his wife Hope, Embry left England 'in search of a new life'. The search ended in  Western Australia.   He  bought a largely  undeveloped  farming  property  of  1400 acres at Chowerup in the south-west. The land had to be cleared before mixed farming could begin. He also acquired land at Cape Riche, east of Albany, and moved to this block in the late 1960s. The family established themselves as sheep-farmers.
Embry became active in the politics of agriculture through the Farmers' Union of Western Australia. After only a few months involvement in that organization, he was elected general president in 1971 and held office for two years. He assisted in restructuring the union and making it more professional. Embry focussed on perennial concerns of the farming sector: the burden of protective tariffs, the need for long-term rural finance, the level of farmers' returns, and, especially, the state of overseas trade. In the context of rural recession with depressed prices for wheat, wool and livestock, the need for new outlets was pressing. Convinced that farmers needed to market their own products in order to receive a greater share of their value, in 1972 he led a delegation through South East Asia and instigated the establishment of Rural Traders Co-operative (W.A.) Ltd.  With  Embry as first chairman (1972-75), and the involvement of  the  Pastoralists' and Graziers'  Association of  Western  Australia, the co-operative sought  overseas   markets for rural products, in the first instance sheep, mutton and lamb. Although initial plans (to establish a co-operative-owned abattoir in Western Australia and then, in a joint venture, to build cool-rooms in the Middle East) were not realized, the company developed into an effective marketing enterprise.
Small and spare, wiry and strong, 'with extremely piercing blue eyes under fierce eyebrows', Embry had 'a puckish face' which could express 'a wide variety of emotions from demoniac rage to delight, laughter, and goodwill, often within a few seconds'. He was a forceful man of great energy and powers of persuasion, who believed in 'leading from the front'. The span of his activities in Britain and Australia made him a widely respected adviser in the public and private sectors. He worked at a punishing pace—staying high-tuned he called it—until illness intervened in 1975. Survived by his wife, daughter and three of his four sons, he died on 7 December 1977 at Boyup Brook and was buried with Catholic rites in the local cemetery.
MEMBERS SNIPPETS
Colin Hogg  has suffered a mild stroke which is now under control  with medication.  Although Colin and Daisy will be at Warwick unfortunately he is not able to provide the music for us year. He has recruited Bojangles to stand in for him.
Having sold their property in Hampshire before their "world tour" Peter and Ruth Fryer have settled in Bournemouth.
Brian Bursell is planning to meet up with Monique Matthews who he has not seen since he left AAFCE in 1964. Brian will report on his meeting in the next Newsletter.
Income and Expenditure Account ~ 11 months to 31 Aug 2007                                                   
                                                                                      Sep-06         
                                                                      £                   £                £     
          Cash Balance at 30 Sep 06                      334.45          334.45
          Income
          Subscriptions                                        107.00                                      
          Reunion 05 Wine                                    346.50                                      
          Reunion 05 Raffle                                  247.00                                      
          Merchandise Sales                                   90.75          791.25                   
          Total Income                                                          1125.70          1440.00        
          Expenditure
          Postage & Telephone                              152.00                                      
          Printing Stationery & Copying                     10.00                                               
          Donations                                               44.00                                               
          2006 Reunion Gratuity & Corkage             280.00                                      
          2007 Reunion wine                                 158.40                                      
          Web Fee                                                98.42                                               
          Other                                                    23.20                                                
          Total Expenditure                                  (766.02)                         (1456.31)        
          Cash Balance at 31 August 2007                                  359.68                   318.14
          Stock at cost
          16 Ties                                                110.40                                      
          10 Blazer Badges                                   102.50                            
          29 Table Mats                                                   88.16                                      
45 Coasters                                            65.70                                      
          16 Mouse mats                                       74.24                                      
          117 Enamel Badges                                  146.25                                    
          5 Books                                                 40.00                                      
          Wine for 2007 reunion                             158.40                                     
          Total value of stock at cost                                         785.65           836.12
          Balance ~ cash & stock                                             1145.33         1154.26
To enable the Accounts to be available for discussion at the AGM at the Reunion our year-end has been brought forward to 31 August.
The above shows that our financial position is healthy – our total assets are almost a mirror image of September 2006. It is proposed to continue without calling an annual subscription.
MERCHANDISE
In addition to the usual blazer badges, ties table mats, coasters etc. there are some of Peter Kinsley's books in stock. Recently purchased were the last 3 copies of "Gunner Strikes Back" available at £8.00 each. Peter's most recent novels "To Catch a Paedophile and "The Gambio Killing" are also available from David Rogerson. Gunner Strikes Back is the story of the author's experiences in the RASC at the Quartier Chateaux, Fontainebleau in the early 1950s and is essential reading for anyone who served there. More titles are available ~ contact the editor for details.        
OUT OF THE BLUE
The following unsolicited message came across my desk recently from an RAF Apprentice who takes issue with the non-availability of a service pension for those who completed less than 22 years. This may strike a chord with some members.
From: "David Davies"     david.davies6527@ntlworld.com                                              Fri, 14 Sep, 07
To: <davidrogerson@talktalk.net>
Subject: A simple RAF bod, Apprentice at Halton 73rd entry. Jan 1953, leaving Dec 1955. Aircrew, leaving 1968
Please excuse my 'latching on' to folk who are motivated and highly organised. I have tried the 'writing to my MP  route' and received the usual 'Bull-Shitting ' responses.  The 'bottom-line' to most of the responses was, ' and the Civil Service would have to be considered'.  I could not get across the fact, that, a Civil Servant can walk away from their job. At 16 years of age, in an establishment containing 3000 Apprentices, I was given the week-end to decide whether I would sign for the training + 12 years service afterwards.  Having come from a kindly household that were not related to me, I had no options - other than respect their generous help in getting me there.
It was this point I wished to 'ram down' the Minsters throat about the Civil Servants.  I was, and the bulk of my comrades ( of multiple nationalities) effectively 'Press Ganged'. We could not walk away.
Before the 'whinging' trails away in to nothing my apprentice days are so precious, and, gave me such valuable contacts with people from all over the World.  Three years together, really does make the Human Race begin to work as one.
In conclusion, I wish to re-iterate the plight of those Military Apprentices - Army, Navy, and RAF. They were little boys, when they signed the Legal Documents that took 12 years of their lives.
Oh yes. You really do have a brilliantly organised system -  It sort of smells of 'Sergeant Bilko!'
I wish you continued success in your most professional enterprise.
Kind Regards,   David Davies
AND FINALLY……………..
To enable us to reach a wider audience, if you have any material you wish to put on the website could you please send it to me to edit and where appropriate include it in the Newsletter. Over half our members do not have internet access and receive their Newsletter in hard copy.
Editor : David Rogerson,  Tel : 023 8040 2846