Editorial (Newsletter No. 37) NOVEMBER 2006



It has been an eventful year with a successful action packed trip to Fontainebleau and a superb Reunion weekend at Warwick although for the latter the number present did not meet our expectations. This did not detract from the enjoyment of those who made it. Many people travel from miles away and it is disappointing that so many members who live within a 25 mile radius of Warwick are never seen at our Reunions. As we shall be celebrating our Tenth Annual Reunion and Dinner in 2007 it is hoped that everybody will make a special effort to attend.

WELCOME ABOARD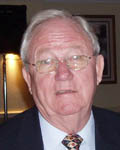 Cpl Mike Bole is another policeman to join our ranks. He served at AAFCE from January 1960 until June 1962 and went on to complete 22 years service in the RAF retiring in 1978 with the rank of Sergeant. During his latter years of service Mike worked alongside members of the Royal Family as a member of the Police Support Squadron. After demob he was employed by the Sultan of Oman and resided in the Sultanate until 1992 when his wife was taken ill. Mike who lives on the edge of the New Forest has not worked since his wife died in 1993. His daughter was born in the British Wing of the French Hospital in Fontainebleau.
Jan 1960 ~ The Nouveau Franc is introduced worth 100 old francs
Sgt Brian Russell was posted to British Public Information Office at AAFCE Fontainebleau in September 1960 where he remained until March 1963. Since leaving the RAF Brian has worked as a Brewery Rep., Pub Landlord, Insurance Sales Manager, Training Manager and a Toastmaster. Brian resides in Mold, Cheshire.

September 1960 ~ 344 tickets were issued in Central London on the first day of parking tickets and traffic wardens.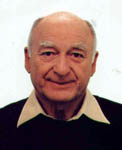 LAC George Durant served as a Ground Wireless Mechanic initially at the Caserne Demesme and then Camp Guynemer from March 1951 until July 1953. After leaving the RAF in 1954 George was employed by the MOD (N) as a radio electrician before promotion in 1964 to Technical Officer on mobile duties installing Radar and GW systems on newly constructed warships. Retiring in 1992 George enjoys holidays abroad, swimming and sailing and is a member of the Tudor Sailing Club in Portsmouth where he lives with his wife Fay. They have 2 grown up children who work and live away from Portsmouth.

March 1951 ~ Montgomery is appointed Eisenhower's deputy at SHAPE
OBITUARIES




Warrant Officer HG Thorne MBE, BEM passed away on 8 Feb this year after a long illness, aged 76. George spent 35 years in the RAF and served in Egypt, France, Germany and Cyprus together with a number of appointments in the UK. He achieved Warrant Officer at the age of 38 which at the time was one of the youngest to reach the rank. George was successful in all his appointments and this was reflected by the awarding of both the BEM and MBE. His duties were many and varied and ranged from an Ops Clerk in strategic Air Plans at RAF Bentley Priory to that of Chief Clerk at RAF Wattisham. He was also the adjutant of 10 squadron at RAF Brize Norton in the late 60's. In 1971 he moved to Cyprus where he was the Families Officer playing a vital role in 1974, during the Greek Army coup which ousted Makarios and led to the division of the island, in redeploying military personnel to the Sovereign Base Area of RAF Akrotiri and the planning for the withdrawal of family personnel.
His last posting was to the Red Arrows where he served for eight years and remains to this date the longest serving member of the team. His career was personally rewarding and he had many a humorous tale to reflect on his varied career in the RAF. Indeed he always managed to find the humour in any situation. He had the innate ability to be both outstandingly professional yet humorous at the same time. Undoubtedly his best tour was his last with the Red Arrows where he traveled around the world with the team delivering both commentary and ensuring the meticulous planning necessary to delivering success. He retired to Cirencester in the 1980s and involved himself in the local community. He is survived by his devoted wife Maisie and loving sons Air Commodore Ian Thorne, OBE, Roger and ten grandchildren.

LTO John Jones (RN) passed away suddenly and unexpectedly on 6 February. John was one of the few Royal Navy personnel attached to AAFCE where he served between November 1959 and August 1961. He is survived by Audrey who was serving as Cpl Audrey Britten with the RAF at AFCENT in the Chateaux.

LAC Bill Bloy passed away in August after a short illness. Bill spent his time at AAFCE (December 1954 until September 1957) as an airframe fitter at Melun Airfield. He lived in Chichester and attended one or two of our Reunions. He is survived by his wife Susan and two daughters.
Cpl Robert Leslie Drewett It is with regret that I write this obituary to Robert, or Bob, as he was invariably known. Bob was born in Mitcham, Surrey, on 6 Sep 38. He grew up like many of us, as a 'war baby', with his elder sister. His father was killed serving in the North African campaign. His mother remarried and the family settled in Lydd, running a grocery shop. Bob became a chorister at Lydd Church, known as The Cathedral on the Marsh. His childhood left a lasting love and memory of the marshes.
Whilst Bob was serving in the RAF his sister introduced him to her friend Janet. Initially, there was no chemistry between them although Janet did think he was nice looking. Eventually, romance blossomed and Janet was a regular commuter up to London to see Bob, who by this time had left the RAF, and was working in the capital. Jan remembers tottering around London in her 3½" stilettos, clutching her long slim umbrella and journeys back to Tunbridge Wells on the 'milk train'. They married in 1966, when Jan was 25, settling in Tunbridge Wells. Bob was then working at the Piccadilly Hotel. He later worked at Shell Petroleum HQ at Waterloo. Jan recalls for many years he
was like a lodger, travelling to town early in the morning and returning home late at night.
Page 2
When he was only 33, Bob had a heart attack. He was found to be suffering from a rare heart condition which required open heart surgery, then a massive operation. Guys Hospital treated him as a guinea-pig and the treatment was successful, although Bob was unable to work for some years. Jan became the family's breadwinner and worked nights, running a rest home, to look after the family which by this time included their four sons, Jonathan, Simon, James and Richard. Although Bob was unable to take part in the physical activities a father enjoys, and his young sons were acutely aware of this, he tried to make it up in other ways. He became a good raconteur and was always ready with a story. When Bob was again able to work, he did so in Tunbridge Wells, in a local restaurant, a food factory and with a friend providing a catering service for celebrities.
However, Bob's condition worsened and in 2004 he was again in hospital, this time Kings College in London, where he was fitted with a pacemaker. He was back there again, in Oct 2005, and spent some months undergoing various treatments, including a hip replacement. He was making sufficient progress to consider attending the Reunion at Warwick in Oct 2006. However, it was not to be. Although he had returned home for short periods, he had further stays in care homes and in the local hospital. In 0ct 06, he was admitted to a nearby hospice. Whilst Bob was in hospital, Jan was also hospitalised. With this, all the travelling to visit him and caring for him, she found it very hard.
Bob served at Fontainebleau from 1957-60 as a Cpl Chef in the Airmens' Mess. He and the other staff tried their best to produce attractive, tasty repasts, from rations that were principally 'compo packs'. Even the bread served in the mess was baked in RAOC bakeries somewhere up in Germany. By the time we got it, you can imagine what it was like! The food served in the American mess was beyond our wildest dreams and it was rumoured that even the French mess served more fresh food than ours - including bread! One of my enduring memories of Bob is an energetic, committed, professional chef who was always immaculately turned out in his whites: even up to his chef's hat. Part of Bob's duty was to issue rations to the RAF Police NCOs who were going onto night duty at Melun airfield. He always let us have the best rations available and we never went short when he was on duty. Mind you, on occasion he would have cause to chase us out of the storeroom - before we 'nicked' too much! Even off duty, Bob was always smart, a fact commented upon by Jan, from when she first met him and throughout their life together. In their early days, he would buy a new shirt and change on the train when he went out with her.
Some of you will remember Bob's last attendance at a reunion. It was at the Courtyard Hotel, in 2001, when he acted as our MC, toasted The Queen and Jan drew the raffle. He and Jan really looked forward to being with us again, but unfortunately did not make it. Bob died in the hospice on 30 Oct with Jan and family around him. In addition to Jan and their sons, he leaves four daughters-in-law and seven grandchildren who adored him. Pam and I were able to visit Bob, convalescing on the South Coast in 2004, and a number of times whilst he was in Kings College Hospital. He was always cheerful, never losing his sense of humour, notwithstanding his situation. Fortunately, I was also able to visit him in the hospice, a few days before he died. On that occasion he enjoyed an omelette for lunch and had numerous visitors. Bob will be sadly missed by family and friends alike. Terry Bryant said of Bob, in a tribute he wrote and read at the funeral service in Christ Church, Tunbridge Wells, on 9 Nov, "Bob Drewett was forever a Gentleman".
I am much indebted to Jan, for her help in the sad task of compiling Bob's obituary.
Keith Adams
NINTH ANNUAL REUNION AND DINNER



The turn out this year was below expectations but this did not detract from our enjoyment of a cracking weekend at the Honiley Court Hotel near Warwick. On Saturday 57 members including wives and partners took part in the proceedings. Colin Hogg provided music for dancing after dinner.
At the AGM the Income and Expenditure Accounts for the year ended 30 September 2006 were discussed and approved. These are included on page 9 of this Newsletter.
It was also agreed that we meet again next year at the Honiley Court Hotel on 12 and 13 October. However a big wedding has been booked for this weekend with guests staying overnight. In the circumstances we are booked for 28 and 29 September. Full details are below. And a selection of photographs taken during the weekend appears as a supplement to this Newsletter
TENTH ANNUAL REUNION AND DINNER ~ 29 SEPTEMBER 2007




Terms for our Reunion at the Honiley Court Hotel have now been settled with the hotel management. The cost remains the same as this year ~ £59 per person per night for dinner bed and breakfast and there are no single supplements. For non-residents attending the dinner on Saturday the cost is £20 per person payable in full in advance. If we take our own wine the corkage charge is £5 per bottle. A £50 voucher to spend in a Folio Group hotel will be donated by the management as a raffle prize. Contracts have been signed for our function on 28 and 29 September.

You are urged to book early by completing the booking form attached to this Newsletter and sending it as directed with your deposit for £15 per person. As previously deposits are refundable for cancellations. Cheques will be held until nearer the time when the deposits are due for payment to the hotel. Please do not make any arrangements direct with the hotel as this only leads to confusion.
FROM THE POSTBAG



OLD COMRADES ~ It was good to read in the June edition of the Newsletter that Ken Jackson has joined us. I was at detachment to Dover House in Whitehall when he joined us in ACOS Intelligence in 1951. I returned to Fontainebleau in December 1951, so did not see his arrival. When he left us, his replacement was Ralph Foster, with whom I have been in touch. It was also good to learn that Ken, like me enjoys the Caravan lifestyle. Ralph and his wife were also into the Caravans but gave it up, or did it give them up. I must ask them sometime.
Stan Bone (Baldock)
The date for next year's Reunion is certainly OK with me, I will be there whatever is finally decided. Thoroughly enjoyed myself at the Reunion. Pleased with the service, the room & the food. I am in Weymouth staying a couple of nights with Les Hills. Flying back to Estonia on Monday 16 October but expect to be back mid-November to look after his flat through the winter.
Brian Gibbons (Weymouth)
Vera and I want to say thanks to Christine and yourself for organizing such a superb Reunion weekend. We had a most enjoyable time including a visit to the Children's Animal Park with Brian and a few others.
Geoffrey Callaghan (Shrewsbury)

When I visited Bob in Fontainebleau way back in 1957 I stayed with M and Mmme. Evauttre at 25 Rue des Pleus. Unfortunately I lost touch with this family who were so kind to me during my times with them. Does any reader know what became of the Evauttre family or know their present whereabouts.
Gill James (Tamworth)
Just a few lines to say thanks for all your work over the months. We thoroughly enjoyed the Fontainebleau trip ~ taking a trip down "memory lane" As ever the reunion was good and it's so great to meet up with friends again. Some people travel many miles to get there, which proves that they think it's worth the effort ~ rewarding for you as well. It's almost impossible to believe that next year's reunion will be our 10th. I remember so well when you and Ted were trying to contact people at the start and now look at the list of members.
Ann Caton (Chelmsford)
The Fontainebleau trip was thoroughly enjoyable and I would recommend it to anyone who has not yet been. The after Parade event didn't go exactly as planned but this was precipitated by the Parade time changing. However everything turned out well in the end and we had some interesting drives round some colourful north Paris streets in addition.
The Beverely Association Reunion for 2007 is to be the 2nd weekend in October subject to finding a new venue as the R.A.F. South Cerney venue seems to be finished. Who knows I could be driving back up to Honiley again! Even if they have to change the date to the last weekend in September the Fontainebleau Reunion has first call this time so I shall be with you.
John Reynolds (Farnham, Surrey)


MEMBERS SNIPPETS




Les Hills will be leaving for Perth, Australia at the end of the year to be with his Bernadette his fiancée. They plan to marry in 2007.
Max Avey and Ron Pole took part in the Annual Veterans' Parade at Weymouth is June and sent this photograph.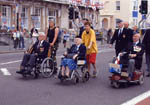 FONTAINEBLEAU SEPTEMBER 2006 A VIEW FROM THE FRONT




by Max Avey
Day 1-Tuesday 12 September
The first of a few surprises on my fourth trip back to Fontainebleau –I was joined at the Union Jack Club, Waterloo by 16 other 'early birds' for the 0615 coach. We were too early for breakfast at the Club so emergency rations were taken on board. We then proceeded to the Coach Station at West Kingsdown to pick up 22 less sleepy people before collecting the final three passengers from their overnight accommodation outside Dover, making a total of 42. We left Dover on the 1005 ferry and arrived at Calais at 1230 (both local times), after a calm sea crossing.

Our Sardinian coach driver Paolo then displayed his excellent driving skills coping with the unusual and unexpected maneuvers of the French drivers between Calais and Fontainebleau in his calm and assured manner! We stopped twice, once for lunch and once for a 'comfort stop' before arriving at the Ibis Hotel in Fontainebleau just after 7pm, where we were joined by the two remaining members of our party...... ..and so to bed, after a long day - although one or two did take the longer route via the bar to check out the stock I believe.
Day 2-Wednesday 13 September
The first Continental breakfast on these trips has always had its funny moments and this year was no exception as members, including the half-awake writer, wandered up and down the self-service counter looking for various cutlery items and working out the coffee machine, which gave you either half a mug or a mug filled to the brim! However, on a dry and sunny morning we left the hotel for Camp Guynemer where we taken around the base in our coach, walking to the various main points of interest, i.e. the Airmen's Mess (still unused but now fenced off), the sports area and swimming pool, the MT and Stores complex, the accommodation blocks, and the Support Units block, now the Base HQ. The latter has a new superb Museum depicting the history of the Fontainebleau Sports School, which was originally located in the town and is now a National facility used not only by the military but also by the French Olympic team.
Some Association members, assisted by the Base Commandant and his staff, planted a tree on a green
adjacent to the HQ in memory of Flight Sergeant Charley Collyer. The previous tree presented to the
Base by our Association in 2003 and planted on the nearby green is healthy and growing well. A framed photograph of a previous Association visit was then presented to the Commandant. This year's whole group was photographed in front of the HQ building by a French photographer. Drinks and lunch were taken in the Base Restaurant after which we boarded our coach and went back into Fontainebleau to visit the Gendarmerie School in Quartier Chateaux, where students are trained for duties in the CID and motorcyclist branches. A short video presentation was given by the Commandant followed by a tour of the site, including the Motor Cycle museum (which included British BSA and Norton machines), and the large stock of the current training road and cross-country bikes. Surprise number 2 on the whole trip was to see our Union Flag flying on the flagpole in the main square during our visit - a very pleasing gesture!
A presentation was made on behalf of the Association to the Commandant for the School and Museum, before we went to their new location at a former US base nearby for a short visit. So ended a very interesting day, particularly, I hope for those of our party who were making their first return visit to Fontainebleau since their service there many moons ago. So, back to the hotel and cafes for evening refreshments!
Day 3-Thursday 14 September
Little was known beforehand about our trip to Yevres where an RAF Avro Lancaster bomber crashed near the village on 28th July 1944, except that whilst the RAF was stationed at Camp Guynemer a detachment paraded every year at a ceremony to honour the two aircrew members who died in the crash and were buried in Yevres cemetery. We knew before setting out from Fontainebleau that we would be welcomed by the Mayor, who would have a reception with aperitifs followed by a lunch in a local restaurant and that we would be able to lay a wreath on the grave of the two aircrew. All that actually happened but on arrival in our coach we were greeted by the Mayor, his wife and other local people plus a line of six Standard Bearers from various Veterans' Associations - surprise number 3! - and a little overwhelming on first sight. However, once the introductions were over the entire Anglo-French group crossed the road into the cemetery and lined up around the Commonwealth War Graves Graves Commission's joint-grave alongside which, placed in a triple stand, were the flags of the UK, France and New Zealand. The six Standard Bearers stood behind the headstone whilst our Association's poppy wreath was placed at the foot of the grave by Sid Beaver, a Lancaster pilot who was shot down during the war losing two of his crew. Vases of flowers and posies were also placed on and around the grave by a number of local people followed by a period of silence during which the Standards were lowered - and, coincidentally, an aircraft (which sounded very much like a Hercules to my RAF Lyneham ears), flew at some height overhead! This was a sincere and emotional ceremony in which the genuine gratitude of the villagers to the aircrew who gave their lives to avoid crashing on Yevres was so obvious. It is appropriate to mention here two locals who were involved directly after the aircraft crashed. A lady now aged 95 years helped to remove the airmen's remains from the wreckage and assisted in their temporary burial nearby; secondly, a gentleman 80+ years old who was one of the first to arrive on the scene and help search for survivors who had baled out. It was an unforgettable experience and privilege to talk with these brave people who risked their own lives in the face of the enemy, also searching in the vicinity.
Following the Mayor's reception and a very good lunch the party went by coach to the French Air Force base at Chateaudun, a few kilometers away from Yevres, where we saw a hangar display of FAF aircraft which have flown out from the base over the years. During World War II it was taken over by the Luftwaffe and subsequently recaptured. We then returned to Yevres to look inside the church of Our Lady of Yevres which has the stained-glass window, installed in 1952, commemorating the two aircrew and local children who died during the war. Additionally, Flight Lieutenant Noel Stokes RNZAF and Sergeant Norman Wilding RAF have had village streets named in their memory in 1968 and 2002 respectively. We said our farewells and expressed our appreciation through Madame Hublier to the Mayor and all those people of Yevres who had welcomed us so warmly throughout our time with them and contributed so much towards our memorable day. Then homeward bound to our hotel and cafes for more refreshments!

Day 4 ~ Friday 15 September
On a damp day we had a free morning before setting off after lunch for Paris to join the Veterans Parade and Rekindling of the Flame at the Tomb of the Unknown Warrior at the Arc de Triomphe. Despite an overcast sky and the threat of rain, it remained dry throughout the ceremony. Here we encountered surprise number 4. There were two Parades to be held ours was first. Allegedly this change of format was for 'security and financial reasons' and certainly increased security measures were obvious with crowd barriers in place behind the participants. This meant, unfortunately, that our ladies who normally stand behind their men on parade were not able to do so. escorted across to the opposite side from us – Well done! My apologies to those ladies who didn't make it; I could not find the usual Parade Marshal who arranges this for us. A number of wreaths on behalf of the Royal Air Force, RAFA and French Associations were placed on the Tomb, Ron Pole laying one on behalf of our Association. As in the past, it is an honour and a privilege to participate in this unique ceremony on Battle of Britain Day, which is held in Paris every year on the 15th September, and we thank the Paris Branch of RAFA for this opportunity. It is hoped that those of our members who paraded for the first time here experienced the same personal emotions of pride in our Service and country as those who have been before. After signing the Remembrance Book at the end of the Parade, the party left the Arc for dinner at Josephine's restaurant. Unfortunately, we were delayed by a Canadian group who were late finishing their meal. Paolo again showed his patience and skill in driving the coach around the city streets to kill time. Eventually, we sat down in slightly less than comfortable circumstances for our meal with two live musicians as company, before departing Paris for our hotel.
Day 5 ~ 15 September
Left Fontainebleau 0930 local time, arrived Calais 1600, sailed 1655, arrived Dover 1730 local and London 2010 all safe and sound. My thanks to all those in our party for their patience and humour throughout the trip. It was a pleasure to have your company and I hope that particularly those on their first return to Fontainebleau will have found it interesting and enjoyable. It certainly was up front!
This an appropriate place to thank Max for his organization during the trip and to pay tribute to Brian Moulding our Fontainebleau resident who worked hard preparing the ground for the various visits prior to our arrival and for looking after the party while we were there. A selection of photos from the trip is included as a supplement to this Newsletter.
It is unlikely that we shall drum up sufficient support for another coach trip next year. As a number of you have expressed a desire to attend the Parade at the Arc on Saturday 15 September you may wish to consider making your arrangements to travel by Eurostar. The RAF Wings Travel Agency Tel: 0845 3316677 will be happy to make travel and accommodation arrangements for you. For a 2 night stay in Paris at a 3 star hotel they have indicated a price of £240 based on 2 people sharing a room. Single supplement £110 The actual price is dependent on the level of hotel accommodation you require. The above is an indication only, based on today's tariff and exchange rate. Travel out by Eurostar will be at off peak times on Friday out and Sunday return. Would those who arrange to meet up in Paris and attend the Parade please let the editor know so that the Paris Branch of RAFA may be notified.
CHARLES COLLYER BEM



Geoffrey Callaghan was one of the first airmen posted to AAFCE, Fontainebleau and submits this piece on his early encounters with Flt. Sgt Charley Collyer.
Try, dear Reader, to cast your mind back to the beginning of the 1950's when there was a real fear that Stalin would launch his superior forces to conquer the democratic countries of the West, including Britain. It was that fear which led the United Kingdom, France and the Benelux countries to form the Western Union Defence Organisation. The political will was made a reality with the locating of the military echelon at Fontainebleau; the three specific sites adopted were: Chateau Fougeres for the Commander-in-Chief, Cour Henri IV was the main Headquarters building whilst Quartier Chataux was set aside for use as the HQ UK Support Unit and as barracks for those of the three services, under the rank of Sergeant. It is at this location that the story of Flight Sergeant Charles Collyer MBE really begins.
When the Writer arrived at Fontainebleau in February 1950 the earlier men had already done much to make Quartier Chateau reasonably comfortable. Gatehouses had been converted to Sick Quarters and Guard Room , stables had been converted to NAAFI and Airmen's Mess and the Army Kinema Corps had a roof but still had an earth floor and no heating. All these buildings were destined to feature in one of the many legends of the activities of our hero!
Having already served in Europe since shortly after D-Day, Charley was amongst the tiny few who paved the way for the main influx of the UK services into Fontainebleau. That he spoke fluent French was an asset especially when he was helping the married ones to find decent accommodation. But my concern is more with the legend rather than cold appraisal. One's meeting with Charley for the first time brought two surprises: first, in the Gateway Guardroom, there were present two RAF Policemen, one visiting Redcap Lance Corporal and one prisoner; all four were watching Charley polishing a part of the floor which was below his exacting standards!! Then Charley himself got a chair and invited me to sit down and fill in the usual Official Secrets form. He peered over my shoulder and exclaimed: "So your name is Geoffrey? That's nice." Bearing in mind my limited experience of flight sergeants and calling upon my father's warning about over familiar SNCOs my first instinct was to back into the nearest corner! One soon came to realise that this was a sign of genuine concern for younger servicemen.
Whilst some Charley Collyer stories might be somewhat apochryphal, others were witnessed, e.g: in public view, sidling up to an LAC notorious for his curly locks, then whispering to Lofty X: "the CO thinks you need a haircut", which brought a reply intimating that Lofty had no money that he was "skint". At this Charley dug deep into his pocket and handed Lofty a 200 franc note with the injunction "pay me back on Payday"!!
Those with long memories will recall Charley's special help whenever the Unit Concert Party put on a play or a Variety Night. Invariably dressed in his immaculate 'best blue'. Charley would be a superb programme seller. When guests arrived, especially senior officers from our and foreign services, Charley would offer them a programme and, when asked the price, Charley would say "Whatever you think fit, Sir!" the Visitor's were rewarded with that famous Collyer salute. Without fail, he would hand in takings for two or three times the face value of the programmes. To the best of my recollection. Charley appeared in only one production - in the pantomime Cinderella. At the appropriate moment there was a flash, a bang and a big puff of smoke; as this cleared there was Charley sitting in a Landrover asking Cinderella to sign a 658 to get to the Ball. To this day I have no idea how the scene shifters got the vehicle on the stage.
One story that I can only quote second hand. as the witness is no longer with us, relates to the opening of the new HQ at Camp Guynemer. To protect the very shiny and polished new flooring in the corridors the planners had thoughtfully provided cans full of sand and plainly marked 'BUTT CANS': clearly provided to take fag ends and cigar butts both to cut down fire risk and to protect the new floor. Along comes Charley, sees a cigarette in a can and still burning and - without hesitation - he picks up the fag end drops it on the floor and crushes it with his hobnailed boots
and then says proudly: "That might have started a fire". ""Boom, Boom!!
Perhaps the best story of Charley's exploits took place on the day that Field Marshal Montgomery himself came to Quartier Chataux to make his informal farewell on leaving to move to Paris as NATO got started. As the men of all three services assembled - in platoons and flights - on our tiny Volleyball Pitch cum Parade Ground, "Monty" , accompanied by the late Squadron Leader FHA Campbell, Unit CO, wandered through the barrack rooms and the services buildings. Charley was in his glorious element some how managing to be at every door or point of interest to give his famous salute as the Field Marshal both arrived and left. As our VIP visitor called for informal photographs he was heard to remark to the CO: "Jolly nice turn out; however you do seem to have an unusually large complement of Flight Sergeant Policemen!! Doubtless, there are many other incidents that some remember and might wish to relate to us one day. For myself, I offer these words out of a high regard for a genuine personality who took a real and practical attitude towards the communal service life and its vagaries. From conversations with Charley in 1966 and 2000, and from more recent correspondence, one knows that he was well aware of most of the anecdotes and could have added a few of his own.! I can only conclude by quoting a comment recently overheard: "Charley was the best welfare officer the RAF ever had!"
2006 FRANCE TRIP & 9TH REUNION DINNER
PHOTOGRAPHS
The reproduction of these photographs are rather poor due to the fact that I do not have access to the originals. Having said that you can view them by clicking on the following links.
FRANCE TRIP 1 - FRANCE TRIP 2
FRANCE TRIP 3
9TH REUNION 1 - 9TH REUNION 2
9TH REUNION 3 - 9TH REUNION 4
MERCHANDISE




There is a good stock of blazer badges, ties and enamel badges in stock in addition to the table- mats, coasters and mouse-mats all reasonably priced.

INCOME & EXPENDITURE ACCOUNT ~ 12 MONTHS to 30 SEPTEMBER 2006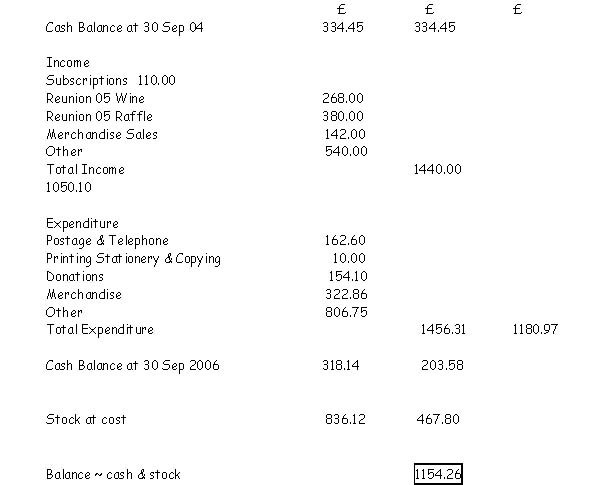 VETS WEBSITE



Not one person volunteered or expressed an interest in acting as Deputy Webmaster.
The 2000 plus hits on the website is encouraging. However only 37 members have put their details on the Members' Gallery. You are all encouraged to send a potted history of your time at Fontainebleau and afterwards to the editor for inclusion in the Gallery. This may result in your being re-united with erstwhile comrades.
AND FINALLY……………….



Having sent a number of round robins recently to those members with an e-mail facility a number bounced because the intended recipients had changed their address. This accounts for the small number of acknowledgements received from messages advising that the Newsletters are on the website. An attempt is being made to transfer those whose messages bounced to the distribution lists for this Newsletter. If people will advise me of their new arrangements it will make my task a lot easier. If any members join the dot.com brigade their details with the e-mail address will facilitate communication and save postage. Moreover news travels faster via e-mail.