Editorial (Newsletter No. 35) DECEMBER 2005
As 2005 draws to a close we can reflect on another successful year for our Association. It was unfortunate that we had to cancel the coach trip to Fontainebleau due to lack of adequate support. However a trip is planned for September 2006 and bookings have almost reached the required minimum.
It was a delight to see so many happy faces at the Reunion and Dinner at Warwick in October. We shall meet again on 6 and 7 October 2006. (Details follow later in this newsletter)
Mike Capon sent a collection of his Fontainebleau photographs to our Webmaster, Dave Bloomfield. Some 67 photographs have been scanned and prepared for publishing on our website. Although time consuming I think you will agree that the time and effort was worthwhile. You can view these photographs by clicking on the Gallery – Look for Capon gallery. (although the new webmaster may not have got to these as of yet)

WELCOME ABOARD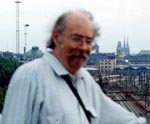 Cpl Stuart MacGregor (Royal Signals) spent 6 months at ALFCE following his training at Catterick, from April 1958. Prior to his National service Stuart trained as a journalist with the Scotsman and he returned to this newspaper after demob as one of two Deputy Picture Editors and later as sub-editor. Made redundant in 1996 Stuart continued writing freelance and moved to Donegal where he now lives surrounded by beautiful countryside.

April 1958 ~ The Comet IV makes its maiden flight.

FROM THE POSTBAG


Thank you for the book "Gunner Strikes Back". I have not had a chance to look inside yet but I do remember Gunner. If it was not for him waiting at the bus stop we airmen would never had ridden back to camp – he saved many of us walking back to camp. We cooks gave his some things the airmen turned up their noses at but he enjoyed it. I will write again when I have finished reading the book.
Gilbert Wilkins (Yeovil)
Your usual high standard. The American site is very interesting I've recognised four names so far who were working on my shift in the Commcentre, a pity they don't give more info like you do.

Bill Garland (Perth, Scotland)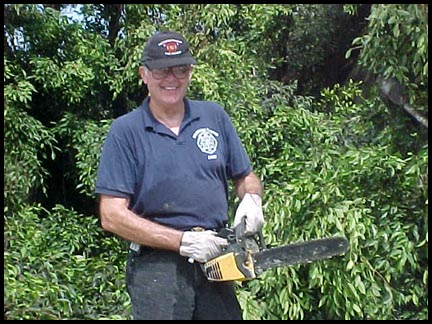 Both Gail and I are fine, we suffered no structure damage to our home although we lost a few trees, it was nothing compared to our neighbors to the South of Florida that were flooded by the Hurricane or those in the Gulf States that were crushed, an area the same size as the U.K.
It was heart warming this morning to see on our TV two 747 aircraft coming in from England loaded with supplies such as 500,000 ready meals and other badly needed items from our friends. No Country can go it alone with such a disaster, so it is very much appreciated when friends come to your help in a time of need.
Our local Fire Dept. were kept busy with clearing the Highways right after the Hurricane and later days supplying drinking water to the farms that had lost their electricity and had no way of supplying water to their farm animals.
You might recognize the old boy in the picture taken during one of these days.

Dick Christensen (Cooper City, Florida)

I have just come home from the National commemoration parade in Edinburgh along with Princess Anne HRH. We had a good parade and a Fly-Past not as big as the one in London but a good modern one with a Nimrod and Four Tornadoes. I have received Newsletter No 34 so I am just going to have a rumble though it for now.

Johnny Hanlon (Falkirk)
Managed to get into our website OK. Found notes from Ron and Christine Fraser very interesting and informative as I am cruising out to Aussie Land in November this year ,once I arrive in Fremantle catching "Gold Kangaroo train to Sydney where I will shall be staying for three months,spending a short time in Brisbane sometime,Depart Australia in March 2006, arriving back in UK end of April.
Should you wish to contact me from end of December, my e.mail address will be"bill-josie@dodo.com.au.
Ron (Pole),Brian (Gibbons)and I had a really great day at the Annual Veterans Parade here in Weymouth, All three of us had the honour to lead the RAF contingent.

Les Hills (Weymouth)
It was grand to be with you and our colleagues last month - we really did enjoy it. Keith Adams and I were at the London Cenotaph last Sunday parading as part of the RAFP association contingent and I met up with a Marty Uden (not ex-AAFCE). He was in the Kent CID Police when he left the RAF and I just happened to mention that I had a friend from AAFCE days called Alan Amos. Imagine my surprise when it turned out to a friend of Marty's and, sad to say, Alan died some years ago of a brain tumour. Whilst Alan wasn't a member of our Association perhaps there maybe some of our members who might remember him. I will be getting in touch with his wife Thora after I have written to you to let you have more details. Alan was one of the few true gentlemen of his time and became an inspector with the Kent Police and was held in very high esteem by his colleagues. He leaves a widow Thora and two daughters.

Colin Hogg (Warwick)
We have only used about 1% of our web space. I could do with a lot more photos and any other items of interest to make the site more appealing. I wonder if the membership have any ideas that they might like to put forward for inclusion - Time is on my hands at present, so keep me busy!

Dave Bloomfield (Gwynedd, Wales)

Received Newsletter No 34 this morning, though seemed to fall apart a bit at the end, unless I chopped it off before it was fully downloaded. Are you sure members really want to read my domestic drivel to you from down under, even I find it boring..... Surely there must be other talents in the group that could contribute more, the lazy swine, or have all their memories faded into oblivion? I'm busy busy busy at the moment, but will trawl through my old stuff and see if I can do something for the next mag. - Did I send you a CD of all the photographs I have from Fontainebleau? I think I did - not that many anyway, but remind me if I didn't, just to fill up blank gaps in the pages. Keep the faith, regards

Christine and Ronald Fraser (Queensland)
Many thanks for the latest newsletter - its great and extremely interesting. Unfortunately Val and I will be away at the time of the annual reunion but we hope it will be a big success.
Looking back at my time in Fontainebleau I wonder if anyone still remembers the Christmas show of 1959 at Quartier Chataux put on by all the units and detachments stationed there, including the military police, also a French soldier named 'Guy' (Gee) from the barracks next door, he was a brilliant guitarist and often entertained in the NAAFI canteen.

Brian Samways (Poole)

Have any of our members a copy of a photo taken in Borneo '65 -'68 of a Navy chopper lifting a Citroen 2cv van out of an upcountry strip (Bario)? My cousin was flying the chopper and never saw the picture, but I did, but can't remember where! Can anyone help - email me at clairinsh@cqnet.com.au
or advise the editor, David Rogerson. Many thanks.

Jock Fraser (Queensland)
Please could you email the obituary for Charley Collyer, also any photos if possible. Could you mention in your next news letter that Charley's cousin Laurence Bennett age 85 would like any other information or photographs from the last 6 years since losing contact in the 1990s
Gill and Nigel Weaver, (Bromsgrove, Worcs.)

MEMBERS SNIPPETS



Dave Bennett is recovering well after his recent spell in hospital. A few members have visited him at home in Portishead.
Brian Gibbons having sold his property in Dorset is now resettled in Fontainebleau.
John and Gwenda Day have moved to new home in Berkshire.
Bill Frindall (pictured in the centre), the most famous scorer in cricket, is quitting one-day internationals at the end of the season to concentrate on the five-day game for Test Match Special. The 66-year-old 'Bearded Wonder', in his 40th season filling in the Beeb scorebook, feels he will prolong his Test career by reducing his commitments.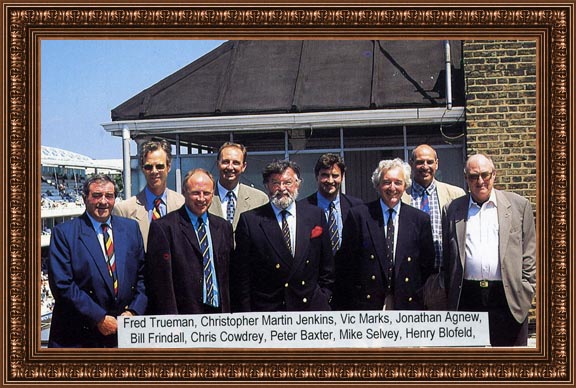 PARADE AT THE ARC ~ SEPTEMBER 2005
Mike & Ann Capon, Kevin & Abbe Price together with Ron Pole and Brian Gibbons met up in Paris to attend the Parade at the Arc de Triomphe to rekindle the flame on the Tomb of the Unknown Soldier on 15 September. It is hoped that a larger contingent of Fontainebleau Veterans will participate in September next year.
THE COMBINED ARMED FORCES FEDERATION ~ PENSION INJUSTICE
Inaugurated in 2004 The Combined Armed Forces Federation, modeled on the Police Federation, has a remit to provide representation on financial and legal issues arising from conditions of service for past and present members of the Armed Forces. Application has been submitted for the Federation to become a 'Not for Profit" Charitable Company Limited by Guarantee' Our Membership is steadily expanding with applications from all over the world.
At present, our immediate concern is for those serving in the Armed Forces prior to 1975, who now find themselves without a pro-rata pension. Research to date has revealed that Government policy, pre 1975, on Pay and Pensions for the Armed Forces amounts to deliberate, continuous, systematic, financial benefit cheating. The military were short changed for the purpose of Pension Benefits during service and now we are being short changed in retirement. This is why your support is vitally important in order to challenge this injustice. And this is not the only anomaly and injustice coming to light regarding Pensions pre 1975.
Research is now well advanced and several MPs have offered and provided their support. One is actively helping to trace the reports on the biennial Pay Reviews commenced supposedly after the Sir James Grigg's report on Recruitment in 1958. His report recommended that Pay and Pensions , should be reviewed together. There appears to be some doubt these reviews ever took place!
With your support we can challenge this Government on all these injustices and insist it meets its financial commitments and responsibilities, but it all takes time and money.

Anyone wishing to join the Federation should contact Mr David Robson, Secretary General, The Combined Armed Forces Federation, 34 Raynes Road, Lee-on-the-Solent, PO 13 9AL
Reginald Wheeler brought this issue to my attention. After this I saw the following article in a newsletter :
The Combined Armed Forces Federation UK is in the process of challenging the Government over the fact that many members of the Armed Forces, who left before qualifying for a full pension prior to 1975, should be entitled to a pro-rata pension, based on the number of years served, because salary levels were reduced below the civilian equivalent in order to provide them. If this applies to you write to:

Frank Rixon, 10 Nepaul Road, Tidworth, Hampshire, SP9 7EU e-mail : f.rixon@virgin.net
FONTAINEBLEAU SEPTEMBER 2006
A provisional booking has been made at the IBIS in Fontainebleau for September 2006. Below are full details of the trip.
Five days (4 nights) in Fontainebleau and Paris -Departing Tuesday 12 September 2006 Staying at the Ibis hotel Fontainebleau , all rooms are air-conditioned and have en-suite facilities, colour television and telephone.
COST:- £270 per person sharing twin/double room. Single room supplement £110
4 nights bed and unlimited buffet breakfast accommodation
All executive coaching, 49 seats with on board toilet & beverage bar.
Short sea crossing
Tour of Paris on 15 Sept to attend Parade at the Arc
Use of the coach for excursions while in France.
Free car parking is available at the rear of Tour Operator's office.
Deposit £30 payable by 31 January (cheques will not be presented until the deposits are due) with the balance payable by 31 may 2006
Travel insurance is required for this trip and is available through the Tour Operator at a cost of £19 per person, payable with the deposit. (I shall argue that the premium should be payable with final balance as the risk is insignificant until the full amount is paid.)
For those not wishing to join the coach in England, 2 days coach travel and of course the ferry charge has been deducted to produce a cost £230 per person (for a couple sharing a room)
It is proposed that we spend one day at Yevres where the crew of the Lancaster bomber crash- landed in a field. During our time at AAFCE the RAF attended the Annual Remembrance service there and the town was regularly included in our football fixture list. If we agree to this I shall write to the mayor to inform him of our visit ~ maybe some hospitality will be laid on.
It is hoped that we shall be able to look round Camp Guynemer and Le Quartier Chataux.
If you have not booked and are interested please complete and return quickly the booking form (No link) with your deposit.

EIGHTH ANNUAL REUNION AND DINNER
70 of us gathered at the Corus Hotel in Warwick in October to enjoy a weekend of friendship, renewing contact with our erstwhile colleagues from those idyllic days at Fontainebleau.
After the dinner on Saturday evening Colin Hogg entertained us with a selection of his music and many of us crammed on to the dance floor. At great time was had by all. (See Photo Gallery for pics)
NINTH ANNUAL REUNION ~ OCTOBER 2006
The contract with the Corus Hotel, Warwick for our next UK Reunion has been signed. We shall meet on the Friday 6 and Saturday 7 October. We have brought this event forward by one week to avoid clashing with another group that also meets on the second Saturday in October. Moreover there is a wedding booked for our usual weekend. The hotel has allocated 30 rooms for the Friday and 45 rooms for the Saturday night. As previously the Warwick room is at our disposal on both days. The cost is £59 per person per night for Dinner Bed and Breakfast. A deposit of £10 per person (refundable) is required. Colin Hogg has agreed to provide the music for after dinner dancing on Saturday. We hope to supply a selection of French wines that will be imported from our trip. To avoid disappointment you are advised to book early by completing and returning the on line form (No link)

STRANGER THAN FICTION
Of the 22,500 Supermarine Spit¬fires made by Vickers before and during World War II, fewer than 250 were painted pink for any part of their operational career. These planes belonged to the RAF's Photo Reconnaissance Units (PRUs) which at great risk flew, often unarmed (for reduced weight to increase speed) and alone, over occupied Europe to record the strength of enemy forces with their cameras.
They usually operated at dawn or before dusk when the pink colour merged more easily with the rose-¬tinted clouds as the sun rose or fell, making them less visible to the enemy. One such 'Pink Spit' squadron flew from Hendon, North London, in 1943. Throughout the war, most Spit¬fires over the UK and Europe had brown and green camouflage on their upper surfaces to make them less visible against the ground.
At the start of the war, their undersides were painted a variety of colours. At first, their left-hand wings and left-lower fuselage were black, with the right-hand ones white, making it easier for the British anti-aircraft gun crews to identify them overhead. But at the start of the Battle of Britain, it was found that the German Me109 fighters were less visible in action because their undersides were painted a light greenish-blue. So the Spits were repainted aqua¬marine blue over the black and white to reduce their visibility, too.
From D-Day in 1944, Spitfires ¬like all Allied warplanes -had black and white bands painted round their wings and central fuse¬lages to avoid mistaken identity.

WHEELBARROWS AND WISHING WELLS.
In his leisure hours Dickie Rogers makes ornamental wooden garden plant holders and always brings a couple along to our Reunions as raffle prizes. They are usually the most sought after items on the raffle table. In October he took three orders for wheelbarrows. They are reasonably prices and if anybody is interested they can always contact him and he will add their name to the list for next year's Reunion. Alternatively if anybody is in the vicinity of Gloucester and they have a need they are welcome to call in.
MERCHANDISE
We rely to a small extent from the small profit we make on the sale of merchandise to swell the Association's funds. Although we have run out of ties there is good stock of blazer badges, table mats, coasters and mousemats. You may also purchase a CD ROM of the complete set of Newsletters Numbers 1– 35 for £4.00.
MEMBERSHIP
About 300 Veterans have been traced most of whom joined the Association. Unfortunately over the years a number have passed away. There are 2 or 3 prospective new members in the pipeline.
We need more of you to send your brief biographies to include on our website.
OLD FONTAINEBLEAU
Mike Capon acquired this postcard recently at a fair.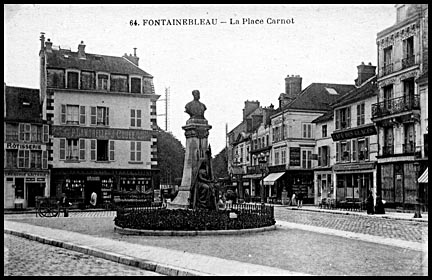 THE CATON COLLECTION – PART 2
Second in the occasional series of anecdotes contained in correspondence received by Ted Caton since the publication of his "An Erk's-Eye View" (which is now sold out).

From T of Sheffield:
"I drew the short straw and was on guard (at RAF Hednesford) from 2 a.m. to 4 a.m. It was real brass monkey weather and the only way to get any warmth in your body was to slope arms and march the prescribed 10 paces to the left, about turn and march 10 paces back plus another 10 paces to the right and then do the aforementioned left about turn. Of course before you started on this manœuvre you were supposed to take one step forward before sloping arms. I didn't and as we had fixed bayonets, I stuck my rifle into the sentry box roof. Good job it was in the dark and all good folk were in bed asleep. Careful examination of the sentry box showed that there had been many more "stabbings" before mine! …
… I was down for security patrol [at RAF Dishforth] … it fell to my lot to be doing my tour of the hangars when I heard some banging going on near the fire doors of the hangar. I had half a mind to pretend I hadn't heard it and go away. However, I dismissed the idea as I knew full well that if anyone had got in and done damage, I would be for the high jump. With trepidation I approached the fire doors with truncheon drawn and torch in the other hand. Creeping up to the doors, banging still going on I switched on the torch to reveal a Pilot Officer and a WAAF officer (pay officer at that) with clothing in disarray making amorous advances. I quickly switched off the torch, saluted and said sorry sir and left. … I did have the satisfaction of having a quiet smirk to myself every time I went to collect my pay. …"

FAMOUS FRENCH HIGHWAY DEMOTED TO A SERIES OF BYWAYS
The French equivalent of America's Route 66, the Nationale Sept (N7), which carried armies of sunseekers to the Cote d'Azur until the arrival of the Autoroute du Soleil, is being downgraded to a series of departmental roads.
Large sections of the road, which stretches more than 600 miles from Paris, through Burgundy and Provence, to Menton, near the Italian border, will cease to be classified as a route nationale when the government completes a 12,000mile programme of decentralisation by the end of 2007.
The N7 has its origins in the road-building
Romans. It has been glorified in popular culture, with songs in French and English, and in food and travel books. In common with Route 66, the N7 has a website devoted to its history (www.nationale7.com).
Along with the N6, it was one of two trunk roads linking the capital and Lyons. One newspaper, France ,Soir, described it as "our fathers' holiday route, with its long jams and its gastronomic stop-offs".
With the roads no longer part of the national network, France Soir said, the French would have to forget "those picnics after Avallon, the bottlenecks at Cosnesur-Loire, the heroic effort of crossing Poitiers".
The owner of an auberge south of the forest of Fontainebleau said the N7 had retained its charm for many travellers. "There's nothing to see on the motorway; drivers fall asleep and cause crashes," she said. "On the N7, there is the countryside, villages and people."
LETTER FROM DOWN UNDER ~ October 2005
No apologies are made for including Jock and Christine Fraser's latest news. They have so many friends in the UK who are sure to enjoy his epistle.
Now that spring has sprung it's too hot to work outdoors during the middle part of the day, so it is time to sit under the fan and bring you the latest of life in Queensland. In my last letter June/July I said we had had a wee bittie rain and the temperatures had dropped down to single figures overnight. Ha! That was the last time they did, it's been a ridiculously warm winter and hardly any rain since then and we're really into drought with, according to the weather forecast "High to Extreme Fire Danger". In the last week the temperatures have climbed to the mid 30s already and it's not even summer yet – doesn't augur well for Christmas! The dam's bone dry again and future meteorological prospects look grim. Still got a fair amount of water in my tanks, but if we don't get some good rains in the Wet Season (Jan- Mar) it's going to be a real problem for those not on Town water – and there's hosepipe bans and problems even there. And every time we turn on the news somebody else is having flooding in other parts of the world. The icecaps may be shrinking, but the released water isn't getting here!
To put things in chronological order, again in my last letter, I mentioned we were having a group of U3A people around for lunch with a "Scottish" feel. It went very successfully indeed, we had eight guests and had everything laid out on the patio, even to Christines heated hostess trolley, and turned out haggis, neeps and tatties, with juniper pork and lemon chicken for those that might not face haggis. To my surprise they all went for the haggis and scoffed the lot (leaving no leftovers for me) before they started on the other stuff. Dutch maatjes herrings, cold sliced venison sausages, oatcakes – all went at a great rate – maybe somebody should take over from the Indian, Thai, Italian restaurants and sushi bars and bring in a taste of Scotland to the rest of the world and make a fortune*? After liberal doses of Glenmorangie for the non-drivers, it was amazing how they all dragged Scots ancestors (?) out of their pasts, and while only I wore the kilt, most of the ladies had tartan suits or skirts, so it all went off excellently.
* (Inserted later, have just been reading in my Scottish Snippets – a weekly email of Scottish news circulated round the globe, that someone has got two restaurants going in Glasgow and Edinburgh called "Bangers and Mash" which is doing just that – what it is to be an undiscovered trendsetter and why can't I make some money at it?)
After that we continued with our pursuits, Christine with her Rem Veg and Conservation Council, me with my U3A Secretary and Newsletter, and both pounded computer keys like fury – nothing growing outside and beyond watering so there was nothing we could do in the drouth, except count the plants that were keeling over and snuffing it.
.
Then in August Alasdair, Corri and our granddaughter Caitlin arrived from UK for their "every two year" visit. This time they flew by Emirates, which was excellent, with direct from Glasgow – Dubai – Singapore – Brisbane with only 1 hour stopovers. Last time they came Royal Brunei via Heathrow with long stopovers and "dry"! We flew down to Brisbane to meet them, and sister Diane and her daughters had done a great job in arranging the first part of the holiday. Diane's daughter Anne and her husband Bruce were friends with a high powered lawyer and his lawyer wife (who therefore aren't short a bob or two) who said – "oh, you can have our country house on Stradbroke Island for a few days, and you can borrow my (new!) Toyota Prado, it's got 7 seats…. " So we all met up at Brisbane airport with the weary UK travellers, climbed into the Prado and Bruce's Ute for the baggage and headed of to the ferry to Stradbroke.
The house, "Cabarita", which had once been a restaurant, was huge and beautiful, big enough for the eight of us to get lost in, right on the coast at Amity Point, and we had a magnificent three days there, eating out every night in local hostelries, the "boys" went fishing, we explored lots of the island and in general had a lovely relaxing time, eating and drinking too much… Appears the owner "lent out" his holiday home to friends four times a year and can therefore claim it as a tax loss – told you he was a lawyer! The fishing wasn't all that brilliant – Alasdair and Bruce seemed to spend most of the time putting prawns on their hooks and feeding the fish with them, but only actually catching rocks. Finally and regretfully we caught the ferry back to the mainland and then spent 10 days going round the various nieces and scrounging bed and board with them and they all went down to the Gold Coast and Sea World. (I opted out, after Florida Sea World it could have been an anti climax) Christine and I stayed with Linda in her newly bought house, Diane, AC & C stayed with Anne and we commuted back and forwards (only ten minutes) and spent a number of evenings dining out and of course "the girls" had to go shopping in Brisbane!
After that Alasdair, Corri and Caitlin flew back with us here to Clairinsh for another 10 days of relaxing, down to the beaches, swimming, and had a lunch at Ferns Hideaway up in Byfield Forest where we met up with Dale (once of the Mill Gallery, now freelancing as an art consultant) and AC & C went canoeing on Waterpark Creek (which supplies all Yeppoons water)
Caitlin had her ritual paddle in the Coral Sea at Yeppoon and Emu Park, where Alasdair tried to fly a ten-dollar stunt kite from "Silly Sollys cheapie sell everything" store, to the grave danger of everyone on the beach….some of the oldies out for their daily constitutional had a fair turn of speed when he did the celebrated involuntary "dive to the ground like a guided missile" stunt with the kite. They spent a lot of time in the pool which was not a place I will venture into until the water is over 80F, but they are I suppose hardy Northern Hemisphere types. We ate too much, drank too much, talked too much and generally had a delightful interlude. Finally we all went down to Brisbane to see Alasdair Corri and Caitlin off back to UK from Brisbane Airport, and then Diane and niece Linda flew back here with us for another 10 days of R & R. And now we two old fogeys are again left alone hunched in our shawls over the fire mumbling our toothless gums… or something. Gee but it's quiet! And as far as bushfires are concerned let's hope it stays that way, I've had all the excitement I need for a bit.
Just before the family arrived from UK I had to go and get a series of blood tests prior to a consultation with the cardiologist who did my stent a year ago – routine follow up when he does a trip up to Rockhampton to see which of his operatees have keeled over in the interim so there's no point sending them letters for contributions to the Wesley Private Hospital… There were three pages of results from the blood tests, complete with comparisons with previous ones, all of which proved that as far as that goes I'm disgustingly healthy. Cholesterol 2.7 etc.etc. Went along for my consultation and was pleased that he took me off a lot of my medication – unfortunately not the most expensive ones, but let's not look a gift horse in the mouth! Actually, I moaned in the past of the cost of things the private health insurance cover doesn't pay – dentists, specs, medications (prescription or not) and the "gap" between consultants and doctors fees and what the fund will actually pay. However, this year adding up my income tax return, I've actually been able to claim tax back on "medical expenses over $1500" which has cut my tax bill down a bit, can't be bad. They're still ignoring the thing I write on my tax return which says "Dear Sir, do not wish to join your club".

Meanwhile all around us development proceeds apace on the coast, despite the fact there's no water for any more people. Now a pipeline from the Fitzroy River in Rockhampton is being touted as the long term solution, and water meters are installed everywhere so people are learning how much it costs to water their lawns, etc. No effect on us as we're self sufficient (assuming it rains now and then!) One pleasing consequence of the dryness all around is that the grass where the field drain runs under from the septic tank is all green and lush, and every evening about five or six wallabies have returned to crop it and demand slices of bread with menaces. Between them and the mass of lorikeets, cockatoos, magpies, butcher birds, masked plovers, kookaburras, etc which come to drink at the basin of water we leave out, quiet it's not. The butcherbirds sit on the kitchen windowsill singing for their supper most ear-splittingly – especially when one is on the phone. We're going through three loaves a week, 35kg of "small parrot mix" every six weeks and 2 kg of best steak mince every fortnight – and I can't even claim them as dependants….. Nice to see them all back, though.
We had a bit of a panic just before AC & C arrived when water started backing up in the toilet and bath, etc. Normally septic tanks don't really need cleaned out – the bugs in 'em do the job, but we got the "honey wagon" in to empty the septic (honey wagon – RAF slang for the vehicle that empties aircraft toilets). They reckoned our drainage ditch was clogged up (the trench that takes the processed water from the septic away). New ditch dug and filled with various grades of gravel and covered over again – about $3000, which we needed like a hole in the head. I couldn't see that that was the problem, called in another drain specialist who showed me a tiny inspection hatch at the side of the tank where all the inflow from toilets, sinks, washing machine, dishwasher etc. goes in – two minutes with a crowbar cleaning what appeared to be a toilet paper clog and all was well, he said now I could do it myself next time it happened, $3000 saved and he only charged us for the mileage out. What a lovely chap! Yet another Specialist Technician Qualification I can add to my CV in my next reincarnation and looking for a job – "Septic Tank UnBungerUpper".
Meanwhile the latest hullabaloo is of course the price of petrol which has doubled in the last few months, and presumably will affect the price of everything in due course. OK it is still half the UK price, but as it is such a big country transport costs are a major factor. Interesting figures in a letter to the local paper state that Australia exports 523,000 barrels of high quality low sulphur oil a day from its oilfields, which, because we signed the OPEC agreement is sold under contract at $10 a barrel. We then import 530,000 barrels a day of OPEC lower quality crude oil at $60 each, net import of 7,000 barrels a day (which is all that Australia needs to make lubricating oils and greases), and have to refine the remainder to make fuel. If this is accurate, is somebody around here crackers or does Shell/Exxon/BP run the world? – Don't answer that…. A number of companies are now adding ethanol of which there's a plentiful supply using the residue from the Queensland sugar cane processing, most fuels now contain 10% ethanol, but the price hasn't come down any, though I suppose the cane farmers are making additional income from it, good luck to them. I did suggest that Christine could fix a carrier basket to a bicycle and pedal into Rocky each week for the shopping but the response was quite short, sharp and Anglo-Saxon.

We do about 250km a week in our trips to Rocky shopping and on meetings, etc., so a doubling of price does not help one little bit, though luckily both cars are fairly economical.
As for life here at Tungamull Desert, all is quiet – we meet up with Sandra and Grant, and Les and Jeanette, but don't have a lot to do with any others in the street as most of them are working. Still a backwater, and with house prices to match, unfortunately, none of us are going to get rich by selling up and moving on – we're in the limbo between the city and the beach – mind you, at the rate the coast is expanding in 10 years we'll be on Yeppoon outskirts! Friends in U3A who have lived on a block on a hill overlooking the sea in Yeppoon are selling up at last as they own an old Queenslander house and the block covers three "house allocation" modern building plots. They're getting past looking after it all, and have had developers sniffing round and are talking about getting 1.5 million for the piece of land on which the developers want to put 22 housing "units". Now that's a nice little windfall to buy somewhere smaller in town and have enough left over for a Ferrari. Trouble is, many people are taking this option and moving into Retirement Villages (some of which are really nice) and of course the developers are hovering like hawks to build another concrete monstrosity.
I started writing this letter in mid October and had got this far when my computer's hard drive decided that it had had enough, went mad with all my records and then sighed its last. Just what I needed. Luckily I had been good with my backups and keeping program discs, etc., and a lot of the stuff was on Christine's computer as well so it wasn't as drastic as it might have been. However, it did mean a new computer, so we're now both using Windows XP Home?, which helps a little, and as my new one has a 40GB hard drive it works a lot faster and with twice the storage space. Which of course meant getting this finished was on hold till I got the new one in and set up and all the programs and backups installed, which took a week of cussing and swearing but it all seems to work satisfactorily. I could have taken over Christine's one, but I'd have had to make a hospital appointment to have her surgically removed from the keyboard….
At the same time, all of a sudden we got a week of unexpected rain and storms which gave us about 2.5 inches of very welcome rain which topped up the tanks a bit, put a muddy puddle in the bottom of the dam and hopefully has saved some plants which were on the brink of expiring (of course the lightning occurred when I was trying to set up my new computer and had to switch everything off!) No more in the immediate future forecast, and they had a lot more rain than we did inland – just as they were just starting the wheat harvest. Who would be a farmer? Cooled things off a little but its now very steamy and the mosquitoes will be thriving!

I was in the swimming pool t'other day repairing the light in the deep end – which meant pushing the light fitting in with one hand and doing up the screws with the other, whereupon I either pushed myself away from the wall or rotated round the screwdriver. At the fifth try the phone rang just as I got the first screw to bite, so I went dripping and cussing to answer it, to be told by Leise and Barbara at the Council and Rem Veg Plant Nursery that Christine was on her way home with steam pouring out of her ears and to keep a very low profile. They had being growing some plants round the Remnant Vegetation hut (their HQ) which were extremely hard to get seeds from in the wild. Apparently someone in the Council in another Department decided that they were a fire hazard and without telling anyone, had them all ripped out and destroyed. Leise and Barbara had just found it, Christine went spare when she got there and Barbara went round to the Council Admin Officer who'd ordered it, they both ended up in tears shrieking at each other, the Officer went home distraught, the Boss man Council Chief Engineer of her Department came down to the hut and started tearing off Barbara a strip, she being a Council employee though in another Department. Christine tried to separate them and it went downhill from there. At one stage the C.E. said to Christine "Don't point your finger at me and get back in the hut…" not realizing how close he came to sudden death, and everything went pear shaped while everyone else ducked for cover.. Christine let fly with "Well Bugger you, bugger Rem Veg, Bugger the Council and Bugger the Environment" and stormed off home!
The usual Council story anywhere, one hand not consulting the other before doing something, as I know to my cost in the past, but Christine went incandescent as she is a volunteer doing the Councils work for it, and not an employee, and wasn't being talked to like that by any official, however high powered in his own milieu. She calmed down at home and we sniggered about it and went off to do some retail therapy the next day, bought a new camera for me (5.1MP 10xOptical zoom and a proper through the lens viewfinder – the LCD screens on digitals are no use in the bright sunlight here for pics of animals, flowers, macros, etc) and we were wandering round the store when we saw a fantastic little Thermos Brand Barbecue (gas) with all sorts of gadgets including a chiller box for the wine and beer. Last in shop, display model, no box. The manager confirmed that it was the last one, and said "OK, yours for $300 and since you're buying the camera as well, I'll drop that to $500" The BBQ was listed at $495 and the camera $549 at Sale prices! Overcome with the serendipity of that we had a nice lunch out, did a bit of shopping and came home for Christine NOT to spend hours on the computer on Rem Veg and Seed Bank work.
In fear and trepidation, Barbara and Leise rang her up yesterday, and all has calmed down a bit, but apparently the furore has reached the Chief Executives ears, so some good may come of it in future interdepartmental communications. (Another pig just flew past the window). However, Christine has served notice that both Rem Veg and the Conservation Council can look for replacements for her by the end of the year because she's had enough and with the cost of petrol, etc. attending meetings, taking minutes is getting too much. Last week she did two trips to Rocky, two to Yeppoon, hours at meetings there, 20 hours on the computer here doing stock records and minutes, studying briefing papers from State and Government Departments, emails going in and out about 15 per day, and she's had enough of it now. I had no objection to her doing it as long as she enjoyed it, but it's now got beyond a joke, the Developers are winning in all Council planning decisions, and I need me and the estate looking after……….!

So it's been an interesting few months and never a dull moment. There's always a bright side though, I got my new computer when we were still having the need for two to do our own things - a few weeks later and the necessity wouldn't have been as important! Tomorrow we go off to a "Melbourne Cup" party in the afternoon – the big race where all Australia comes to a halt to watch a horse race on TV, ladies wear high fashion hats (blokes in shorts and flip flops as usual) and have parties. If Indonesia ever decides to invade, come in from the south on Melbourne Cup day, there will be nobody to stop them.

Which would be a good time to stop this letter, as it's getting to rival "War and Peace" – I was going to stick some piccies in, but weight/postage precludes it, and you've been bored enough with this session of Tales from the Bush so I'll leave that imposition till later.
Thank you Jock for such an interesting account of your life in the Outback.
THE SIMPSON DIARIES
Extracts from Brian Simpson's Diaries make a welcome return to our pages.

SETTLING DOWN ~ Arriving at AAFCE on 9 October 1953. I spent the week-end in search of signatures for my "Arrival Card." The Americans proved very helpful, the French quite the opposite. It was very noticeable that the British NCOs and Officers were, on the whole, more approachable than at home. All arrival formalities were completed early on the Monday morning and I reported to Flight Sergeant Wright (RAF) in the Logistics Directorate of the Headquarters. I started work in the typing pool along with two Dutchmen and two Americans. I picked up the threads of life at Camp Guynemer during the first week. I soon discovered that it would prove expensive and the RAF Local Overseas Allowance of 2/9d per day was very useful. Most things in the NAAFI canteens and shop were slightly more expensive than in the UK, while dealings on the French market were ruinous.
My second week-end in France brought my first excursion - a trip with the hockey team to Paris. Passing Orly Airport and the Cite Universitaire we entered- the city at the Porte d'Italie. After some trouble we found our destination in the back streets of the Montrouge district - the Montrouge Athletic Club. The game that followed never reached great heights but provided a fair amount of enjoyment all round. There was no score. On the return .journey we stopped at the Cafe des Aviateurs opposite Orly Airport. Here I was introduced to the French version of Ham sandwiches -six inches of bread roll split down the middle to allow the entry of a large slice of ham.
Before I left the pool at the end of the year I enjoyed the simultaneous company of representatives of all the AAFCE. nations -Dutch, Belgians, Canadians, French and Americans.
BIBLIOGRAPHY
The following titles written by members of the Association are available.
Winners in Action ~ The definitive history of Dunlop Slazenger ~ 320 pages with colour and black and white photographs throughout.
In Winners in Action, Brian Simpson, who has been associated with the Dunlop and Slazenger companies for 50 years, entertainingly describes how, over a period of nearly 200 years, the original companies of Slazengers Ltd and the sports division of Dunlop Rubber Company became Dunlop Slazenger International and one of the largest and most influential of all the international sports businesses. And how the founders and managers of these companies, who saw the opportunities offered by the 19th century explosion of interest in sports of all kinds, made the development of exciting new products their priority.
Those who enjoy playing and watching the great players will all find a great deal to interest them in this definitive history of a company ~ themselves a major player in the world of sport.
Available in hardback (£25.) and paperback (£12.95) available from Brian Simpson 0118 940 3504.
The Gold Bidet ~ by Peter Kinsley who served in the Army at NATO HQ in Fontainebleau during his National Service latest book dissects a French village that was collaborationist during the war, where a neighbour had a leader sent to Buchenwald. The Gestapo chief who arrested him and pillaged his house, returned to the village for his holidays in 1965 and was welcombed by his old collaborationist friends.
His story is based on manuscrips, diaries notebooks and journals left behind by an American writer who was on the Riviera in 1939 when Herman Goering was visiting.
Here is Mediterranean sex, assassination and a fight for gold in the James Bond tradition and something more important than Ian Fleming ever attempted. In the course of this fast moving thriller the author has exposed a political scandal that French wartime collaborators and their descendents have long tried to keep secret. (The Spectator review).
In harback only ~ special price to members of the Association £13.00 incl. p&p. Available through the editor.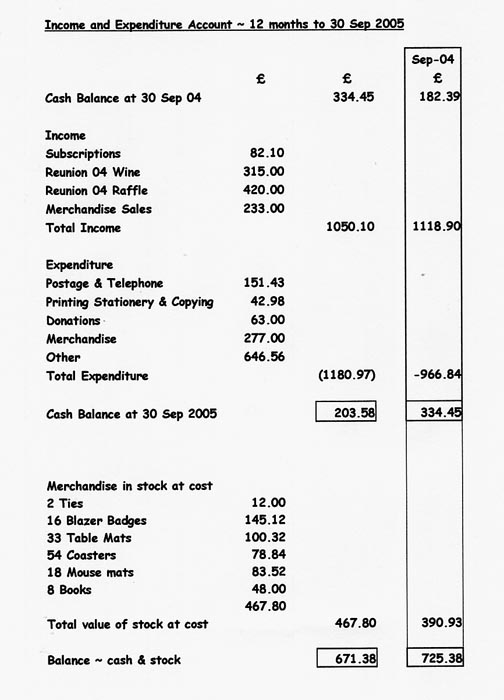 AND FINALLY……………
We wish all our readers a peaceful Christmas and a happy and healthy 2006.