ISSUE NO. 28                                                                   DECEMBER 2003
EDITORIAL
As 2003 draws to a close we can reflect on another successful year for our Association. There was enough support to run our third excursion to Fontainebleau in September to visit local places of interest and to join the Parade at the Arc de Triomphe.  A switch of venue for our UK Annual reunion proved to be a wise decision. We had a thoroughly enjoyable week-end together. Reports on both these events appear on following pages. Sadly we lost our dear friends Ray "Bomber" Harris in June, Stan Fenney in October, Hilton Cozens in Novemeber and Keith Vining in the summer. 16 new Vets were found during the year of which, at the time of writing, 10 have joined up. We look forward to another year of keeping in touch. I send my very best wishes to you all for the festive season and wish you all good health and happiness in 2004.
WELCOME ABOARD

Sgt Alan Johnston who was introduced by Ann Tartt served in the International Motor Pool between May 1961 and May 1964. Between 1958 and 1961. Alan was at the Records Office at Innsworth having relieved Sgt Joe Shotton who had departed for AAFCE's International Motor Pool. It was not unusual for RO personnel to benefit from  redeployment to a place of their choice and so he engineered his posting to Fontainebleau as Joe's replacement. This was followed by various postings to Command HQs. In 1978 having clocked up 55 years Alan left his final post as WO Stats. at HQ Strike Command. The rest of his working life was spent as a civil servant with the Army. Alan and his wife Babs recently moved from their home in the sticks of West Gloucestershire to a retirement flat in Llanishen near Cardiff.
While Reginald Wheeler was enjoying a cruise he met Cpl. John Potter on board who served in the clerical branch at AAFCE based at Cour Henri IV from August 1960 until August 1963. After leaving the RAF in 1967 John joined the Accounts Dept. of Marsh & Baxters (meat pie specialists). From there he took a position in 1969 as a cashier in the Kidderminster branch of Lloyds Bank. After a couple of years there he took employment with other firms lastly with a Building Society where he was promoted to manager. In 1989 John took early retirement and took up painting & decorating. He has not looked back since and is working harder than ever. John who lives in Bewdley, Worcs is divorced with one daughter, Michelle, and 4 grand-daughters  

OBITUARIES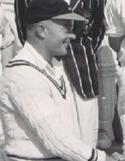 It is with deep regret that the passing of Stan Fenney on 21 October is reported. Stan, a Welshman, was a Sergeant in the Commander's Office from June 1952 until December 1958 so his valuable contribution in the HQ was recognised. Stan's prowess on the sports field is legendary. He was ever present as captain of the AAFCE Soccer and Cricket XIs, always willing to help and encourage the younger players and his advice enabled many to improve their game. Stan, as a Flight Sergeant Navigator, was the only survivor when his Lancaster was shot down over Beauvais during the war.   He was rescued and sheltered by the Resistance until the arrival of the British Army. He was subsequently commissioned in the Equipment Branch and left the RAF as a Flight Lieutenant. After the war he played semi-professional soccer for Hereford Utd, Swansea Town and Newport County. His main claim to fame was being on the wrong end of a 13 – 0 score-line in a League Div 2  match in 1946 when Newcastle Utd. beat Newport County. Unable to settle in Civvy Street Stan rejoined the RAF in the late 40s but could not regain his previous Officer status. This rankled and he often wore his old officer's raincoat at Fontainebleau and was accustomed to taking a salute from unknowing airmen of various nationalities.  
Stan is survived by his wife Betty who was the Deputy NAAFI Manageress on Camp Guynemer. They settled in Bridgend, South Wales, after his eventual retirement from the RAF. A letter of sympathy from the Association was sent to Betty.

During a long awaited trip to Australia at the beginning of October Hilton Cozens developed muscle spasms in his back which worsened during the journey.  Medical help was sought in Bangkok, and again in Adelaide. On arrival at Cooktown, Northern Queensland he was hospitalised for one week before setting off for home. Then following a CT scan and innumerable tests, he was diagnosed with cancer in the spine and lungs. His condition deteriorated very quickly and he spent his last days in Newcastle General Hospital surrounded by his loving wife Maureen and daughters Sally and Caroline. Hilton who bore his illness with great fortitude was called to rest on 18 November.
Hilton worked in the Public relations Office at AAFCE between February 1959 and August 1960 and roomed with Brian Gibbons and Terry Vine. A letter of sympathy from the Association was sent to Maureen with a donation of £25 to help fund the purchase of an electronic ripple bed.
Keith Vining passed away recently. Unfortunately no details are available save to say that Keith was an SAC Crypto-mechanic in the Comms. Centre at Camp Guynemer between September 1960 and March 1962
Golden Wedding Anniversary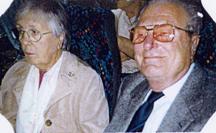 Congratulations to Reginald and Joy Wheeler who celebrated their Golden Wedding Anniversary recently. They met at a military social when Reginald was stationed at Colchester and were married in 1953 at St Mary's Church, now Colchester Arts Centre. Reginald enlisted in 1942 and served with the RAF Police for 22 year seeing service in India and the Middle East before being involved in the 1948 Berlin Airlift. He served at Fontainebleau as a Flight Sergeant from April 1961 until November 1963. After he left the RAF in 1966 Reginald and Joy ran Wheelers Newsagents for more than 20 years. 
ARC DE TRIOMPH GETS A FACELIFT
It was reported in the Daily Telegraph recently that the damp and crumbling Arc de Triomphe is undergoing its first big refurbishment since it was completed nearly 170 years ago. Lumps of stone have been falling from the inside of the arch for months, forcing the city of Paris to erect netting to protect tourists walking underneath.
The renovation of the arch began as soon as this year's Armistice Day ceremony was over. It will cost £1.5 million and take 18 months to complete. The Arc will be closed for much of December, as the work gets under way, and it will be swaddled in scaffolding for most of 2004.
The decorations on the inside of the arch are eroded by leaks and the pollution rising from the cars which career around it all day. The terrace on the roof has been leaking badly for decades.
Napoleon commissioned the Arc in 1806 after his victory at Austerlitz, imagining himself leading his victorious armies through it each time they returned to Paris but work stopped after his defeat at Waterloo. It was not completed until 1836 under King Louis-Philippe.
Carved around the top of the Arc are the names of the great victories of the revolutionary and Napoleonic eras. Inside are the names of the lesser victories and the names of 558 French generals. At the foot of the Arc is the Tomb of the Unknown Soldier, where every evening a ceremony of remembrance is held which will continue during the renovations, under dense netting to catch any falling masonry.
FROM THE POSTBAG
Air Chief Marshall Sir THOMAS PIKE
Thanks for the newsletter. It certainly brought back lots of memories. One was that of ACM Sir Thomas Pike who was at Stanmore Park when I was there. During the course of my duty I was asked, on the last New Years Eve  there, to take his daughter through to the Ballroom. I was then introduced to Sir Thomas. He asked me what I would like to drink. I said I was on duty, to which a Wing Commander replied. "When the Air Chief Marshall asks what you want to drink you should answer I'll have ...... Sir."   And I did.
A few months after being posted to NATO HQ Sir Thomas Pike came through the rear door of the main building, where, at the time I was on duty. He walked half way up the stairs, stopped, came down again and said. "Don't I know you Corporal." I reminded him of Bentley Priory. "Of course." he replied. "Nice to see you again. The only send the best here, don't they Corporal." He always had a few words to say each time he passed. That to me is the sign of a good officer.
Mike Woolton ~ Kingston-upon-Thames
THE DRIVING TEST
A staff Sergeant on General Norstad's staff lived in the same village (Thomeray) as me and taught me to drive in a 1938 Chevrolet built like a tank. The hand brake did not operate and the play in the steering was unbelievable. The piece de resistance was the gear shift – to select reverse one aimed for second gear and at a precise moment moved into reverse.
Thanks to an RASC Officer in the MT Section who was also an Army driving examiner I applied for my test in 1952. The Officer informed that a vehicle would be supplied but he did not say that it would be a new right hand drive A40 Somerset with a 4 speed column change. I soon became evident that a driving test was not the best time to covert from a left hand drive 3 speed floor gear change. I suggested we stop and retake the test the following week in the car to which I was accustomed. The second test proved successful after the hill start when I held the car with the foot brake, explaining the reason why. The Captain then asked to drive the car which he did for a short while before asking me drive back to Quartier Chateaux where said "If you can drive this you can drive any *-@?*~* car. And that is how the Army paid for my first driving licence which stated that "Mr S Bone of 46 Co. RASC, Shorncliffe, Kent is competent to drive." Some of the early birds in the MT Section may remember the Captain whose name I have forgotten. He drove a long nosed Jaguar. Happy Days !!
Stan Bone (Baldock, Herts)
Colonel Barney Oldfield
Reading the article in Issue 26 (May 2003) featuring General Norstad and Colonel Barney brought back memories of them. Barney was the Public Relations Officer Barney Oldfield Jnr. the son of the famous American racing driver. Prior to joining USAF he was, I believe, a Public Relations Officer with MGM. On Saturday mornings at Fontainebleau he would attend the HQ in civvies like many officers did. He wore very bright tartan jackets and could be seen a mile away.
Stan Bone (Baldock, Herts)
Recent  message  from  Jock  Fraser  to  John  Reynolds
At last we of the halcyon days at Fontainebleau are coming into contact - our "era" is now getting represented!  I thought we had all died, been jailed, deported or sectioned under the Mental Health Act....  I need confirmation in writing that you did cram seven of us into your little green
Austin Healey Sprite to go to the bestest chip shop some miles from Fontainebleau one evening - all drunk as skunks - for "frites with tomato sauce on", while the jukebox there played "My Boy Lollipop". Nobody believes me..... Alright, you steered but who operated which of the other controls? (I think I was in the boot...)
I wonder if we ever met up in your "Q" days - unlikely, as you shiny Comet and Brit lot wouldn't consort with us hairy uncouth unwashed Bev and Hastings lot with our knuckles dragging on the ground.  My only Comet IV trip was returning from honeymoon in Malta on "indulgence" (out from
Abingdon Bev, inbound Comet - from the ridiculous to the sublime...)  Never thought I'd end up on
VC10s wearing a bumfreezer jacket and never an oily flying suit and great clodhopping flying boots in sight - but I did!
So how has life treated you since you left off being one of the intrepid steely eyed eagles of the air (stop sniggering at the back there...) I see from your potty - sorry, potted CV in the Newsletter you spent the rest of your time with BEA - must've been interesting.  I never had much to do with aviation after I left the RAF in ''72 other than as a cattle class pax, until we retired out here in '91, and wild horses wouldn't drag us back to UK.  However, keep in touch with the past via the Beverley Association, AAFCE, the VC10 Website and the usual aviation journals - that and emails correspondence with Brian Ward, Mick Champ, Chas Hardie and others of our time at Fontainebleau.  Have you seen the previous Newsletters, and if not, get a copy of them on CD from David Rogerson - they'll bring the nostagia flooding back!
Will keep this fairly short as we're having a roasting hot spring - hottest September since records began in 1939, over 30C every day, and I'm wilting in the heat the computer is generating!  Incidentally, your little Frogeye infected me - I had an MG drophead in Seletar, and we have an MX5 here - though don't drop the top too much this weather - prefer the air
conditioning - and my last few remaining hairs might get blown off.... Anyway, drop me a line when you get the chance, and I'll try to scan and copy to you an article I did in the Beverley Association Newsletter about AQM training and why you never got posted to the aircraft type you trained on at Dishforth or wherever..  By the noo, Jock Fraser
Ron & Christine Fraser (Queensland) clairinsh@cqnet.com.au
THE  GUYNEMER  PLAYERS
Brian Ward, RAF Cpl. was a fellow member of the Guynemer Players.  Can't remember if he was in any of the plays I was in but he was certainly at all the parties!  I only remember one play clearly, "The White Sheep of the Family" in which I played a dotty vicar.  We also did a Christmas variety show just before I got demobbed.  It caused quite an upset as we wrote a running gag through it, based on the HQ emergency dispersal plan and used the code name as part of the show's title.    My boss (The Adjutant General - an American without a sense of humour) was furious, as the code name was classified top secret.   "I could have you court martialled for this corporal!"  With only one week left to do after the show, I was relieved that he calmed down a bit and made do with a bollocking!   I don't think it was a great success anyway but memory has happily erased most of it now.  I wonder if Brian remembers?
Peter Charlton (Cpl Peter Holding (RASC)West Ealing, London
We are Survivors (For those born before 1940)
We were born 6efore television, before penicillin, polio shots, frozen foods, Xerox, contact lenses, videos and" the pill. We were before radar, credit cards, split atoms, laser beams and ballpoint pens, before dish-washers, tumble driers, electric blankets, air conditioners, drip-dry clothes. ..and before man walked on the moon.
We got married first and then lived together (how quaint can you be) We thought 'fast food"' was what you ate in Lent, a 'Big Mac' was an oversized" raincoat and crumpet' we ate for tea. 'We existed before house husbands, computer dating and sheltered accommodation was where you waited for a bus.
We were before day care centres, group homes and disposable nappies. 'We never heard of FM radio, tape decks, artificial hearts, word processors, or young men wearing earrings. For us time sharing' meant togetherness, a chip was a piece of wood" or fried" potato, hardware' meant nuts and bolts and software' wasn't a word.
Before 1940 Made in Japan ' meant junk, the term making out" referred to how you did in your exams, 'stud was something that fastened" a collar to a shirt and 'going all the way meant staying on a double-decker bus to the terminus. In our day cigarette smoking was fashionable, 'grass' was mown, coke was put in the coalhouse, a Joint was a piece of meat you ate on Sundays and pot was something you cooked in. Rock Music was a fond mother's lullaby Eldora do was an ice­-cream a gay person was the life and soul of the party, while aids just meant beauty treatment or help for someone in trouble.
We who were born before 1940 must be a hardy bunch when you think of the way in which the world has changed and the adjustments we have had to make. No wonder there is a generation gap today.   By the Grace of God ...we have survived!
Dave Bennett ~ Portishead
RMP Visit to GIEN in 1959
RMP Training lasts five months and covers all areas of police work, from foot patrols to traffic duties and criminal investigation.
The Royal Military Police serving with ALFCE based in Fontainebleau and living in the Quatier Chateaux were not often called upon to perform the Military Police duties for which they were trained.
I was occasionally able to commandeer a spare Land Rover and trailer and three or four NCO's and go off on, what our OC believed to be, "A route signing exercise".
On one occasion we pulled into the small town of Gein, some 40 miles south of Fontainebleau, and parked on a spare corner of land (now a car park) on the north side of the road bridge over the Loire.
On the opposite corner was a small bar (still there, though a little larger now) and I decided we should enter and enjoy a soft drink, or something!
Upon entering the bar I noticed three elderly gentlemen sat around enjoying their "Vin Rouge".  We were in uniform (battledress with green webbing) and had just made it to the bar when one of these old timers said, "RAF, RAF".
I told my lads to say nothing as we could be on a winner, and I said, "RAF?" to the old timer.
We had a glass of wine, or two, with these locals while they told us the following unbelievable story.
During the days immediately after the 1944 allied Normandy landings, the Germans were moving troops north to encounter the enemy using the one road bridge and the rail bridge over the Loire.
The Town Council had called a meeting with the townsfolk and agreed to inform London and instruct them to blow up the bridges. 
They then contacted London and told Winston Churchill (so they said) to send over the RAF to destroy the bridges.
As we all know, during the War, the RAF generally flew at night and the American Air Force flew during the day.
A few days after contacting London, an American aircraft came over during the day and flying low along the river released its bombs.  The bombs apparently missed their targets and landed on the south side of the river destroying the  pottery works.
Our locals claimed they contacted London and insisted the RAF were sent to destroy the bridges.
Again, an American aircraft came and released its bombs.  This time the bombs landed in town on the north of the river.
London was again contacted and Winston Churchill was apparently told, "If he could not send the RAF, don't bother".
A couple of days later, an aircraft was heard approaching noisily and travelling low along the river.  The RAF plane released its bombs destroying both rail and road bridges.
The plane then circled away from town and apparently crash landed some miles away.   The two pilots were rescued and cared for by local resistance.
This story, true or false, was told to we "airman" whilst enjoying several glasses of vin rouge.
So enthralled were we with the story we did not find time to deny being members of the RAF and naturally, we would never admit to being such!
Tony Bowdler ~ Droitwich
A CARNIVALITE IN SEMI-RETIREMENT
I vowed more than 30 years ago that I would never willingly retire and yet as that milestone drew nearer, circumstances were such that it was not going to be as simple as I thought.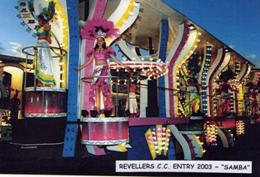 Having already worked self-employed without a break, other than holidays, for over 50 years doing a variety of things I enjoyed, some profitable some not so but did include two great years at Fontainebleau on the staff of the Chief of Staff as chef I suppose that was the nearest I ever got to working for someone and even then all would agree that was only a token situation because to all intents and purposes I was still the boss. Not being one who gives into the apparent inevitable, my thoughts turned to the opportunities available to me.
Originally it was my wife and youngest daughter that gave me the taste and before long I got involved with probably the most popular social activity which will only be found in the West Country, Carnival!
Carnival is one of those events that take a year to prepare but which the public will actually see probably only once in the year. The national media will tell you the ultimate Carnival is Notting Hill in the summer, no its not, its Bridgewater, Somerset in November. It is there that you will see the most magnificent collection of powered mobile Floats (we call them carts) numbering up to nearly 200 entries plus all the walking entries (masqueraders), twirlers and the town bands. The floats are drawn by farm tractors and other motorised vehicles many over 100ft. long and up to 12ft. wide. The lighting on these floats will include up to 30,000 individual bulbs powered by generators producing over 1000 KVA. The most sophisticated will include numerous moving parts engineered to produce a spectacle you will only ever see there. They drive through the town amid a cacophony of sound and dancing taking all of two hours to complete the circuit and its free, although you are asked to give generously to the collectors in attendance.
If you have been fortunate enough to see a West Country Carnival you will have some idea of what I speak what most do not realise is the time, planning and cost involved to put these shows together. A Club produces a float, our club is only nine years old and we have a way to go to be up with the big boys but we will spend over £5000 this year building and improving our entry. The money is raised through local events and all the usual fund raising activities. We have about 40 members and they all participate but it still takes a lot of raising. Some clubs are fortunate enough to get sponsorship but this tends to be limited to the larger more established outfits although we are helped by local businesses with discounts etc.
Our year starts in January when members are invited to present their idea for the coming season, drawings are made and models are used in the members presentation and by February an idea is selected and work starts on the detailed planning. This includes not only the float design and construction method but selecting the appropriate music to be played plan the costumes to be worn and the dance routine. If I have wet your appetite watch this space. I will take you through a year in the life of a Carnivalite its fun, exciting and produces a huge sense of achievement when your "cart" performs its first routine in public in September and culminates with celebration night at Glastonbury 13 Carnivals later. We play to win and after nine years we already are second in our class now, will we win next year?
Jerry Anderson, Gillingham, Dorset
TRIP TO FRANCE ~ SEPTEMBER 2004
It was decided at the October Reunion to plan a trip to Rouen in September 2004 ~ details are given in the form attached. To date support has been disappointing. The dilemma is that many have made three pilgrimages to Fontainebleau and wish to have a change and the newest joiners want to revisit the haunts of their youth in Fontainebleau.  Please complete the form and send it directly to the editor.
FONTAINEBLEAU  REVISTED  III
Max Avey was appointed Tour Leader (acting unpaid). The success of the trip was due to the fantastic job he did keeping the motley crew under control especially the RAF Police. Max has filed the following report which is supported by a Supplement of some photos taken on the trip.
Friday 12th September
On an overcast morning the Palmers Travel coach, driven by Rod who drove us in 2001 made the first pick-up at 0645 outside the Union Jack Club, Waterloo, and proceeded to the Coach Station at West Kingsdown where the majority of our party were and finally at The Travel Inn on the outskirts of Dover.
Our group of 39 sailed on the 1000 ferry and after a smooth crossing arrived at Calais at 1235 local time, having put watches forward by one hour.  After a steady drive down the motorway during which we stopped for a meal at a service station, we arrived at the Ibis Hotel, Fontainebleau at 1825 hours. Some of our members who live in France or who made their own way from England joined us during the evening.
Saturday 13th September
We awoke to warm and sunny weather (which was to stay the same through­out our time in France) and following a Continental buffet breakfast the morning was free time before we made our first visit in the afternoon to the SNECMA Museum on the edge of Melun airfield  The exhibits included contained superb examples of aircraft, spacecraft and missile engines made since the early days of aviation by the French and other international companies. Also on display were other items including motor cycles and cars which had been restored to their original condition by staff at the Museum. The best exhibit was probably the replica of the monoplane in which Louis Bleriot became the first person to fly across the English Channel on 25th July 1909. He left Sangatte at 4.35am and landed at 5.12am just outside Dover for this remarkable achievement. the Frenchman was awarded a prize of £1,000 by the Daily Mail.
The interesting and informative presentations given by the Museum staff in English were excellent, particu1ar y by one who was doing so for the first time. Mention must be made of the great patience shown by the ladies in our group during a visit really of interest to men mainly.
Sunday 14th September
It was decided to spend this free day in Paris, 27 of the party doing leaving the remainder to wander round Fontainebleau some going back to places where they had lived during their tour of duty. By all accounts it seems that everyone had an enjoyable day. (Who was it that said the coach would leave Paris from an agreed place at 5pm sharp and then flagged the coach down just a few minutes after it had left saying that every pedestrian crossing light across Paris had been on red! ! ). Many thanks to Terry Bryant for imploring driver Rod to stop and pick up the two gentlemen concerned.
Monday 15th September
Following a free morning the group left by coach for Paris to take part in the 63rd anniversary of the Battle of Britain at the Arc de Triomphe. The parade, marched off down the Champs Elysêes and was headed by a French military band. It included representatives of French Reserve Forces, civilian organisations, the RAFA branches from Paris and RAF Cranwell (5 RAFA Standards were paraded by their respective Standard Bearers including our own Keith Adams), and 26 from the Fontainebleau Veterans' Association, including former WRAF and Army personnel - some of the
latter wearing their Regimental berets. According to our ladies who formed up under the Arc before the parade, they felt very proud of our contingent; certainly those of us parading felt very privileged and proud to be representing our country and Services on this unique and special occasion. No-one  present could fail to be emotionally moved or ever forget such a memorable event.  6 wreaths were laid by members of the Royal Air Force and French military VIPs before the Flame on the Memorial tomb was re-lit by the senior RAF Officer who had come over from the UK for the ceremony. Following the Parade 9 members of our group accepted invitations from the Defence & Air Attache, Paris to attend a Reception in the British Embassy. We must express our grateful thanks to both the RAF staff in the Embassy and the Secretary of the Paris Branch of RAFA for the invitations and the arrangements for our participation in the Parade.
After the Embassy Reception the entire group of 46 members went to Au Bistrot de la Montagne restaurant in Rue de la Montagne for a splendid dinner in the company of two musicians who played a number of well  known songs and requests by and for our ladies. This was a perfect ending to a memorable day in Paris.
Tuesday 16th September
This was a busy day with visits to Camp Guynemer where we were given a tour of the unit, followed by a presentation of a Red Maple tree on behalf of the Fontainebleau Veterans' Association.  The tree was planted jointly by the Camp Commandant, Colonel Michel Saint-Bonnet and our Tour Leader, on a green area facing the Headquarters building. We should record our thanks to Brian Moulding (our 'man in Fontaine­bleau' ), for purchasing the tree and also digging out some pretty heavy soil prior to our visit. A very good lunch followed in the Camp Restaurant after which Mike Capon presented the Chef and staff with various souvenirs.
In the afternoon we visited the Gendarmerie School in the Quartier Chateaux, Fontainebleau, a school that trains Gendarmerie personnel in CID techniques and instructs potential motor-cycle riders.  
Before we were given a tour of the School by the Colonel Commandant and his staff, Tony Bowdler, a former Royal Military Policeman who served 2 years at The Chateaux, presented a bench seat with an engraved brass plaque on behalf of our Association. The tour included a fascinating slide view presentation, in English, of an actual murder case in France which the Gendarmerie CID had solved. The visit concluded with the presentat­ion of two School shields by the Commandant.
The afternoon concluded with some of the group visiting Flight Sergeant Charley Collyer BEM, in No.1 Home Dress and medals, in the local care hospital where he now lives. He is not as fit as he was, but he remains good company and was very pleased to see everyone.
Wednesday 17th September 
Departed Fontainebleau 0855, left Calais 1535, arrived Dover 1600 UK time, after 2 drop offs in Kent, arrived Union Jack Club, Waterloo 1845.       So ended a superb; another memorable trip to France. My sincere thanks to everyone involved. It WAS fun!
SIXTH  ANNUAL REUNION DINNER
During the week-end 16 – 18 October 72 members turned up to enjoy an great 6th Reunion Dinner and AGM at our new venue, the Honiley Court Hotel on the outskirts of Warwick. The food was excellent and the staff could not have been more friendly and attentive. We certainly had value for money. The facilities at the hotel left nothing to be desired and the venue was a big improvement on the Courtyard at Leamington Spa. So much so that our booking for Saturday 16 October 2004 has been confirmed ~ please make a note of the date in your diaries.
The main decision at the meeting during Saturday afternoon was to make our base in Rouen for our next visit to France. Details appear on a separate  attachment to this Newsletter.
After Dinner Colin Hogg entertained us with a great selection of his live music that brought so many oldies up to the dance floor. The raffle produced a staggering £315 for our General Fund thanks to the efforts of Claudine Gibbons.
There were many tearful good-byes on the Sunday morning as we left to make our journeys home. Some photos of the week-end will appear in the next Issue.
SAVING THE BEVERLEY
The closure of the Museum of Army Transport, and of the uncertain fate of the last remaining Beverley aircraft was announced recently. Jock Fraser who flew in the Beverley has added his voice to the volume of requests that it be transferred to the tender guardianship of the Y.A.M.   For years, through the Beverley Association, has advocating Elvington as being the perfect location for such a large and impressive piece of aviation history.
As a public exhibit, the Beverley has both size and uniqueness which make it worthy of preservation.  While it was the premier workhorse of the RAF on the late 50s and 60s, this was before the media exposure of today and many of the exploits of Hercules seen by the public now only echo the work done by Beverleys in that era  albeit at a more leisurely pace!  "No other aircraft could do…" was a compliment often given to Beverleys that renders it worthy of inclusion in any collection of significant aircraft.  (No other aircraft could fly up the Rhone Valley flat out in a 70kt headwind and be overtaken by the French "Mistral"  train …. But I digress)
As the last member of the breed after the disgraceful deterioration and scrapping of the Hendon aircraft, XB259 deserves better, both for the benefit of the general public, and the enjoyment of the many who worked on or with or flew in it, those paras who jumped from it, and the Army who were supplied by it in far flung parts of the world.  More parochially, it is a tribute to the work done at Brough and to the design philosophy which built such a typical Yorkshire product (who said big, solid, a bit slow but gets there in  the end?)
From the "back up" to the V Force dispersals to the conflicts globally in the 60s the Beverley performed tasks I venture to suggest would tax the current crop of heavy lifters and created interest (and disbelief!) everywhere it thundered into in a cloud of dust and dribbling oil…  It would be a great loss to our aviation history to have this unique aircraft go the way of the Hendon one. 
If you would like to add you sixpenny-worth to save the Beverley write to :
Yorkshire Air Museum, Halifax Way,  Elvington, Yorkshire YO 41 4AU            

              Income  &  Expenditure    ~     Account   ~    12 months     to 30 Sep 2003        
                                                                             £                  £       
          Cash Balance brought fwd                                                    (119.31)       
          Income                                     
          Subscriptions                                                  112.84         
          Merchandise sales                                           534.05         
          Other income                             
          Raffle Oct 02                                                  269.00         
          2002 Reunion Wine                                          159.00         
          Coach Trip Discount                                         380.00         
          Total income                                                                      1454.89        
          Expenditure                               
          Postage & Telephone                                        254.33         
          Purchase of Merchandise                                  274.80         
          Printing & Stationery                                        100.40         
          Donations & Subs                                            110.00         
          F'bleauTrip                                                       96.62                  
          Other                                                            317.04         
          Total expenditure                                  
                                                                                                (1153.19)     
          Cash Balance at 30 Sep 2003                                                    182.39     
          Merchandise in stock at cost                             
          Ties (18)                                                       120.46         
          Blazer Badges (9)`                                            81.63                  
          Enamel badges (9)                                            14.40                  
          Placemats (23)                                                 69.92                  
          Coasters (79)                                                 115.34         
          Mouse-mats (24)                                            111.36         
          Total Value of stock at cost                                                      513.11     

          Balance ~ cash & stock