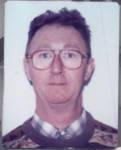 Cpl John Walton, MBE (RAF Police) arrived at AAFCE in Jul 1962 and served at both Camp Guynemer and Melun Airfield. John said good-bye to Fontainebleau in Oct 1964 for RAF Waddington for commissioning and marriage in August the following year. On leaving the RAF in 1991 John continued to work for the MOD until final retirement in 1996 to live with his wife Clare in Budleigh Salterton, Devon.  They have one son, two daughters and four grandchildren. John is Chairman of the South West Area Branch of the RAF Police Association.


Cpl Des Gwilliam is another of that elite band of RAF Policemen who served at AAFCE, arriving in Oct 1957 and leaving in Dec 1959.  Des was discovered by Mike Capon whilst surfing the Internet.  After the RAF Des On leaving RAF Des returned to his old trade as a painter and decorator, running his own business until ill health forced him to retire early, following heart surgery. On his doctor' advice he took up golf, which he still plays.  Des and his wife Alwyn live in the village of Llanover near Abergavenny.
HM Government asked to stop British Railways closing branch lines


At a recent dinner party in Oxford John Day met Cpl John Taylor (RASC), pictured during his service days, one of the early birds at Fontainebleau.  John worked in the CO's office in the Palace from Aug 1950 to Jun 1952.  After military service John spent 2 years in the Insurance Industry before joining the family's Coal Business from which he retired in 1993. John who lost his wife recently plays competition chess and tries to swim 500 metres five times a week.

REUNION ~ 19 OCTOBER at LEAMINGTON SPA
This function is well supported again. 76 are booked for our Fifth Reunion Dinner on Saturday evening and a few will pop in for the afternoon. The Courtyard's dining room can accommodate a maximum of 80 for the Dinner so there are only 4 vacant seats. A list of those attending with a table plan is attached as a supplement to this Newsletter.  In view of our growing membership and the popularity of this event, as a fallback a provisional booking has been made at a hotel on the outskirts of Warwick for October 2003. This hotel specialises in Service Reunions and offers a larger dining room. The cost is comparable with the Courtyard.
An exhibition of photographs and memorabilia will be available for viewing on the Saturday.  We hope to enhance the Association's funds through a raffle to be drawn after the dinner.  Now is the time to give some thought to prizes that you may be able to donate.  If we can generate sufficient income from the raffle it will avoid the need to make a further call on the members for a subscription. Even if you are not attending the Reunion you may still donate something ~ why not look out that unwanted item, maybe a book, an ornament or something else that might appeal.  
Bob Drewett who gave a great performance last year has agreed to act as M. C. again.  Speeches will be limited to the toasts and a talk by David Heaney recounting some of his amusing experiences in the Police Force.