Issue Number 22                                                                                            March 2002
EDITORIAL
We shall start with a few of points arising from the last Newsletter.  Firstly about one third of you ignored the questionnaire for the Fontainebleau trip in September.  For those who did not complete the form I shall take it as a "No".  Secondly a few of you put insufficient postage when forwarding. This involves the recipient making up the deficiency plus a 50p administration fee.  Lastly, two Newsletters took over 2 months to complete their circuits This involved me phoning round to see where they were stuck.
WELCOME ABOARD
2002 has got off to a flying start.  The article in the Ex-Forces Network Newsletter brought a flood of enquiries mainly from soldiers who served "downtown".  Dave Bennett's notice in the RAF News produced an excellent response.  Let us give the following a warm welcome to our ranks.

AC1 Albert Hayhurst arrived at AAFCE in August 1956 where he served as a Medical Orderly in Fontainebleau Hospital.  He left in September 1958.  After his RAF service Albert joined the National Coal Board near Pontefract as a Medical Room Attendant before joining the West Riding Fire Service where his medical knowledge was a great help. He then worked as a Security Officer for Securicor and retired last November.  Sadly Albert lost his wife 18 months ago after a long illness.  His daughter has given him 2 lovely grandchildren.  His son Mark is a mechanic.  Albert lives in Pontefract in his native Yorkshire (This item should have appeared in an earlier issue but due to an oversight it was omitted ~ sorry Albert.)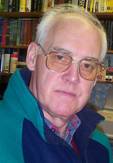 Here is the first Royal Military Policeman to join our ranks - and a colourful one at that.  Cpl David Heaney served at AFCE between Jan 1959 and April 1960 when he returned to the UK for demob.  He immediately joined Blackpool Borough Police that later amalgamated with the Lancashire Constabulary.  His service was mainly in CID where he saw promotion through to Detective Superintendent.  For a number of years David specialised in drugs matters and spent 2 years as Deputy Head of the National Drugs Intelligence Unit at New Scotland Yard.  David finished his police service as Acting Chief Superintendent of the Fylde Div; of the Lancashire Constabulary, retiring in 1988 with an arthritic condition. David then served for 7 years as Security Adviser and Investigator for the Granada Group and then as an independent Security Consultant.  Among his activities David lists his involvement with Outward Bound and the Duke of Edinburgh Award, after dinner speaking and taking as many holidays as possible especially on the Continent with his wife Barbara in their motor caravan.  David and Barbara live in their native Blackpool.

Cpl Tony Bowdler  served alongside David Heaney with the Royal Military Police at AFCE based at Cour Henri, between October 1958 and October 1960.   He left the Army in 1963 on completing 9 years in the Service. After 25 years with Security Express; Tony joined Waste Management Company where he was appointed Commercial Manager.  Tony pictured here with his wife Elaine retired last year and lives in Droitwich

Sgt Ken King spent 3½ years as an MT Fitter with AAFCE in Fontainebleau from August 1950.  His fond memories include leaving the freezing stables at Les Quartier Chateaux when Camp Guynemer opened and starting married life out there. Ken left the RAF in 1976 after serving in Germany, Libya and Masirah.  Civvy Street saw him working for a large Transport Company in York before returning to the "Family" in Linton-on-Ouse as an Airwork employee.  Now happily retired Ken lives with his wife Alice in York. He takes an active interest in the York Branch of the RAFA which has a brilliant fellowship.
S/Sgt (E-5) Jim Hocking was introduced by Arthur Mooney with whom he worked in the Communications Centre.  Jim arrived at Fontainebleau in Nov 1966 and went to Brunssum when AAFCE was relocated to Belgium.  Enlisting in USAF in 1960 Jim saw service at Mildenhall where he met his wife Beryl.  He had various overseas assignments after AAFCE before he left the service in June 1987 as Chief Master Sergeant (E-9)  Jim is currently Manager Global Vision Center of Lockheed Martin Corporation (LMC) in Washington.  Jim and Beryl, who recently retired from the US Postal Service, live in Sterling, Virginia.  It is a pleasure to welcome another GI into our ranks.

Flight Sgt. Lionel Boswell was assigned to the AFCENT Registry at Cour Henri from October 1959 until April 1962.  Lionel enlisted in the RAF in 1946 as a Clerk GD and he pressed on regardless until the end of 1983 when he retired from RAF Bawtry.  His Service career included overseas tours to Abu Sueir, Episkopi, Akrotiri, Troodos and Nordhorn in Germany.  After leaving the RAF Lionel spent 10 years in the Civil Service with the Army Record Office in York where he settled to enjoy his retirement.
Cpl Ronald (Jock) Fraser was inflicted on AAFCE in April 1957. As a Clerk GD/Sec he was assigned to ACOS Training in Building 1. Jock was instrumental in founding the MPH Club co-organising motor rallies and was editor of the monthly MPH Bulletin. Gendarmerie legend has it that he rode a Vincent motor cycle sometimes at 135 mph. Jock completed his tour and saw out the rest of his 22 years service in the UK  and Singapore as a Loadmaster on Beverleys and VC10s, then joined the Civil Service in 1972.  Unable to adapt to the "twin set and pearls" mentality in the CS, Jock joined an American Shipping Company as Office Manager ~ excellent perks and typical US incentive schemes ~ e.g "one mistake and you're out." 5 years later he gave a sailors farewell and took a managerial appointment for Social Services in his native Scotland.  After holidays in Australia Jock and his wife Christine (an OH Nursing Sister with ICI) bought a 25 acre site on the Capricorn Coast in Queensland and had a house built to their own design. Took early retirement, golden handshakes and everything in his office that was not screwed down and ran away Down Under leaving their (adult!) kids behind.  Jock and Christine are now happy mouldering away ten minutes from the prawn boat harbour and beaches to die for.  Jock says that he often lies in his pool of an evening gazing up at the stars and the Southern Cross, nibbling a tiger prawn and sipping a chilled Chardonnay thinking "whatever happened to that mad bunch of layabouts from Fontainebleau days?" and comes over all maudlin and nostalgic and has to open another bottle to get over it.

SAC Arthur Hopkins was drafted to Fontainebleau in December 1955 as a press officer for the RAF Contingent in the Public Information Office. He played regularly in the AAFCE Cricket XI.  He left in Feb 1957 to return to Civvy Street where he spent the next 40 years in media and public relations, firstly as a Fleet Street hack covering news, booze and sport before some prestigious PR appointments.  In 1973 Arthur was appointed head of Public relations for International Distillers where he was responsible for "spinning" Baileys and Malibu into household names.  He was then head-hunted by Allied Breweries where he succeeded in snapping up the Aussie Cricket team to sponsor Castlemaine XXXX. For the last 10 years Arthur has been self-employed in PR.  After he collected his bus pass last December Arthur has been taking like a little easier and enjoys huffing and puffing his way round the golf course where he has been jolly close to cracking a round of 100.  Arthur lives with his wife Jane in Barrow upon Trent, Derbyshire.
LAC Tony Jones (Base Commander's Office Jan 1957 ~ Aug 1958) joined the Association a couple of years ago and lost contact when his papers were mislaid during a house move.  Seeing the notice in RAF News he has rejoined.  Tony lives in Southampton with his wife Valerie.

Cpl Bill Pike of the 8th King's Royal Irish Hussars was posted to ALFCE in Oct 1958 to work in the RSM's Office. He stayed there until Jan 1960.  After service in France, Aden, Belfast and Germany, Bill worked in the wholesale and retail trade in the Cotswolds. On retiring in 1993 Bill and his wife Pauline were keen to move closer to their grandchildren and when Haig Homes offered them a home in Gloucester, just 10 minutes from their grandchildren, they grabbed it with both hands. A recent highlight for Bill was receiving a special invitation to a pre-100th birthday reception at St James's Palace where he met the Queen Mother.  Bill is invited to many troop events throughout the year ~ that keeps his life interesting.
Sgt Leslie Dungey who was introduced by Lionel Boswell was assigned to the AAFCE Microwave Unit June 1959  ~ June 1962.  Later he was to serve a second term with the AAFCE in the late 1970s, this time at Brunssum where he tells me there was a complete lack of the atmosphere and bonhomie that made Fontainebleau so enjoyable.  While at Fontainebleau Leslie produced an excellent video from his film of the highlights of the Annual Parade at Yevres and days out and about in France, a copy of which is available to show at our October Reunion. Leslie who recently lost his wife lives in Faversham, Kent.
There are a few more whose entry is in the process of formulating, and their details will appear in the next Issue.
OBITUARIES
Our friend Roy Packman passed away on Boxing Day.  Roy had suffered from prostate cancer for some years and with the help of chemotherapy he put up a brave fight.  Roy and his wife Mary made the trip to England in 1999 when they attended the Reunion at Leamington. "Roy was admitted to the hospital in Ohio the week before Christmas for treatment of complications from his prostate cancer.  He was discharged from the hospital to be home for Christmas.  On Boxing Day, he suffered a head injury from a fall and sadly did not recover." After cremation in Ohio his ashes will be returned to England to be scattered on the sea at Cornwall.  Our hearts go out to Mary and all Roy's family.   A floral tribute of roses was sent on behalf of the Association and Roy's coffin was draped with the flag of the Royal Air Force.
Bert Langley received his "Home Call" on 28th December.  Although not a member of the Association he served at Fontainebleau the mid 1950s.  Bert was an apprentice entry at St Athan in the same intake as Pete Williams and these two met again at Fontainebleau.  Bert was a Sergeant at the end of his AAFCE tour and worked in the Budget and Finance Division in the HQ Building.  His passing was announced in the RAF Admin. Apprentices Magazine.
The passing of Air Commodore Sir Dennis Mitchell was announced in the Daily telegraph in January.  After service as a fighter pilot in WW II and later Korea he took a number of appointments including one in the late 1950s in the Training, Plans and Inspectorate Division at Allied Forces Central Europe, Fontainebleau.
FONTAINEBLEAU 2001 - AN APPEAL
To enable him to complete a comprehensive record of the 2001 trip, Ted Caton asks if any of the ladies took a photo of the first portion of our contingent marching up to the Arc de Triomphe?   Hazel Lake took an excellent photo of the second portion but he hasn't seen one of the leading group.   Do you have such a photo and, if so, Ted would like a copy or to  borrow the negative?   Needless to say, he will be happy to pay any costs.   Please contact Ted Caton on 01245 256790 or e-mail tedcaton@tinyworld.co.uk.
PICTURE GALLERY
The page is devoted to a selection of photographs sent in by Brian Simpson and Jock Fraser.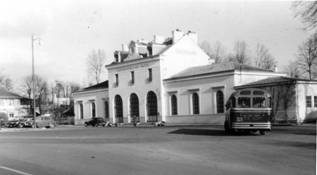 I have arrived ~ where is my transport?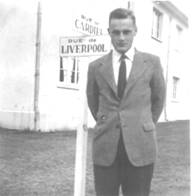 LAC Brian Simpson at the crossroads.
The significance of this picture is that
Brian roots are in Liverpool and Cardiff.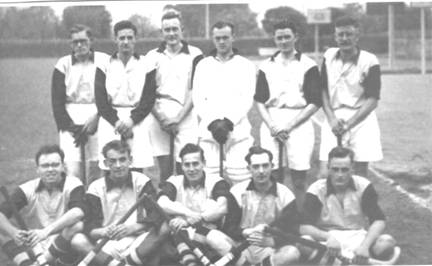 AAFCE Hockey XI v Montrouge ~ 18 Oct 1953
Back Row : W.O. Langley,  Cpl Strawford,  Pilot Off R Lees,  Cpl Stott,  Cpl Ryder,  Cpl Jones
Front Row : LAC Pink,  LAC L Massey  ,  SAC ?  ,  Cpl Beaver,  LAC B C Simpson
          The night is yet young                      "Home Sweet Home"  ~  especially after an evening in the
       Jock Fraser just warming up                                                             Cascades Bar
FONTAINEBLEAU 2002
The response for another coach trip to France in September is not overwhelming and the lack of support may result in our deferring the visit until September 2003. Our inability to find hotel accommodation in Fontainebleau coupled with the steep rise in the cost may have put a number of you off making the "pilgrimage" this year.  However I shall press on because some of the newer members may take up the offer to make the venture viable.  Attached is a list of those who have signed up for the trip ~ if your name is not there and you wish to come please let me know quickly  (023 80 402846)
FIFTH REUNION
Some of you may not have made up your minds yet. There is still space at the Courtyard for the Dinner on Saturday 19 October.  About 70% of those booked so far are making a weekend of it by arriving on the Friday and staying the two nights.  Attached is the hotel's Rooming List.  If your name does not appear and you have booked please let me know or if you now find that you can attend just let me know and I will reserve your accommodation.
The rates at the Courtyard are :-
Reunion Dinner, Bed and Breakfast for two people sharing (£49 per person).
£66.00 for a single room.
Additional nights Bed and Breakfast only is £68.00 per person for a double room and £51.00 for a single room.
Instead of the usual round of speakers on Saturday evening David Heaney, a professional after dinner speaker, has offered his services and will get up on his feet for about 40 minutes, his theme  "A Funny Thing Happened on the Way to the Nick."  Thanks for offering David ~ we shall have a break from our Poet Laureate, Terry Bryant ~ just for the one year Terry.
MEMBERS SNIPPITS
John Ross Aylward continues to make a good recovery from his surgery last year and wishes to thank all those who gave their support during his illness.  The AAFCE Veterans Association is a League of great friends indeed. In the near future John and Marjorie will leave Rutland to set up home in Teignmouth.
Les Massey had a lung successfully removed before Christmas and is now convalescing at home.
Brian Gibbons has been waiting for a heart bypass and now has a date in March for this operation.
Peter Prentice is another one waiting for hospital treatment. He has an admission date in February to have a knee replacement.
John Hanlon missed the trip to Fontainebleau and the Reunion last year due to surgery on his knees.  John is now up and about and attended the RAFA Remembrance Day parades in November.  John hopes to see us at a function in 2002.
Bill Garland completed the move from Surrey to his native Scotland and is now living in Perth.
Les and Pauline Hills have moved from Oxford to take up residence in Weymouth.
To those about to enter hospital and others who are recuperating we send our best wishes for a speedy restoration of good health.
SECOND ANNUAL AAFCE CONFERENCE ~ FLORIDA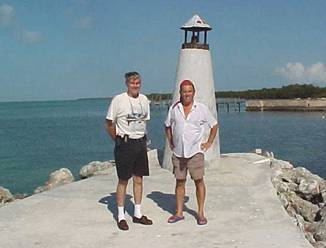 Terry Vine took care of the details for the Second Florida Conference held at Marathon in the Florida Keys on 19 and 20 January. In beautiful sunshine the first day was spent fishing from a bridge. On day 2 a trip to the lighthouse was followed by lunch after which they met up with the ladies for a few drinks at the bar.  A great time was had by all and hopefully the 2003 Conference will have a larger crowd. Our two heroes are pictured at the lighthouse ~ just look at that lovely sunshine !!!
THE SIMPSON DIARIES
During his year at AAFCE National Serviceman Brian Simpson kept a journal of the unusual and significant events.  Extracts from this journal will be published in the Newsletter from time to time ~ it includes some very amusing observations. Today we start with his record of his first days at Fontainebleau.
October 9 1953
Leave Air Ministry Unit at Ruislip 0735, collect tickets at RAF Movements, Great Scotland Yard and proceed to Dover. 
Embark on BR Steamer "Maid of Orleans" ~ depart 1200 arrive Calais 1325 (1425 French time)
Leave by SCNF train 1500 arrive Gare de Nord, Paris 1815
Leave Gare de Lyon 1914 arrive Fontainebleau 2005 where Land Rover there to transport me to the camp. 
Total journey time therefore 11½ hours
The "Maid of Orleans" is very comfortable and the crossing was made on a perfect day.
The Calais – Paris train is very comfortable but the Paris - Fontainebleau train leaves much to be desired ~ no lights in the Third Class compartment and the seats are hard.
October 10
Tour the camp searching for signatures to complete "Arrival Card".  I am very impressed with the amenities in the modern HQ Building. The Americans prove themselves very helpful but the French are quite the opposite.  Notice that the British NCOs and officers are on the whole friendlier than at home.  During the afternoon establish myself in Room 111 of Accommodation Block M.
October 11
In the evening make first visit to the Army Kinema Corporation cinema in the Airmen's Club to see the comedy "Top Secret" starring George Cole.  The Americans in the audience appear to appreciate the humour in what was essentially an English film.