ISSUE  Number 19                                                                                                       June  2000                                                  
EDITORIAL


My first task must be to thank all of those who supported us through Jean's recent illness. The operation to remove the tumour was a success and she was soon getting back on her feet putting on some weight and regaining her strength.  The post operative scans showed no signs of other parts of the body affected but she should benefit from a 24 week course of chemotherapy which she started earlier this month.  Your kind thoughts and wishes are so much appreciated by us both.  Jean helps a great deal in the administration of your Association's affairs and sometimes knows more about the members than I do.
John Ross Aylward has made an excellent recovery from the major surgery he underwent earlier in the year. He is responding well to radiotherapy treatment.  John wishes to thank all those who have sent messages of comfort and encouragement that he hopes to pass on personally at the Reunion in October. 
Your Association continues to grow.  The first five months of this year have produced 31 discoveries, 24 of which have been welcomed into membership.  Details of the most recent signings  are given in the following pages.  We are striving to find Vets from our Allied Forces on the Continent and in North America.
FONTAINEBLEAU 2001
Of the 49 seats on the coach 48 have been booked with one more possible booking, it is anticipated that we shall leave these shores on 13 September with a full coach. This is an excellent position and makes the effort in organising the trip worthwhile.  A day to Orleans has been suggested on one of our free days. Views will be appreciated so the suggestion may be put to the Tour Operator.  Another suggestion is that we visit the graves of our erstwhile comrades in Fontainebleau.
Mick Capon is scouting around the retail outlets to obtain a couple of park benches which when suitably inscribed with a plaque will be presented to the Commandant at Camp Guynemer and the Town in memory of the happy days the Allied Air Forces spent there.
FOURTH REUNION
This function at Leamington Spa is now fully booked.  The Courtyard Hotel can accommodate a maximum of 64 in our special dining room. Those attending will be contacted nearer the date with details and a draft seating plan.  To help the evening proceed smoothly Bob Drewett has agreed to be our M.C.  Thanks Bob.
We propose to supply our own wine from France for the dinner table.  2 or 3 bottles will be placed on each table with the diners making a contribution of £2 per head to cover our costs.
Any contributions to the prize list for the raffle will be welcome ~ bring them along on the day.  All proceeds will go to the Association's General Fund.
WELCOME ABOARD

Cpl Stan Bone was one of the "Early Birds" arriving at AAFCE's Quartier Chataux in May 1950 to work in the Intelligence Division..  He saw the opening of Camp Guynemer before he left in Dec 1953. During his attachment to Dover House, Whitehall, under Air Chief Marshal Sir James Robb in 1950, Stan would have given travel directions to staff posted to Fontainebleau.  On leaving the RAF in 1955 Stan trained as a draughtsman and progressed to a Design Engineer with De Havillands.  After 2½ years in French Guiana working on the Blue Streak Stan returned to the UK to work on the Space Shuttle Project with British Aerospace.  Retiring in 1991 at the tender age of 61 he lives with his wife, Doreen in Baldock, Herts. 

Sgt Mick Champ enjoyed an extended tour at AAFCE from 1954 to 1958 serving as PA to Chiefs of Staff Air Marshal Sir Patterson Fraser and Air Marshal Sir Theodore McEvoy.  Mick was a member of the AAFCE Gliding and Fishing Clubs.   The RAF provided him with a number of interesting postings including the British Embassy in Tel Aviv and lastly as Adjutant 72 Squadron which he left in 1971 for demob.
After taking a full-time Resettlement Course with a view to becoming a Salesman Mick ended up on an Aboriginal Reserve in South Australia!   Thereafter he managed a small country hospital before spending the next 20 years as resident Administrator of Retirement Villages in Australia returning back to Adelaide where with his wife (of 48 years happy marriage) Gwen. They spend a hectic retirement as volunteer carers/companions enabling  people who may not otherwise be able to enjoy a holiday, to do so.  When not away from home Mick runs a second-hand book-stall at a week-end market - specialising in Militaria and Australiana.

Sgt John Chapman was one of that fine body of Policemen at Fontainebleau from Oct 1952 until Feb 1956 when he left the Service to join the East Riding Constabulary. After 3 years on the beat and another 3 years on traffic control he became a village Bobby where he earned his Sergeant's stripes. Ill heath forced him to take early retirement in 1979. Not one to idle his time away John took up freelance writing and was a private investigator until 1984 when he opened an Estate Agency, finally calling it a day in 1992.  Married to Margaret they have 3 children and when they were more grown up Margaret resumed her nursing career retiring in 1992 as a senior Sister.  John and Margaret are enjoying their retirement years in Bridlington, East Yorkshire.   
LAC Alan Palmer arrived at AAFCE in Oct 1953 and served as a steward until Jul 1955.  After demob Alan had a variety of jobs spending 20 years as a Security Officer with the Prudential.  The last 8 years of his working life were spent as a Court Attendant with the Inner London Court service.  3 years ago he moved to Glastonbury where he and his wife Jean spend their retirement.

Here is a colourful character from the early years at AAFCE.  Cpl John Day who found us via the RAF Police magazine, served with the AIRCENT Provost Police from May 1953 until May 1955.  John will have a story or two to relate about his days at Fontainebleau. After leaving the RAF in 1957 John joined the French Army in which he served for 5 years before coming back to England to work in personal protection.  John then joined the Jordanian Army as a lieutenant body-guard to King Hussein and the Royal Family.  In 1972 he started a watch importing business and took up writing military history articles in 1992.  John officially retired 2 years ago but is still writing and is currently working on a novel.  He now lives in Chichester with his partner Gwenda.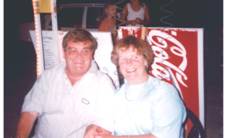 SAC Malcolm Degville, pictured with his wife Isabella, arrived at Fontainebleau in May 1957 and served in the Sergeants' Mess and Airmen's mess. He also ran the Guy Gibson Club for Officers and sergeants 4 or 5 nights a week. Malcolm left AAFCE in Jan 1960 for RAF Marham to serve out the last 16 months of his service with the RAF. In Civvy Street he spent 18 years with Austin Motors, Longbridge as a tool setter after which he joined Birmingham City Council as a Highways Inspector.  After retiring in 1993 he ran a couple of bars in Turkey with 2 partners until 1999.  Now fully retired Malcolm and Isabella live in their native Birmingham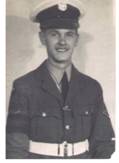 Give a warm welcome to Patricia Dickinson, from Bridlington, East Yorkshire, pictured left made contact after seeing our notice in GRIFF, the RAF Police magazine.  Patricia who was in the WRAF married the late Cpl Ken Dickinson pictured right in RAF uniform who served at Fontainebleau in the RAF Police from Oct 52 until June 53 before a posting to RAF St Athan from where he was demobbed.  After a brief period with the Fatstock Marketing Co Ken held a number of appointments in the Housing field, finishing his career as Borough Housing Manager with Wyre Borough Council, Fleetwood.  He was forced to retire in 1988 on health grounds.  There followed a period of serious health problems and he received his "Home Call" in Sept 1995.  Ken and Patricia have one son who served in the RAF for a short time while at University.
SAC Don Draper was Wing Commander Walker's shorthand typist from Feb 1954 until Sept 1955.  After the RAF Don worked for solicitors and building societies. In 1998 Don took early retirement after 15 years as Enquiry Officer at Exmouth Police Station.  He lives in Exmouth with his wife Jill.

Cpl Jim Gunn served in the Provost Police at AAFCE from October 1958 until February 1961 when he returned to the UK for demob. Joining the West Riding Constabulary in May 1961 he was appointed into C I D after 2½ years and spent most of his career in C I D including a  3 year tour with the Regional Crime Squad, retiring in May 1991 with the rank of Detective Inspector.  Since then he has enjoyed his hard earned pension with his wife Marian, They live in Rotherham.  Over the years Jim has keep in touch with fellow AIRCENT policeman Cpl Mercer of the RCAF.  He and Marian are Godparents to his son.
AC1 Albert Hayhurst served in the Hospital at Fontainebleau as a Medical Orderly from Aug 1956 until Sept 1958.  On Saturday evenings he served in the NCO's Club where he says he earned more in tips than he drew in wages !  After demob Albert was employed as a Medical Room Attendant at the National Coal Board colliery at Frickley, near Pontefract.  Albert then joined the West Yorkshire Fire Service where his medical training was a great help.  Albert, a widower with a daughter Mandy and son in law Stephen who have given him two lovely grand-daughters, and a son Mark now works for Securicor and is living in Pontefract.


Monique Bresson, a local girl, pictured left in 1953, was a telephone operator at Camp Guynemer from 1953 until 1957 when she married Cpl Richard Matthews, (pictured right 1975), of RAF Police in the AIRCENT Force.  They had one daughter Chantal, born in Fontainebleau  Richard went out to work for a major oil company in Algeria.  He was tragically killed out there in a road accident.  Monique remained in England and is now living with her daughter in Hertfordshire.  Monique has kept in touch over the years with Georgette Morris (widow of the late Bill Morris).

A special welcome for Jacky Munro, the widow of Sgt Jim Munro who worked in Sir Edmund Huddleston's Office in Fontainebleau from Mar 65 until Mar 67 when they moved to Brunnssun.  Jim completed 22 years in the RAF and after retiring in 1975 and completing a Teachers' Training Course in Ayr he became a Primary School Teacher  ~ a job he enjoyed until he died from a heart attack in 1989.  While Jim was at College Jacky resumed her nursing career but found shift work  incompatible with looking after the their teenage children.  After studying for her Scottish Highers Jacky worked for the Civil Service taking early retirement in 1997.  Jacky is an active RAFA member and is Branch HWO in her home town of Dumfries.  It was through the RAFA that Jackie met John Hanlon at the Scottish Conference.
WANTED

On the left is a photo lent to me by Bob Drewett of John Cox and Barbara at their engagement party circa 1958   We would like to trace this couple but do not where to start.  Bob was in the RAF Police.  Does anyone remember them and more importantly from what part of the country either of them came?

Brian Williams, pictured, has asked for anyone who remembers him to contact him at 19514  Parkside,  St  Clair Shores,  Michigan  48080 – 1613, 
U S A.  Living in the States Brian feels a little out of touch with his old comrades and would love to hear from you.  He served at AAFCE for 3 years in the RAF Police from Oct 1955 and takes a great interest in the affairs of our Association.
TALES OF FONTAINEBLEAU
You aren't going nowhere, Sir                                                                                         by John Day
From time to time there were rumblings of discontent from Melun, one of the hot-beds of pro-Russian feeling.  They held marches and rallies and often threatened to march on NATO Bases.  The Base Commander at AAFCE always got prior intelligence regarding this and as a result personnel living off the camp were told to have a change of civilian clothing with them, as no one could leave the camp after 1700 hours in uniform.
One day in 1954 I was on duty at Gate 3 with the usual gendarme, Dutch policeman, Belgian, Canadian and a Yank A/1C Miller.  It was customary for a person to be approached by a policeman of his own nationality.  At about 1730 hours a large American car driven by a USAF Captain in uniform made its way to the exit.  Miller raised his arm and halted it.  The conversation that ensued went something like this.
Casual salute ~ "Hi Sir, I'm afraid you cannot leave the base in uniform, Sir" 
"What the hell do you mean Airman – I'm going home so get out of my way"
"Sorry Sir, but you are going nowhere in uniform, Sir"
"And how the hell are you going to stop me?"
Drawing his gun Miller replied "I've got a goddamn 45 which says you ain't going nowhere so get your f…ing ass out of that car NOW"      He then marched him to Building 6
The next day A/1C Miller was commended.  Had it been an RAF snowdrop he would have been court-martialled.   Viva la difference.
THINGS YOU MAY NOT KNOW ABOUT MELUN/VILLAROCHE . ~ By Mick Capon
The airfield is just outside the town of Melun. When the RAF communications flight was there, at one time it had two Vampire jets, two Devons and a Pembroke. The length of the runway is 6,480 feet, and for any airband enthusiasts, the control tower is 121.1 MHz. It comes under the Paris flight information region.
THE REKINDLING of THE FLAME at L'ARC DE TRIOMPHE
The guardians of the Eternal Flame have organised the re-kindling ceremony every evening at 1830 hours since it was first lit on 11 November 1923.  Ex-service associations must be appointed as "Members" of "La Flame" and each one is held to officiate at the re-kindling ceremony at least once a year.  The Paris branches of the three British associations are members, the Aircrew Association, the Royal Air Forces Association, and the Royal British Legion.  Each may invite visitors to participate.
The participants assemble at 1800 hours at the top of the Champs Elysees on the right hand side.  The parade forms up, wreath bearers leading, standards next and then "marchers".  At 1820 hrs the police stop the traffic coming up the Elysees and the column marches out onto the road and across to the Arc.  As they march the band of the French Air Force will play a (relatively) slow march.  Traffic coming round the Arc will also be stopped to let the column pass.
Wreath bearers stop short of the Tomb.  Standard bearers pass left and right around the Tomb and form up behind it.  Marchers line up on either side.  The Chairman of the association concerned waits at the edge of the road to welcome the guest of honour.  At 1830 hrs precisely an Embassy car will deliver the guest of honour (in our case Air Commodore David Adams, Defence Attache) to the entrance.  The Band opens the ceremony and the official party moves towards the Tomb lining up facing it.  Wreathes are laid then and the party moves round to the left of the Tomb where the guest of honour is presented with a bronze sword.  He inserts it into a ring round the flame and pushes it forward to re-kindle.  There follows a one minute silence during which the standards are lowered.  In our case it is followed by national anthems of Britain and France.  Then to the music of the Royal Air Force March Past the official party retires to sign the "Golden Book" then thanks the standard bearers before passing down the two lines of visitors to thank them for attending. Finally the official party lines up in front of the Tomb: salutes and returns to the cars.  The ceremony is over except for one detail.  The flame has to be lowered.  An official will normally try to find a young child to help him to place the sword into the ring on the opposite side to push it back to the rest position.
One final point ~ one visitor must be chosen to hold the official standard of La Flamme.  He will not march but be placed directly behind the Tomb facing down the Elysees prior to the parade and remain in position for the whole ceremony.
As a p.s to this article the Sunday Times carried a story recently of a Frenchman who was in hospital with severe burns from his attempt to extinguish the Flame with his bottom.
AIRCENT INTERNATIONAL POLICE
A feature article appeared in the Provost parade ~ April 1953 detailing the origins on the AIRCENT Police Force at Fontainebleau.  Permission has been requested from the Provost Marshal to reproduce the article and photos in your Newsletter.  It will appear in a future issue if and when permission is granted.
MEMBER'S NEWS
John Christian provided Dickie and Shirley Rogers with tickets to attend the Queen's Investiture at Windsor Castle in June.
Roy and Mary Packman made a flying visit to England in May and met up with a few of Roy's
AAFCE
contemporaries.
MERCHANDISE
Following another delivery of ties and blazers our stocks are replenished.  Anyone interested in purchasing therse items please contact the Editor.
PLEASE CONTACT
Mick Champ would love to hear from any of his AAFCE colleagues or others who may have served with him elsewhere during his 23 years globetrotting.   If you remember him why not phone or send him a letter or e-mail to: -   7 Second Street, Magill, SA 5072 Tel: (08) 8364-3905    
email: champmp@eisa.net.au
AND FINALLY………
At the risk of being controversial I am including the following 
Damn, It's Good to Be a Man!
The garage is all yours.                                                    Wedding plans take care of themselves.
Chocolate is just another snack.                                       You can be president.
You can wear a white T-shirt to a water park.                    Car mechanics tell you the truth.
The world is your urinal.                                                   Wedding Dress £1,000 ; Tuxedo rental £80
Same work... more pay.                                                    People never stare at your chest when you're
Your last name stays put.                                                 talking  to them.
New shoes don't cut, blister, or mangle your feet.             One mood ~ ALL the time.
Your pals can be trusted never to trap you with  :              Phone conversations are over in 30 seconds flat.
"So, notice anything different?"                                       You can open all your own jars.
A five-day vacation requires only one suitcase.                   Your underwear is £1.80 for a three-pack
If someone forgets to invite you to something,                  You can kill your own food                       
he or she can still be your friend.                                     Everything on your face stays its original color.
If you are 34 and single, nobody notices.                            You don't have to clean your apartment if the
You can leave the motel bed unmade                                 maid is coming.
You can enjoy a car ride from the passenger's seat.           A belch is almost expected.
Three pairs of shoes are more than enough                       You don't mooch off other's desserts.
You can drop by to see a friend without having to bring       Your belly usually hides your big hips.
a little gift.                                                                    You don't have to shave below your neck.
You are not expected to know the names of more than       Dry cleaners and hair stylists don't rob you blind.
five colors.                                                                     You almost never have strap problems in public.
You don't have to stop and think of which way to turn a      You are unable to see wrinkles in your clothes.
nut on a bolt.                                                                  One wallet and one pair of shoes, one colour, all
The same hairstyle lasts for years, maybe decades.                       Seasons.
You can do Christmas shopping for 25 relatives, on
December 24th, in 45 minutes.                                         Anon
Published by  D M ROGERSON,  BROOKWOOD,  HUNGERFORD,  BURSLEDON,  SOUTHAMPTON  SO31 8DF