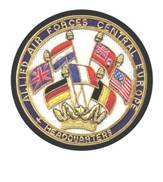 ISSUE No 15                                                                               AUGUST 2000
It is time for another Newsletter already.  As my computer skills improve I think I am getting the format into shape but remember this is your magazine and I would welcome comments on layout and content.  What would you like to see in the Newsletter?  I am sure there are some good ideas out there, so please let us hear from you.
COACH TRIP TO FONTAINEBLEAU
38 of us will set off on 15 Sept for a 5 day tip to Fontainebleau.  We had hoped to arrive in Paris in time to join the 60th and last Anniversary Battle of Britain Parade in Paris at 6 p.m. when the RAF will rekindle the flame on the tomb of the unknown soldier at the Arc de Triomphe.  However the French Authorities have advanced the Parade to 5 o'clock and it is not possible for our coach to arrive in the centre of Paris for Assembly at 4.30.  Another 6 members will meet up with us in Fontainebleau where Charley Collyer is on hand to meet and greet us.  The Commandant at Camp Guynemer has agreed to our making a conducted tour of our old home.  Included in the programme are some other exciting tours including a visit to the Chateau Vaux le Vicomte to take in a candlelit display and an evening meal.
THIRD REUNION AT LEAMINGTON SPA
Support for this function is excellent and there will be many new faces this year . It has all the ingredients for another super party.  If you are thinking of coming and have not booked then hurry because we have almost reached the maximum number the hotel can accommodate for the dinner.
POLICE CHIEF IN STREET PUNCH UP
It was a lovely Spring evening one Sunday, worshippers were returning home from church when an old lady was mugged by two young thugs.  Charley Collyer, fearless as always was passing on the opposite side of the street and remembering the parable of the Good Samaritan went immediately to her aid.  In the altercation that followed Charley broke an arm when he was thrown to the ground but not before he had kicked the thugs where it hurt most.  The attackers who were Albanian immigrants fled but were later caught and taken into custody.  They are now in prison in Melun awaiting trial.
NEW RECRUITS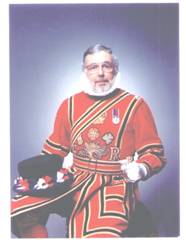 John Christian saw Dickie Rogers' notice in AIR MAIL and rang him because they had served together in Greece in 1949/50 and also during the 50s at Fontainebleau.  John, then a corporal, was posted to Aircent in October 1953 and assigned to the Fiscal Dept in the HQ Building before transferring to Intelligence.  He then looked after the administration of the Bachelor Officers' Quarters where he remained until April 1956. John left the RAF in 1973 on being appointed director of Age Concern, Northamptonshire a post from which he resigned at the end of 1989.  In 1981 having been appointed a candidate in waiting in 1973, John was appointed to the Queen's Body Guard of the Yeomen of the Guard as one of only six RAF appointees.  In this capacity he attends about 8 functions a year including the State Opening of Parliament, State Banquets, Investitures etc.  Although a life time appointment John will not be required for duty when he reaches the age of  70.  John lives with his wife Iris in Barton Seagrave, Northamptonshire.  He is pictured above in his Yeomen of the Guard uniform.

Sgt John Pearce's appeal in Sue Cook's column in The Sun for colleagues who served with him in Fontainebleau was seen by one of our members and followed up.  John was a Radio Fitter in the Commcentre from Sept. 54 until April 57.  No-one else has  replied to his appeal.  He now lives in Kent with his wife Elsie.                                                                                        

SAC Gordon Lawrie made contact when he saw the notice of our trip to Fontainebleau in RAF News.  Gordon worked in the National M T Section from April 57 until July 59.  While in Fontainebleau he met Irene who he married.  The couple now live in the South of France.  Gordon will meet up with the coach party in Fontainebleau and will also be with us at the Leamington Spa Reunion in October.
Cpl Audrey Jones nee Britten arrived at AFCENT in Sept 59 She worked in Cour Henri until Aug 1961.  Whilst at AFCENT Audrey met RTO John Jones (RN) serving with NAVCENT and they were married at the British Embassy in Paris in March 1961.  John and Audrey are now living in Preston, Lancs
Cpl Doug Chennell who arrived in Fontainebleau in Oct 59 replaced Audrey Jones in 1961 when he was promoted to Cpl.  Doug left Fontainebleau in May 62 and now lives with his wife Barbara in Spencers Wood near Reading.
SAC Bill Bloy spent almost 3 years at AAFCE from Dec 54 until Sep 57.  Bill was an Airframe Fitter at Melun Airfield and now resides with his wife Susan in Chichester, West Sussex.
Sgt Peter Fryer was traced through the Daily Mail.  Dave Bennett wrote to the paper's  Lost and Found Column who succeeding in tracing Peter living with his wife Ruth near Alton in Hampshire.  Peter was chauffeur to the Commander, Sir George Mills between Jan 56 and Mar 59.  After leaving the RAF in 1961 Peter could not settle to civilian life and he spent the next 17 years as a driving instructor for the REME at Bordon .  After teaching in the classroom he moved into management.  Peter retired in 1994 and he and Ruth enjoy caravaning.
SAC Vivian Hill was one of that rare breed of National Servicemen selected to serve at AAFCE.  He arrived in Feb 55 and left in June 56 after serving in the Orderly Room of the RAF Support Group.  He is presently living with his wife Christine in the Vale of Glamorgan.     
SAC Terry Vine was traced thanks to Brian Gibbons determined efforts over the last couple of years.  Terry worked in the Education Office at Fontainebleau from Aug 58 to Jan 60. He now lives with Victoria in Burnham-on-Sea, Somerset.  His work takes him to the Florida Keys for 6 months of the year. 
SAC Barry Croad is our first member from the Isle of Wight and is one of the last to serve on the Base at Fontainebleau.  He worked in the MT Section from Jan 64 until Nov 66.
LAC Tony Wallis was one of the first to serve at Fontainebleau in the Communications Dept.  he arrived in Apr 51 and left in Oct 53.  Tony lives in Canada.
Steve Tait who was in Fontainebleau with his father, the late Fight Sgt "Jock Tait" agreed to join the "Association. He has been out of touch recently due to illness ~ his details will follow.
There are quite a number of others who were sent details of our "Association" who have not sent in their details before going to press.
LAC Tony Jones worked in the Base Commander's Office from Jan 57 until Aug 58 and lives with his wife Valerie in Eastleigh, Hampshire.
TALES OF FONTAINEBLEAU  
Whilst outside the Fontainebleau era I found this story so amusing that it is worth recounting.  
It was a frosty November morning in 1944, Paris had been liberated and the capital was swarming with allied troops.  Sgt Charley Collyer was on patrol near the Arc de Triomphe where he encountered a GI cooking bacon and eggs in his billy- can over the flame on the Tomb of the Unknown Soldier.  When Charley remonstrated with him the GI took no notice.  Assistance in the form of the USAF Police was summoned and the offender was marched off.  The USAF Policemen then invited the two RAF Policemen to join them in a doughnut and coffee at a nearby café.  Charley will tell you that it was the best doughnut and coffee he has ever had.  The waitress who served it was later to become Charley's wife.
A Chase in Paris      
Terry Byrant
Whilst making a delivery of cigarettes to an apartment in a run-down suburb of Paris 2 RAF Police corporals lugging suitcases were chased down a winding staircase by a Madam who though that they were taking advantage of her girls.  What steps did the airmen take to escape ~ "very large ones".   The descent was a lot faster that the ascent ~ Madam was very big and very loud.
Trust between Prisoner and Escort
Dickie Rogers
Cpl Dick Rogers of the Orderly Room was selected to escort Scouse Baker to the prison in Ruislip following the incident with the Humber limousine.   Having arrived at a railway station in London they felt in need of some refreshments.  Dick said "You get the coffees and I will buy tickets."  Scouse being an honourable man bought the refreshments and sat at the table resisting any attempt to leg it.  This illustrates the trust between the "inmates" at AAFCE.
Pulling legs not teeth                                                              Mick Capon
I had the pleasure of being in British Military Hospital  which was one wing of the French Hospital one weekend to have an abscessed tooth taken out. The thing I always remember about being there was the first evening meal when they served fish with the eyes still in!  This made me feel sick. The other thing was to be told later by one of the nurses, Mavis Nichols, that they had all had a go pulling people's teeth out in the operating theatre because the whole ward that weekend were teeth cases. They were all given the opportunity to practice on us!  To this day, I wonder if the person who pulled my tooth out was the Dental Surgeon (Flt Lt Jimmy Main) !
OUR READERS ASK
Doug Chennell wishes to know if anyone remembers who painted the mural in the Airmens' mess in the early 1960s?
Doug Chennell asks if any of our members were in the Guard of Honour in the Moulin Rouge c1960 on the day of the London-Paris Air Race, won by Mike Lithgow in a Swift?  Among the guests were Madame Bleriot and the British Ambassador.  After the formal ceremony the Guard was treated to a meal and free entry to the show.
Thanks to all those who replied to the query re the Station Sick Quarters.
THINGS YOU MAY NOT KNOW ABOUT FONTAINEBLEAU cont.                  by Mick Capon
Une des plus belles forets de France
The Forest of Fontainebleau is one of the largest and most beautiful national forests in France. With 17000ha in one mass, extended by 3000ha of national forest at Trois Pignons, it offers an extraordinary variety of landscape and pleasant walks.
All this is due to the fact that the majority of it lies on a sub-soil of "Fontainebleau sand", highly permeable, which allows access in all seasons. This sand is transformed into sandstone in the upper sectors; the erosion breaks and disrupts these rocky masses leaving the knolled small plains, the "gorges" and the rocky chaos, interspersed with pines and birch, which are the main attraction of the forest.
Some of the calcareous soil plateaux covered with loam have beautiful oak plantations. The oak represents 44% of the wooded area.
The House of Centuries
"Fontainebleau's reason for being is the Chateau and the surrounding forest: ancient royal town then imperial city deeply marked by Francis I and by Napoleon I, the city originates from the Chateau and the visits of the Royal French Court.
During the second Empire, with the creation of the railway, the "bourgeois" from Paris were infatuated with Fontainebleau: the city was soaring anew and became a much sought after resort."
 MPH  CLUB
Courtesy Mick Capon I have a few copies of the Souvenir Edition MPH Club Bulletin No. 8  dated 11 July 1959.  It is an interesting and amusing publication. If anyone wishes to see one on a "read and return" basis please let me know.
MERCHANDISE
Blazer badges, enamel lapel badges and ties remain in stock.  If anyone wishes to purchase any of these special AAFCE items which are reasonably priced please let me know.
Have any of you suggestions for other items we might introduce and which bear the AAFCE Motif
 BYGONES
Below is the Menu for the Airmen's Mess on Christmas Day 1954.    The Menu from which this was copied is signed on the back by  B E Spencer,   R J C Gutteridge (C of E Padre),  Thomas D Glasgow (The Third and  Last  Noel),   Ian,   M Galloway,   Diane Lewis and W E Butler