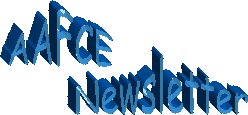 ISSUE No 12                                                                  FEBRUARY 2000
COACH TRIP TO FONTAINEBLEAU 15 ~19 SEPTEMBER
Support for this tour is weak.  At the time of writing only 17 seats have been booked with deposits paid.  We must have a minimum of 36 on the coach to make the tour viable versus a maximum payload of 49.  I therefore urge those of you who have not booked to reconsider.  Don't miss this one and only opportunity to have a conducted tour of Camp Guynemer which is now occupied by the French Army.  There is much secret information stored on the Camp and access is normally denied but Charlie Collyer worked hard and used his influence with the Camp Commandant for our party to have a conducted tour on Monday 18 Sept.
There are 3 pick up points.  The Embankment in London, Sevenoaks in Kent and the Ferry Terminal in Dover.  Car parking is available in Sevenoakes.
As the numbers are substantially below those initially forecast all those on the coach will stay in the Ibis Hotel Fontainebleau and not in Melun.
To avoid the payment of the single person supplement some of those making the trip alone may be willing to share a room with another member of the party.  Anyone interested please let me know.
A decision on this trip has to made at the end of February but I shall endeavour to obtain a time extension for a couple of weeks.  I am unwilling to make a firm booking without adequate support.  To do so and cancel later would mean the loss of deposits of those who have paid.  So come on lads and lasses, you have seen the details of the trip so don't miss this great opportunity ~ let us see a few more takers.
Those who have booked and paid their deposits are :~
Max Avey                                             John and Joan Fitzgerald
Terry and Hazel Bryant                        Bill Garland
Geoffrey Callaghan                              John and Barbara Higgs
Mike and Anne Capon                           Alan and Hazel Lake
Hilton and Maureen Cozens                  Arthur and Anne Mooney        
THIRD REUNION SATURDAY 21 OCTOBER
A provisional reservation has been made at the Courtyard Hotel, Leamington Spa on Saturday 21 October for our Third Reunion.  Prices are unchanged from last year and details are as follows :
Room for Sat 21 Oct based on 2 people sharing ~ £44.00 per person includes dinner, bed and breakfast (Single supplement £15.00)
Additional nights ~ bed and breakfast only £29.00 per person
All prices include VAT and service.
The hotel is able to accommodate a maximum of 70 persons for the dinner so reservations will be taken on a first come first served basis.  No deposits are required with the initial booking.  Please reserve your accommodation direct with the hotel on 01926 425522 and be sure mention that you are in the Fontainebleau Party.  Also let me know when you book to enable me to keep tabs on the status.  There are a few brochures attached for those intending to attend to retain.
Any suggestions to enhance the function will be appreciated.
NEW FACES
Dick Rogers wrote the local Newspaper in Dover with an appeal for John Mercer. A relative made contact with Dick to say that John is living in the Dordogne Region of France.  John spends the winter months in Spain and he is expected to make contact on his return home in the spring.
During a recent visit to Holland John Fitzgerald met up with a former colleague Jose (George) Witte.  Jose was a member of the Dutch armed forces in Fontainebleau who served at AAFCE in the late fifties and early sixties.  More details of his background will come through when he is "on line"
Through diligent surfing on the Net Mike Capon came across Jean Johns (nee Senior) a member of the WRAF who served at AAFCE at the end  of the fifties.   Contact has been established and we hope to sign her up shortly.  Jean's ex husband Alan served in the Royal Navy Element at Fontainebleau.
Jean has given us an address for Audrey Britten (nee………..)who is living in Preston ~ a Starter Kit is on its way.
Both Mike Capon and I have posted messages on this website in the hope of flushing out a few more inmates.
Ted's book has reached America and Brian Williams, a USAF airmen, recently read it and will be sent a "Starter Kit"
It will be great to enrol some of our colleagues from other nations.  If we can find enough, who knows we could have a reunion in New Orleans or some other exotic venue.
BLAZER BADGES
I have seen a sample of blazer badge, hand embroidered in gold wire and silks. It shows the 7 flags over the crown against a cream background with the outer circle in navy. In the outer circle in gold wire
ALLIED AIR FORCES CENTRAL EUROPE x HEADQUARTERS
And below in gold wire in a straight line FONTAINEBLEAU.  I consider them good value at the price.
If I placed an order for one only it would have cost £25.  I have gone forward with an order for 35 to sell at £15 each and if I can dispose of them all there will a small surplus to credit to the admin fund.  I want to ensure they are ready well before the coach trip in September
Please advise how many you would like on the attached form.
ENAMEL BADGES
These are currently in production with delivery expected at the end of March.  There were sufficient orders to break even.
AND FINALLY…….. Time did not allow the inclusion of Tales of Fontainebleau in this issue.
Published by D M ROGERSON,  BROOKWOOD,  HUNGERFORD,  BURSLEDON,  SOUTHAMPTON,  SO31  8DF