NEWSLETTER NUMBER 71 – NUMBER ONE OF NEW TEAM
Dear Members,
This is the first of hopefully a continuity of updates from the new team who have taken over the running of your Association. Unfortunately David (Danny) and Christine are unable due to ill health , to continue as principals of your Association.
Fifteen members have so far signed up and we have raised £160.00 to keep the Association going.
The Webmaster has agreed to keep webbing (if that is the correct term) for us for which we are very grateful.
Unfortunately we do not have the full list of interested members, so, if any of you know of those who served in AAFCE and would like to be included in our group please let us know.
Organisers names/Email addresses at bottom of page.
We have yet to access the stock of paraphernalia which members are asking for but we will keep trying. A contact of Michaels has offered to try and vend the merchandise which when accessed and sold, fingers crossed; this should go towards repaying David (Danny) his out of pocket expenses in the sum of circa £70.00.
Finally, and we know this is a drum forever banged, please submit any stories, poems, rhymes or anecdotes you think may be of interest to our readers.
To those who have so far signed up, A BIG THANK YOU, To those about to or thinking about joining, don't think act!
Sincerely
Michael Capon capon769@btinternet.com
Colin Hogg col.daze@ntworld.com
Terry Bryant tmbhpb@live.co.uk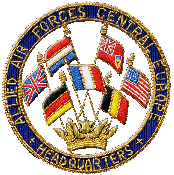 FONTAINEBLEAU
VETERANS ASSOCIATION
NEWSLETTER
RAF service and medical records
If any of the Fontainebleau veterans wish to see their RAF service and medical records, you can go online and type in mod 1694. The form comes up to which you can either download or print off or you can do online instead. If anyone would like a paper copy, I do have some spare ones.
I had a very good service and was dealt within eight weeks. It is nice to be able to look your annual assessments.
This is free and comes under the Freedom of Information Act.
Best wishes
Michael Capon
My WRAF experiences: By Pamela Oosterveen-Eves
I joined the WRAF in 1963 when I was not yet 18. I did my basic training at RAF Spitalgate and on passing out, because I had previously attended Pitman's College on a secretarial course, I automatically went into the Secretarial Branch of the WRAF. My first postings were to RAF Kirten in Lindsey in Lincolnshire and then RAF Little Rissington in Gloucestershire which was then the home of the Red Arrows stunt team. These were short posting of only a few months each. Finally in 1963 I was posted to RAF White Waltham which was the HQ of Flying Training Command. I was lucky enough to work for the Air Officer Commanding which was an interesting job. The highlights being accompanying him and his ADC on flights to Exeter and also attending the Farnborough Air Show! The WRAF's then were billeted at RAF Shinfield Park and we were bussed every day to RAF White Waltham. Whilst at RAF White Waltham I was a member of the Expedition Training team and the highlights of this being canoeing on the River Dart and also walking from Aviemore to Aberdeen in October & staying one night in a boffy and the next night under canvas and waking up the next morning with deep snow on the ground. Needless to say we had to carry on walking!! Someone at White Waltham recommended my applying for Special Duties which would mean being sent to France or Germany. I duly applied and before I knew it I was posted to HQ AFCENT, Fontainebleau, France.
In November 1964 I arrived in Camp Guynemer by way of boat train to Paris and then onward train to Fontainebleau not knowing what sort of job I was going to have. I was allocated a job at the Special Services on Camp Guynemer. Special Services took care of all the sports facilities, as well as the cinema and putting out the weekly newspaper The AFCENT Review in English and French. In my time, there were 4 Canadians, 1 American, 1 Dutch, 2 French and myself working at Special Services. Being very international it was a very interesting time for me. This all changed in 1967!
At the beginning of 1967 Charles de Gaulle wanted NATO out of France. HQ AFCENT was moved to the Hendrik Mine in Brunssum, The Netherlands. I and one other WRAF were part of the forward team. There I worked for the Base Commander. As there was no female accommodation available the two of us were billeted in a private home at Schinveld and were bussed every day to the then Hendrik Mine. I was there until March 1967 when I returned to the UK and was demobbed from the WRAF. This was by no means the end of my involvement with the military.
In April 1967, I returned to The Netherlands having found a job working in Management at the SHAPE Technical Centre (STC) in The Hague. I married the Dutchman whom I had met at Camp Guynemer, he being then in the Dutch Air Force doing his national service. I worked at STC for 12 years and left on the birth of our son.
My story does not end there. In The Hague there was a Branch of the Royal Air Forces Association. My husband and I became members of RAFA, he being Treasurer and finally the Chairman and myself the Secretary. We had to disband at the end of 2014 due to lack of members. Our Branch Standard now hangs in the Anglican Church in The Hague, a fitting reminder of the Branch which had been active since the end of World War II.
Pamela Oosterveen-Eves
ROYAL AIR FORCE CALL TO ARMS
Terence (Terry) Bryant CPL RAF Police Retired AKA George at RAF Stanmore Park
Late 1955 I was called to arms along with a friend of the same age. We reported to the selection centre in Southend-on-Sea. After electing to join the RAF were allocated our trades. My friend Michael Boon asked for Aerial Photography as photography was an interest of his and luckily enough there was an opening but when I asked for the same was told that all courses were full; but because of my height would I consider the police. This seemed a reasonable choice so accepted. Both of us discussed pay and when we discovered a four year stretch paid better that two years in National Service both decided that seemed the better option.
Michael and I both reported to the reception centre at RAF Cardington where we spent a freezing cold few days in January 1956 for kitting out etc. Michael and I then spent the next few gruelling B***** cold weeks at RAF West Kirby high up on the Wirral. Real Brass Monkey weather! However we survived Churchill Squadron under CPL Horne who wasn't a bad sort, although while there a young lad in one of the other Squadrons couldn't cope and hung himself in the toilet. This was upsetting for the whole of the camp and I cannot recall if we were given compassionate leave.
Boot camp over and Michael was off to Photography School and me to in Wiltshire for Police Training at RAF Netheravon.
I was posted to RAF Stanmore, base for RAF Bentley Priory HQ Fighter Command where I quickly settled in to my new life as an RAF Policeman making new friends along the way. Our Fl Sgt, whose name I have forgotten, was a nice chap but one of the old school in dress. Blanco webbing, cap cover, Gaiters no weights in trousers. The lads soon got me organised with a trip to London military outfitters for a new cap, white washable cap cover to make me a more presentable "Snowdrop". They also arranged for my uniform blouson and trousers to be tailored to give me a streamlined look more in keeping with my new colleagues. However, one member of the team, who I met at Trade Training School, preferred to imitate the dress code of our Fl. Sgt. or Flight as he was popularly known.
Another Michael who then followed me to France, and as it turned out also to our posting to AAFCE. Again I settled in quickly with my new colleagues and as it turned out made new long term friends. I arrived in January 1958 and Michael followed a month later. The accommodation was good at Guynemere, better than the wooden hut with bunk beds at Stanmore Park, I was very
pleased to discover!
My first year policing the Headquarters was uneventful or would have been but during that time there was an alert with the Algerians causing a few problems. Trips to Paris alerted us to the problem with French Police, Gendarmes and Army on all major routes and street corners. All AIRCENT Police, as we were called, were issued with arms except for the British. An exercise to keep us alert was organised which backfired somewhat on one of the Police Sergeants' who tried to enter the camp climbing over the main gate to building one only to be clobbered by an alert Police Cpl for his trouble. I soon became hooked on the hot chocolate served at one of the Bars in Fontainebleau and the sandwich Jambons at the Bar near the camp.
I was then sent to Melun airfield on night duty where I spent the remaining year of my service. This period was uneventful. But we did devise a scheme to alert us to intruders to the airfield by laying a string of tin cans across the entrance.
On the way to Melun duty we stopped at a small shop to purchase a baguette and anything else to ease our duty even though we were well furnished with provisions by a friend I made in the mess, a JT in charge of stores.
Days off were spent with friends exploring the countryside and local towns, A memorable excursion to a village at wine time resulted in us being heavily drunk after being plied with countless glasses of Blanc Cassis ,the local drink. Another occasion arriving in Dijon and finding a Bar with a Dance floor. When the Barman realised we were RAF serving in France he ordered a group of young French men to vacate a table by the Dance Floor to make way for "the gallant English Military" who graced his Bar.
On a return visit some time later he extended us the same hospitality with drinks. It transpired that the Village Bar and Dijon were liberated by English speaking Troops during "39/"45 conflict. For which they were grateful - Hence the welcome.
It was with regret that my time was up and in December 1959 I made my way home to be discharged in January 1960. My four years went quickly as more than related here occurred but I do not want to bore you, the reader.
I thoroughly enjoyed my time in the RAF and was privileged to serve in NATO at AAFCE.
Terry Bryant – Happy days
John Allison BEM
In order of Postings: Cosford, Waddington, Wyton, Bawtry (1Group HQ), Fontainbleau, ATCC Preston, 146 SU Bempton, Leconfield, Aden, Eastleigh Kenya, MOD London.
My short RAF Service began in February 1954 as a By Entrant, and served in Trade Group 11 (Communications), at a number of stations including Nairobi Kenya and Fontainbleau, servicing two and half at each unit. I spent 6 weeks at Khormaksar waiting for a posting to be posted to Nairobi (RAF Eastleigh.)

On leaving the RAF I joined the RAF Association and served for 40 years mainly with York Branch, where I served as Secretary for a number of years, before becoming Chairman for 4 years. During the 40 years I also served as the Area Chairman for the Northern Area of RAFA.
For my efforts in RAFA and working at RAF Linton on Ouse for 20 years I received the BEM in 2012.
John Allison BEM