General Lauris Norstad USAF - Commander AAFCE 1951 to 1953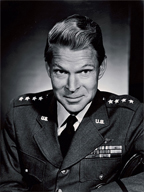 Joining the U.S. Air Forces in Europe in October 1950 General Norstad was commander in chief, USAFE,
with Headquarters at Wiesbaden, Germany. On April 2, 1951 he assumed additional duty as commanding
general of the Allied Air Forces in Central Europe (AAFCE) under the Supreme Headquarters
of the Allied Powers in Europe (SHAPE). He was designated air deputy to the supreme allied commander,
Europe, SHAPE, on July 27, 1953.
Relieved of duty as air deputy to supreme allied commander, Europe November 20, 1956, the president
appointed General Norstad to become Supreme Allied Commander Europe, and commander in chief,
U.S. European Command. As such he initially encouraged France to develop its own nuclear capacity,
but then defected on the idea once he grew disillusioned with French President Charles de Gaulle's
interference with NATO.
His decorations included the Air Force Distinguished Service Medal with two oak leaf clusters, Silver Star,
Legion of Merit with oak leaf cluster, Air Medal, and the French Legion of Honor by decision of General de Gaulle himself.
He was rated a command pilot, combat observer, and technical observer.
General Norstad retired on December 31, 1963. He died on September 12, 1988.